11:15AM – Final Session on Physical Literacy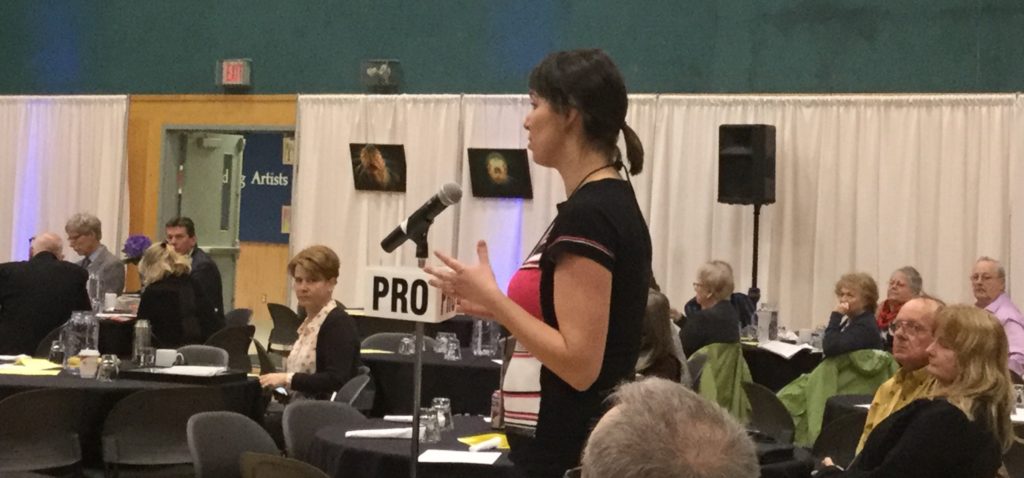 Councillor Sharie Minions is final speaker at the mic for the weekend talking to Physical Literacy. Great end to a great weekend!
9:30AM – Late Resolutions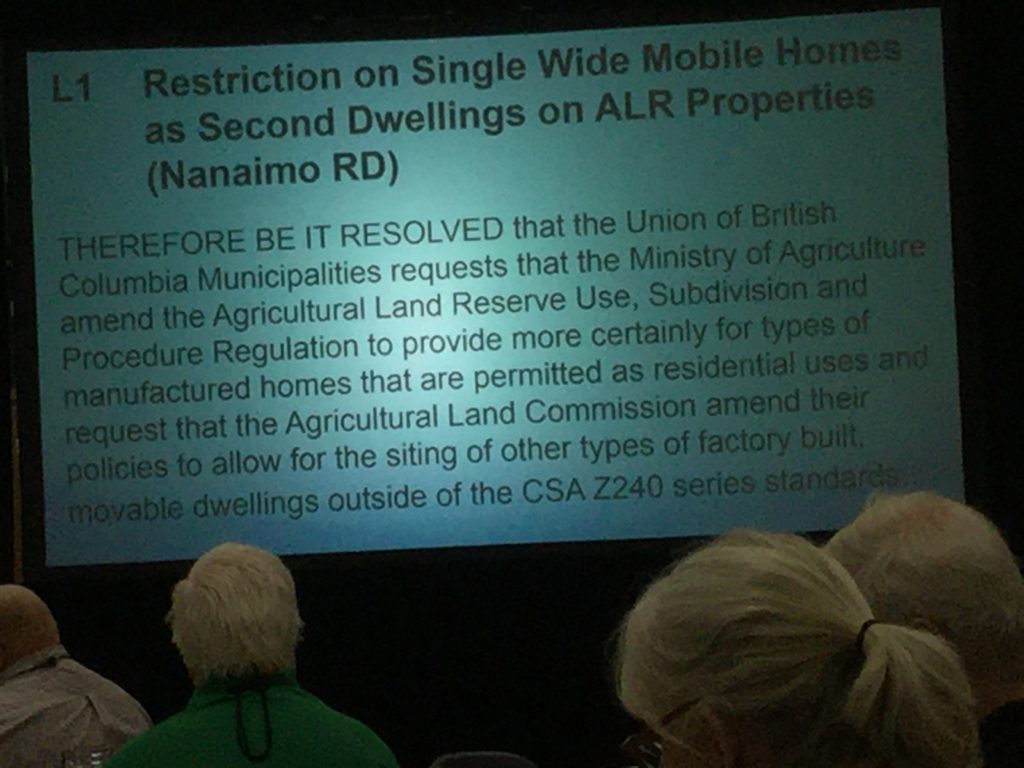 This is to allow more options than just single wide mobile homes. Though still not standard homes. Passed.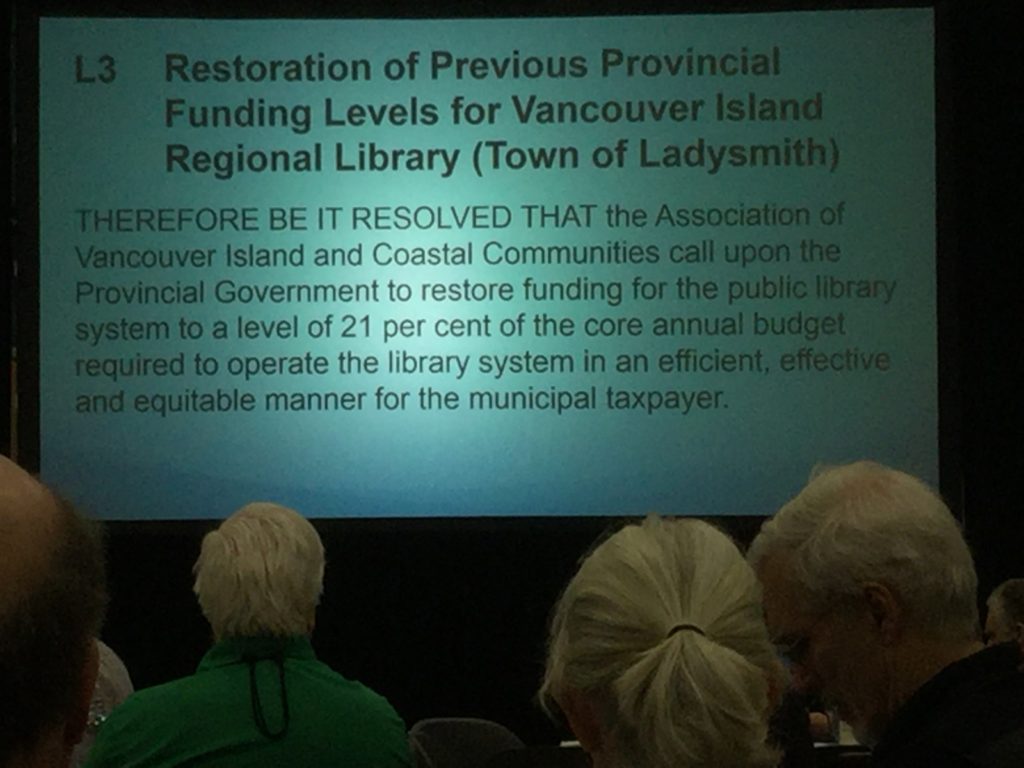 Passed.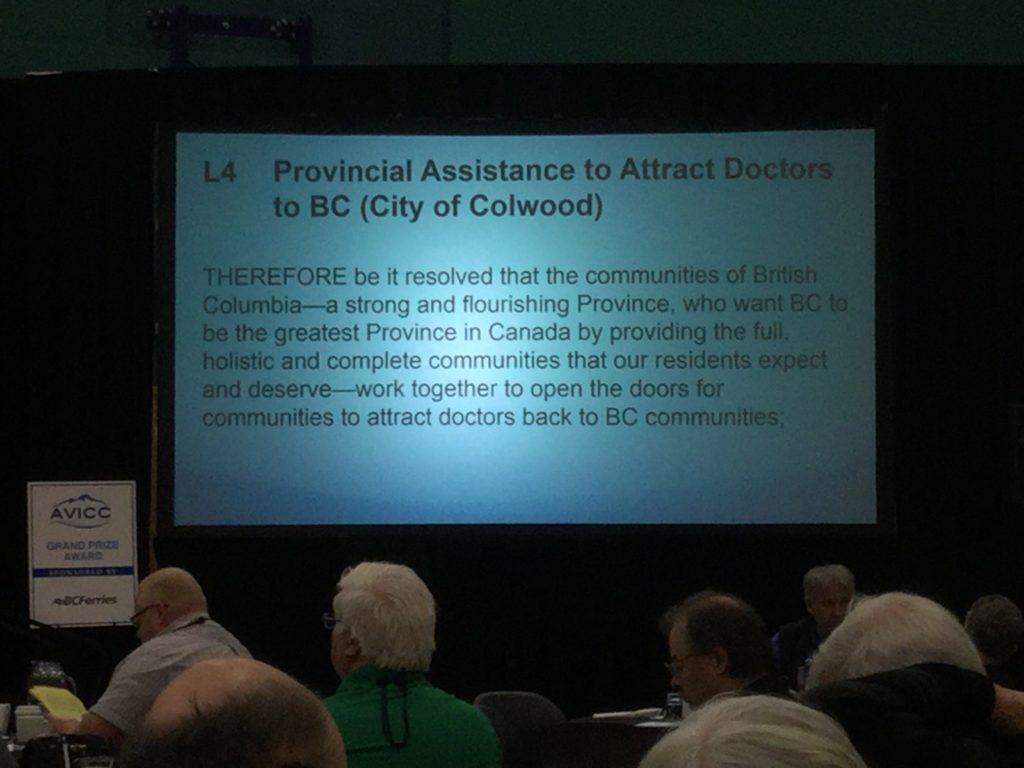 Attracting Doctors in BC.
Passed.
Resolutions on supporting the derelict vessels issue in Parliament, on Input on Contract for regional road maintenance, and on establishing formal mechanisms for including local government.
All passed.
8:30AM – Invasive Species session.
A great talk from Invasive Species Council of BC so far about invasive plant species.
Giant Knotweed and Scoth Broom.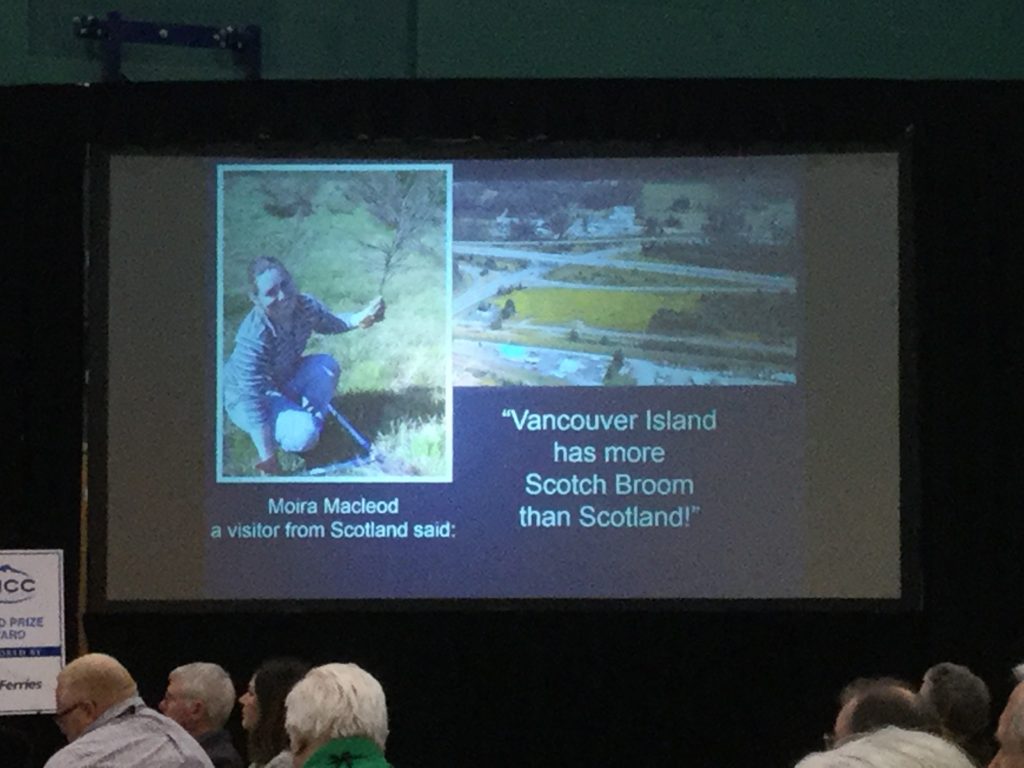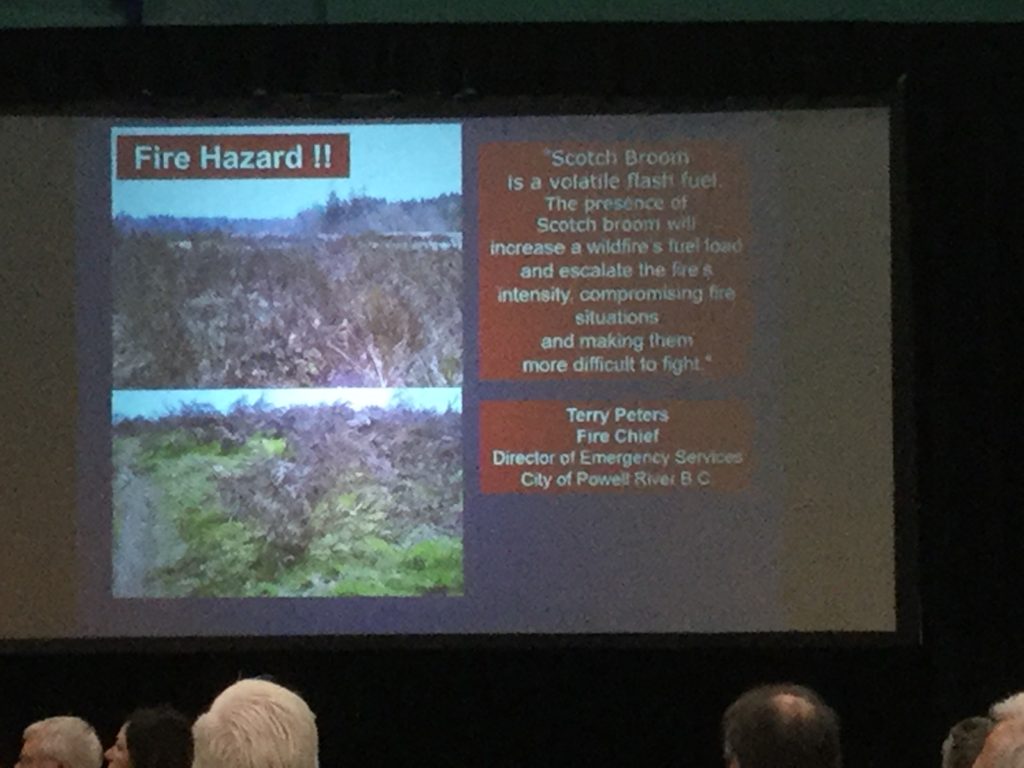 Empower the people
Give volunteers freedom to cut
Make room for all and individuals. Go after small patches first. Let folks adopt a patch. Cut it at ground level when it is in bloom in spring. Don't pull out of ground will disturb seeds.
Keep on it and cut it as it comes up.
HERE ARE TWO APPS YOU CAN USE.
Report a Weed by Webilize
https://appsto.re/ca/J_BOG.i
Report Invasives BC by Webilize
https://appsto.re/ca/fbW27.i
3:00PM Marine Response on the Coast. Presentation from Clear Seas and West Coast Marine Response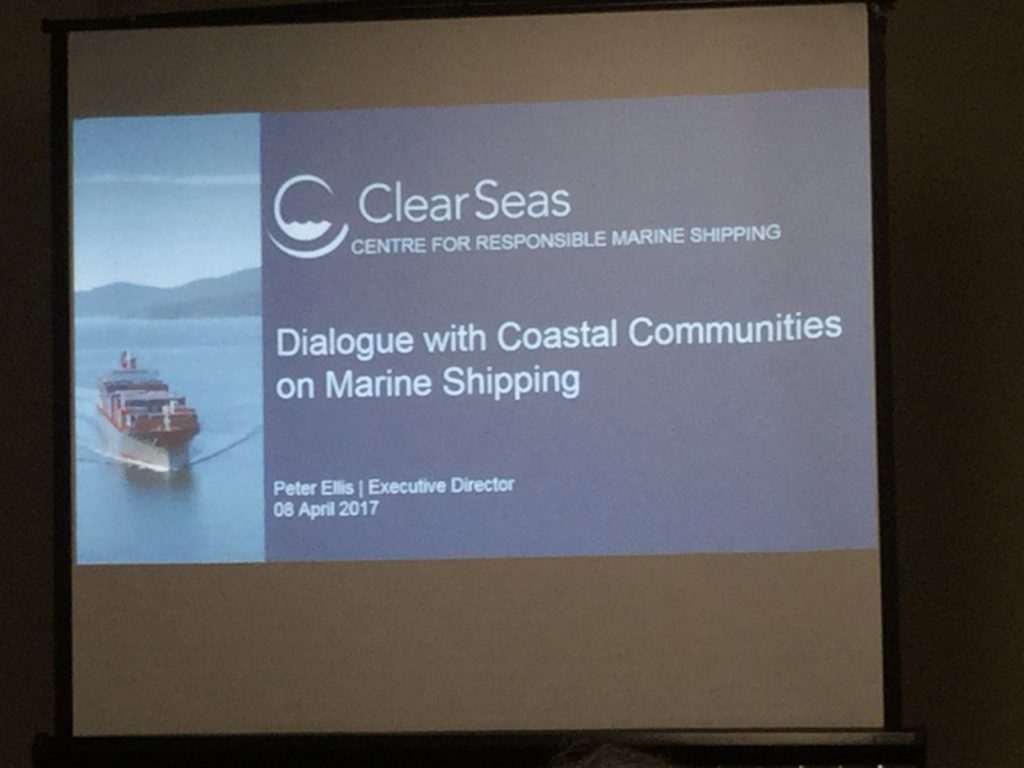 Clear seas is a not-for-profit promoting safe and sustainable marine shipping. They are new and are making connections with communities.
It was put forward by Alberta, Transport Canada and Canadian Association for Petroleum Producers.
They are there to provide unbiased information on marine shipping and its impacts.
Researching – oil spill response techniques – marine shipping socioeconomic impact – identifying what areas should be offlimits to major ships.
They would not comment on specific projects.
Question on true Independence —- Clearseas feels completely independant and fills the need of corporate responsibility by CAPP.
This whole presentation makes me think of this:
West Coast Marine Response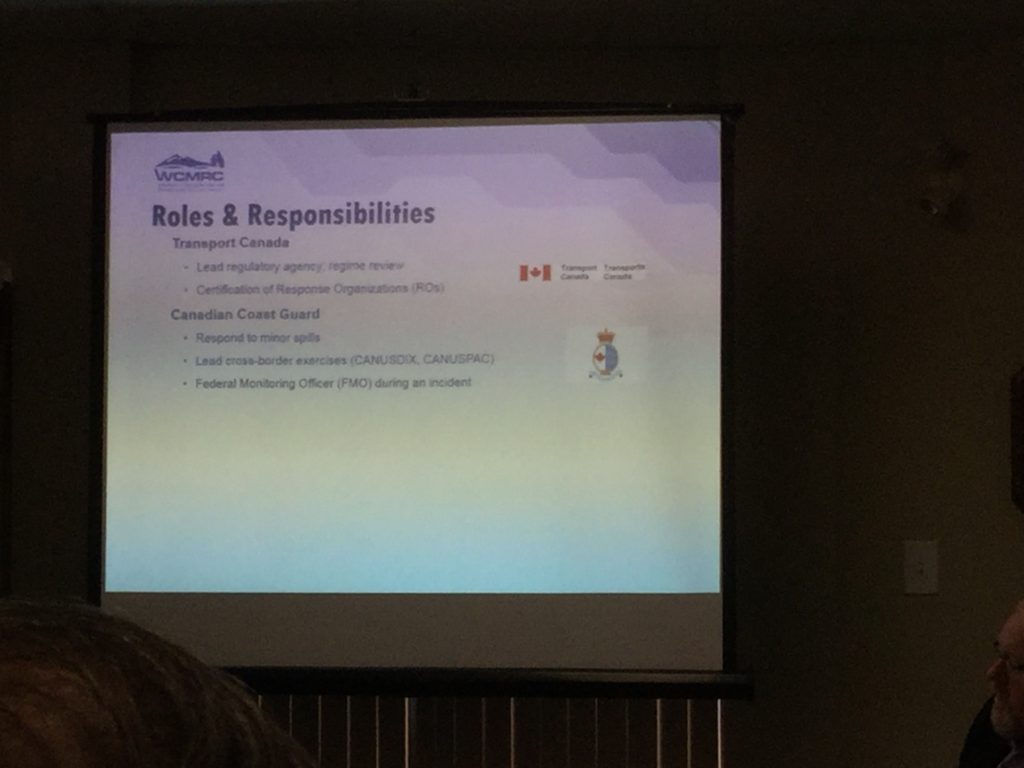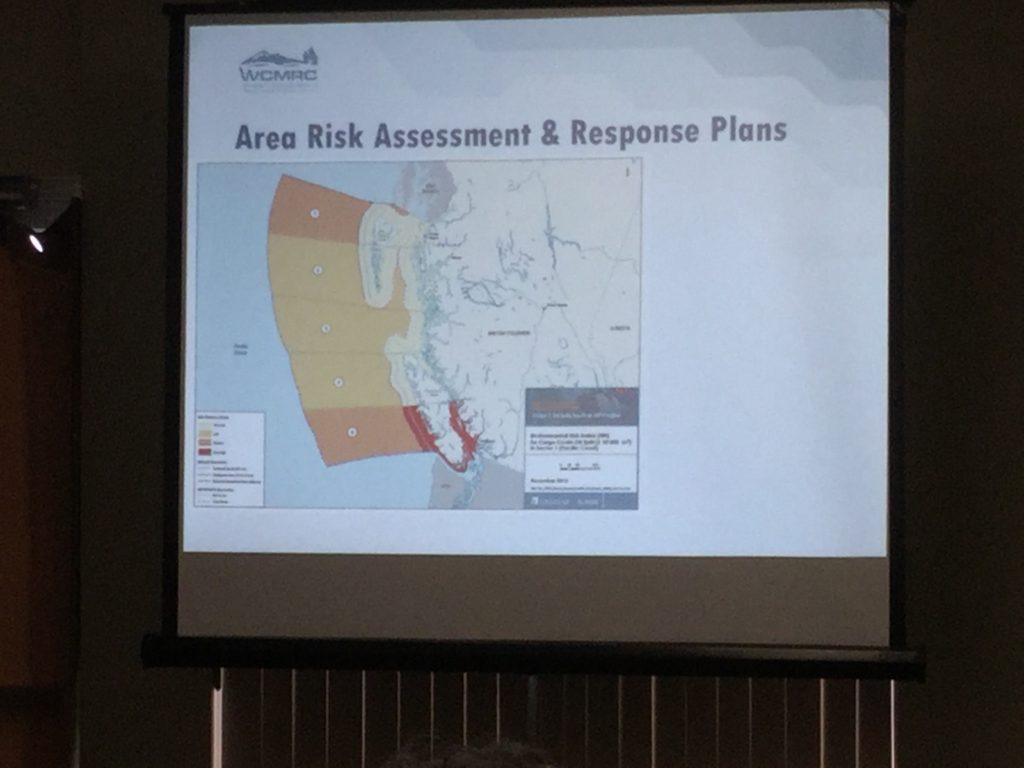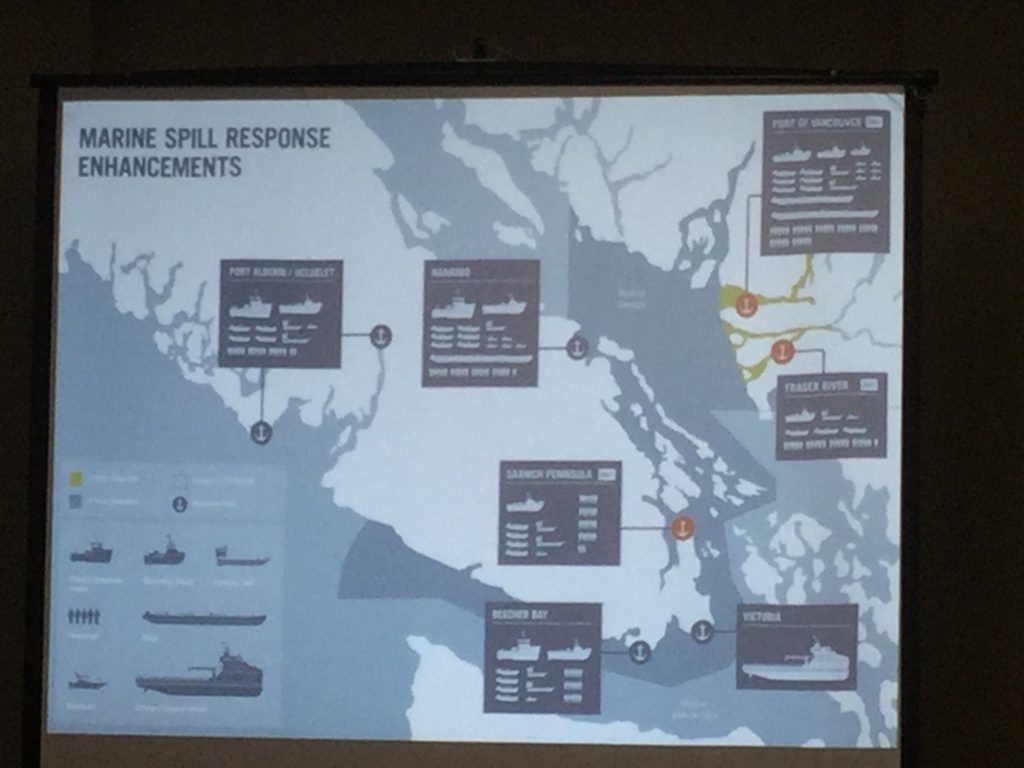 I asked about how they could expect to use their fancy new ships to clean up oil in a wind storm when is when ships actually generally have issues. Their answer was that there would be issues of the oil getting over or under the booms in Beaufort 4 conditions. No one except me and 2 other non industry people in the room likely knew what that meant… it means a "Moderate Breeze". 25kph or 11-16knots. Which is not even a "Small Craft Warning" criteria on the water (20knots).
One of the slides above shows a number of high senstivity points that have been identified on some of the shorelines of some of the Gulf Islands I can't help but wonder how this is relevant when if there is a major spill, it will ALL need to be cleaned up no matter where the oil falls. There is not one place or another that can have oil left there.
Also, the question becomes why is this response not already in place? Why is it dependant on one specific proposal (Transmountain) when we have such recent examples as the small spills on the Central Coast that had very inadequate responses.  We need this capacity today.
In talking with another Area Director who had recently had the West Coast Spill Response person present to their Board,  he asked him if he could explain what percentage of oil would constitute a successful cleanup. He said some of the other Board members gasped when he tried to explain it was 15%.
Finally, you will notice from the slides above that their response area does not go as far as Barkley Sound. I am not clear on what that means but it does not make me feel more secure knowing the entire Barkley Sound and northern part of Pacific Rim National Park Reserve is not included. Why?
1:30PM Derelict Vessels Session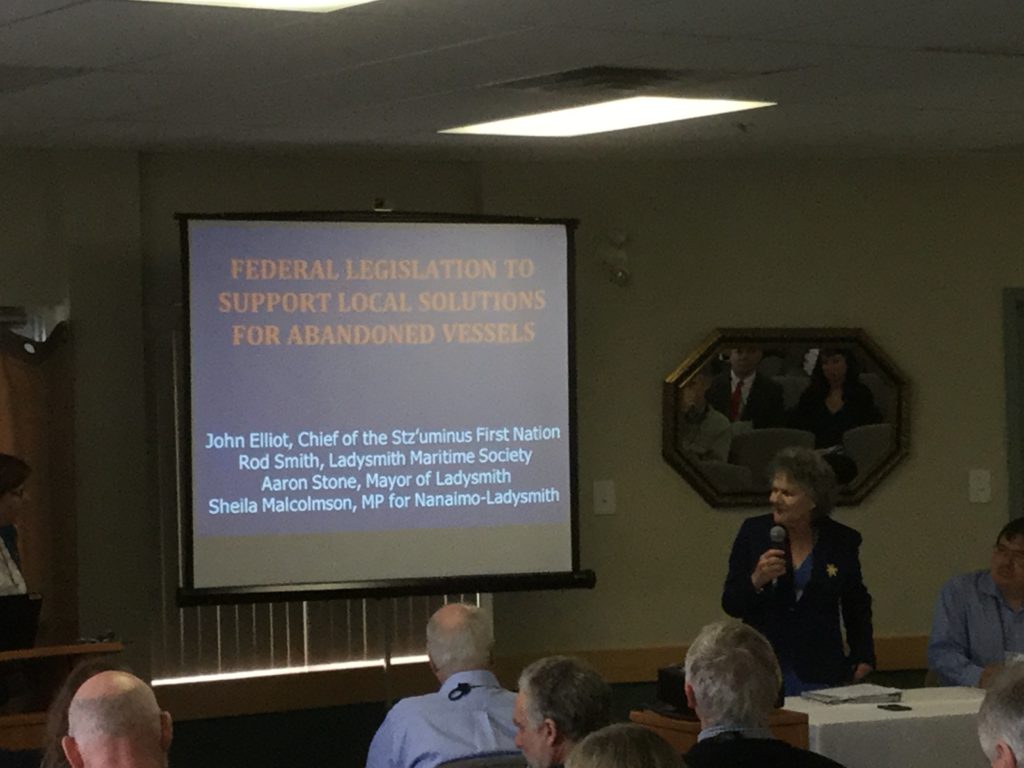 Sheila Malcolmson, MLA for the Cowichan area, Stz'uminus Chief John Elliot, Aaron Stone Ladysmith Mayor talked ofnthe impacts of abandoned vessels in their area in particular and the success recently with the federal government (Coast Guard) taking on responsibility for dealing with the vessels on all Canadian coasts.
Ladysmith has been working at city and enforcement level since 2007. 24 resolutions from council to try to push.
Zoning isn't an option because it affects the liveaboards not the derelict vessels. The federal government provides cleanup funds meant for oil cleanup but is very poorly used. The fund has $400M in it and only $27,000 was used last year!
https://www.tc.gc.ca/eng/marinesafety/oep-ers-regime-funds-1119.htm
The legislation to try to push the government to act and use that fund is coming in June and 2nd debate in Fall.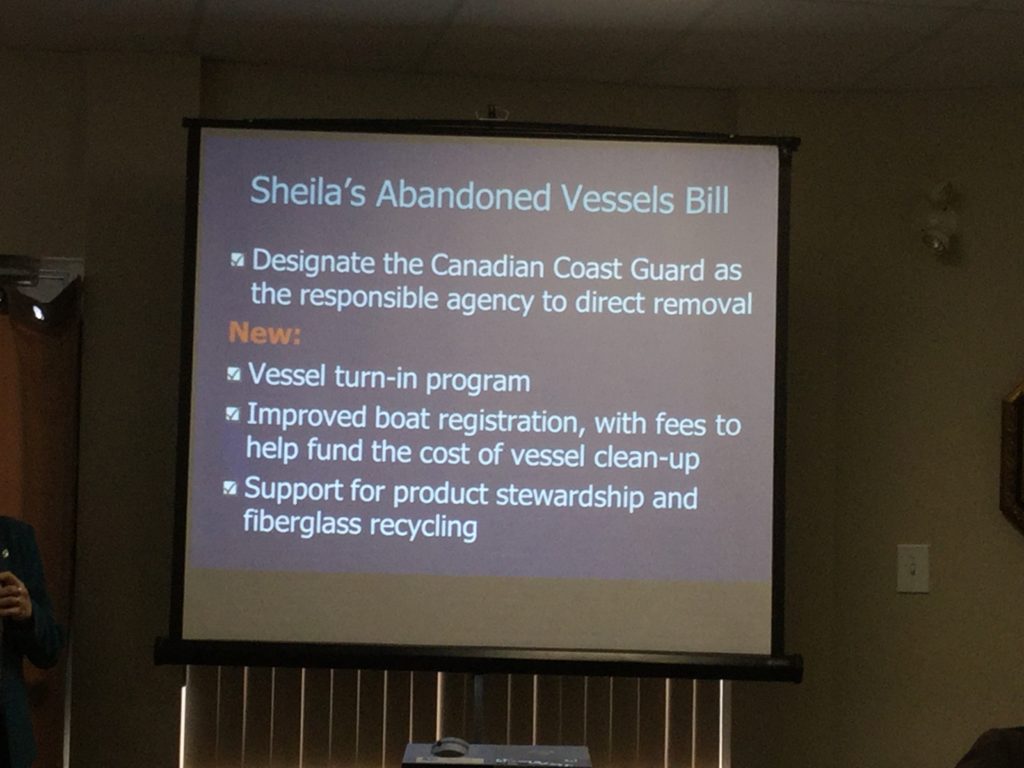 In the meantime the Coast Guard is the point agency.
There are wider issues around plastics, abandoned structures.
10:50AM Resolutions Continued
The province has basically dropped the ball when it comes to keeping track of Community GHG emissions.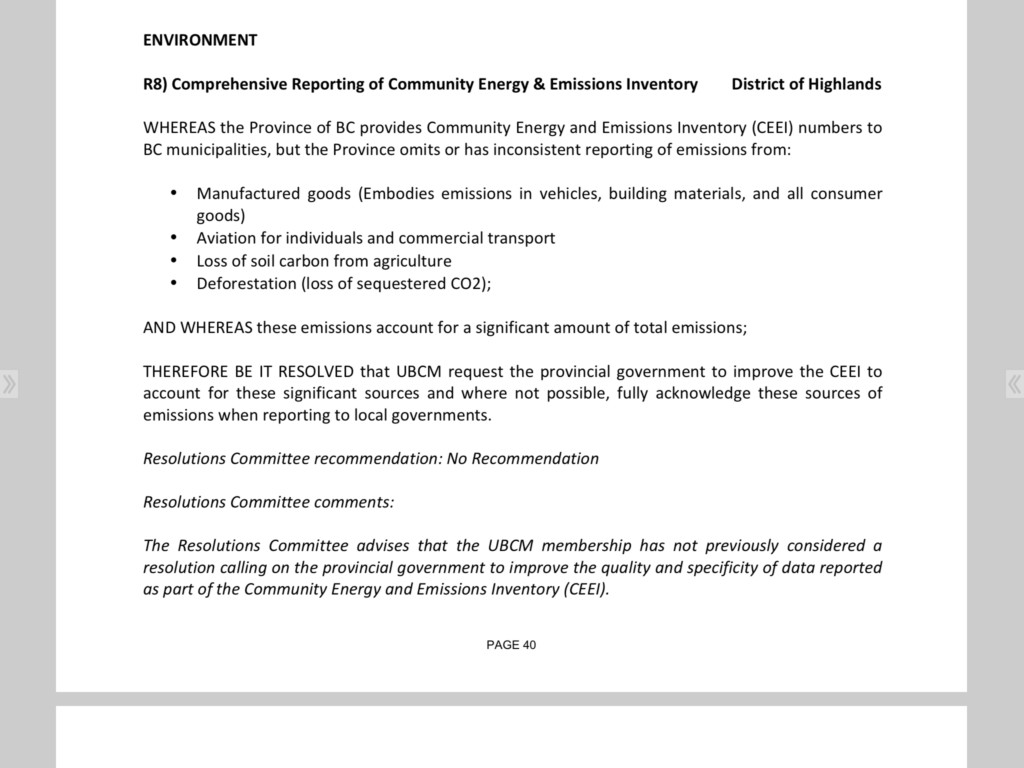 There has not been an updated inventory since 2007.
Passed.
R11 – Redirecting Deposits to Municipalities.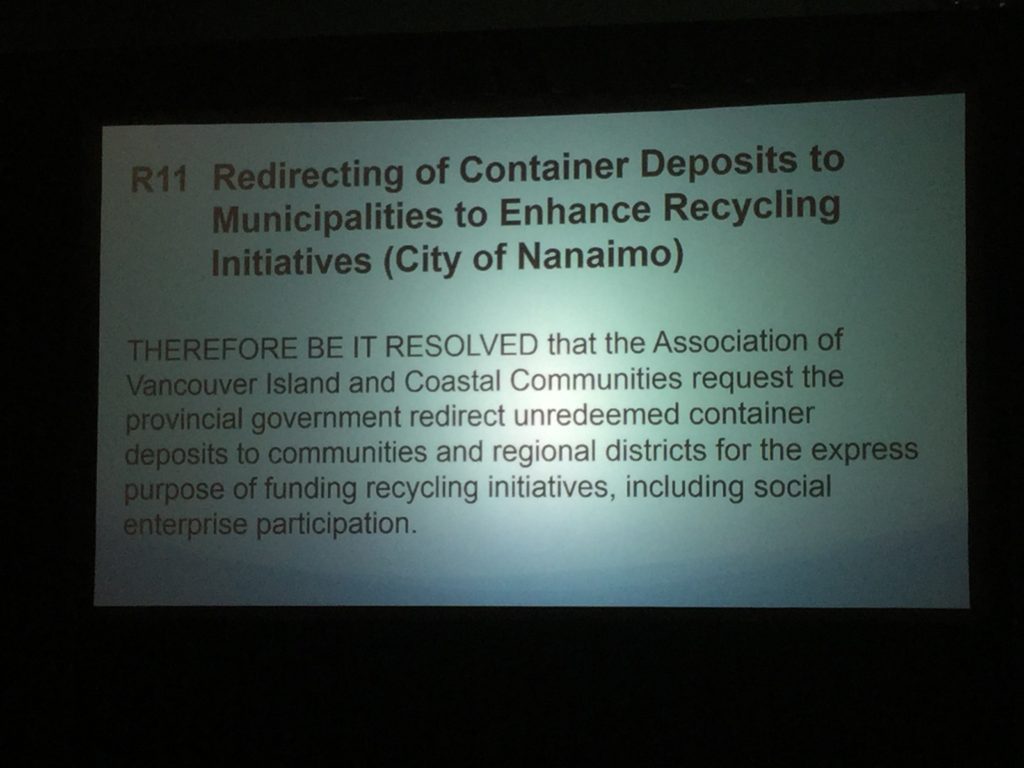 R12 – local Breweries and others working with the local growers.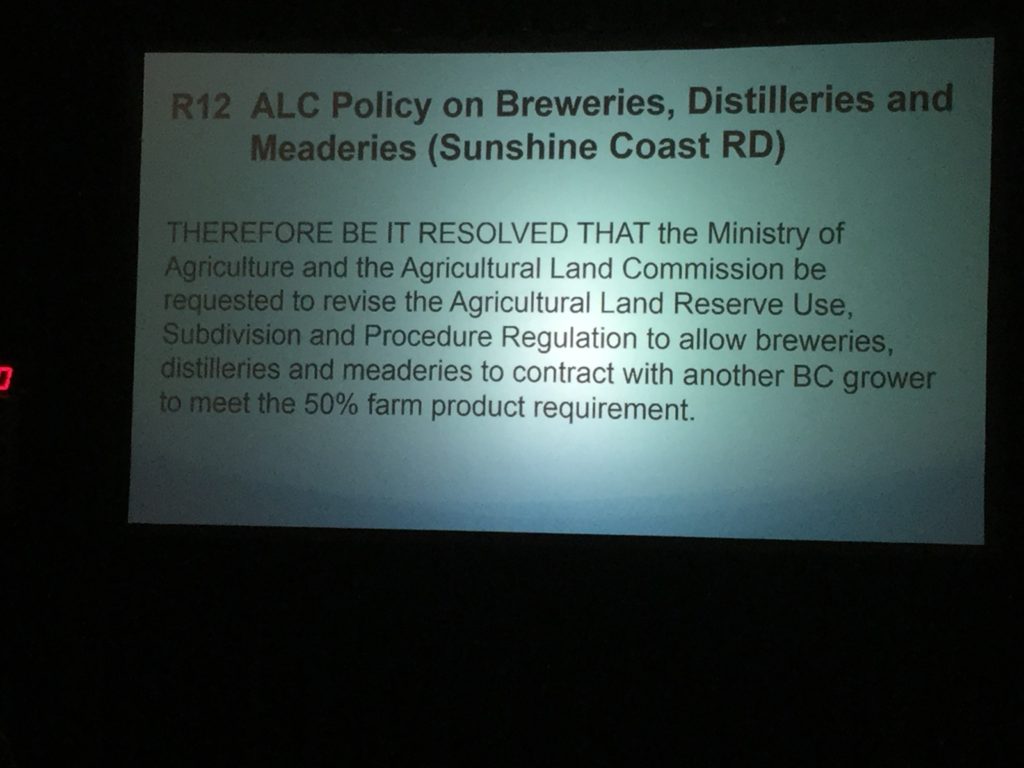 Difficult topic because there are so many pressures on ALR especially on Vancouver Island. Good debate.
Good points brought up that this could help farmers keep their farm land by diversifying their revenue streams.
Passed.
R13 Hazardous Properties Remediation Costs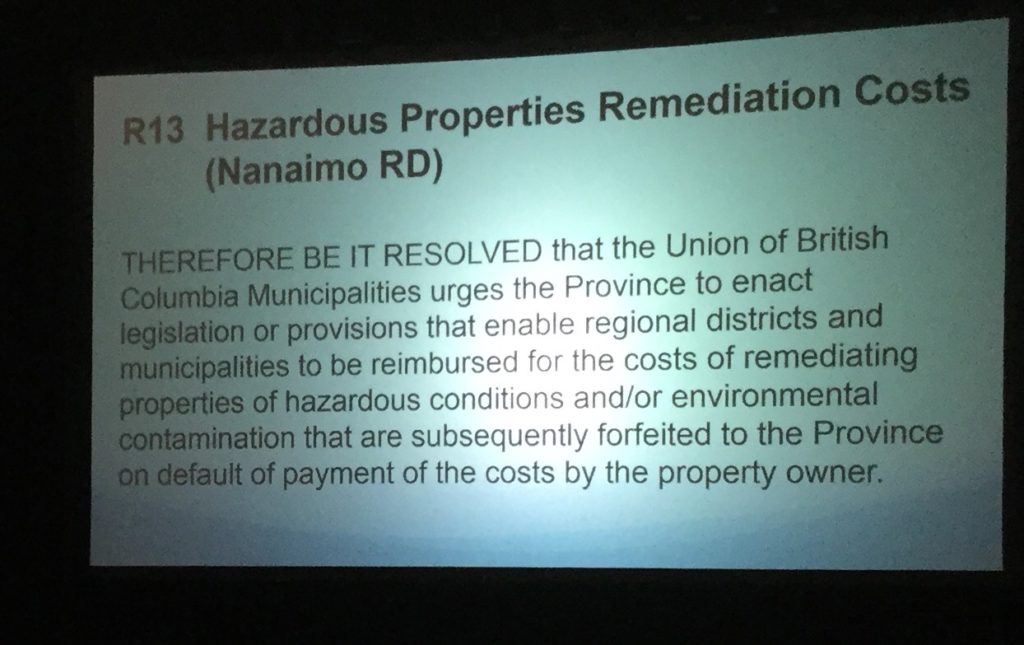 Passed.
R14 – Exam Requirements for Owner Builder Certifications.
Allowing folks to build their own homes and be trained and certified to do that!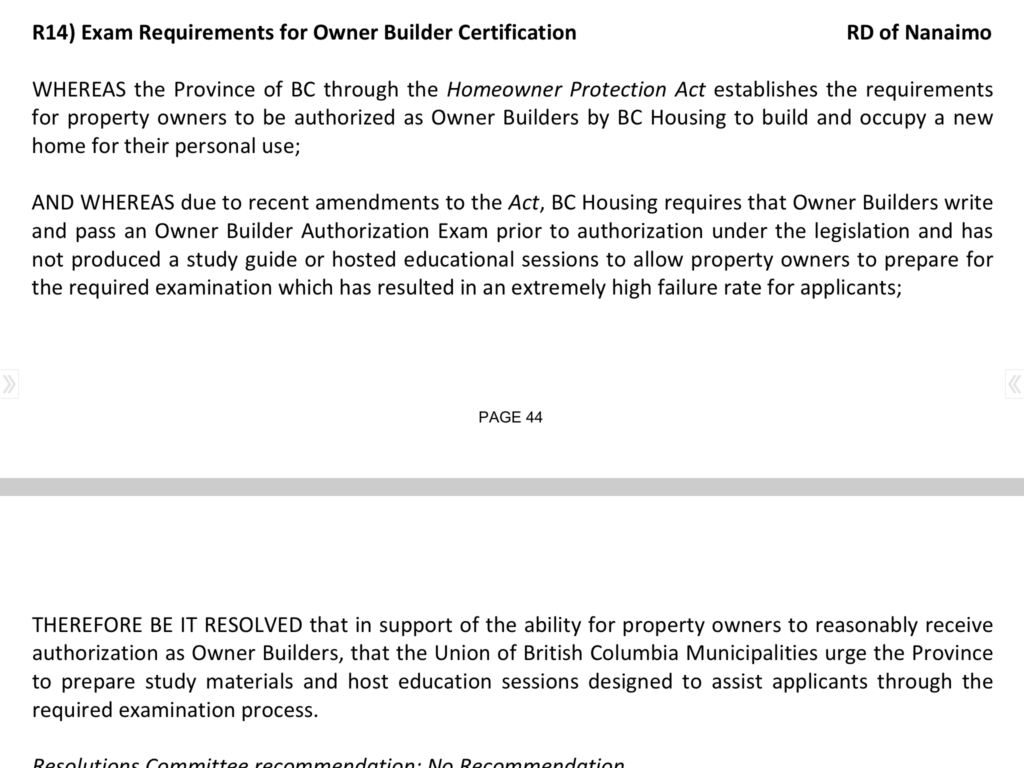 R15 – Open Government Area Associations
TO allow the Public to observe.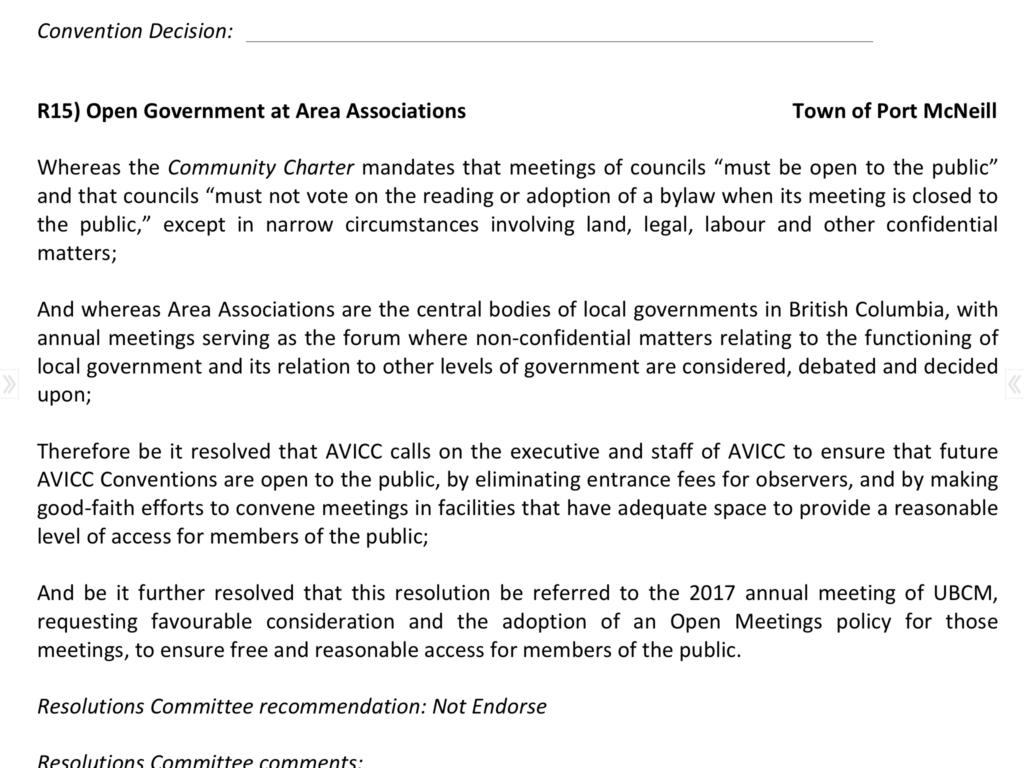 It was amended to begin with Webcasting.
It was deferred to the Executive to look at options.
R16 – Support for Adult Basic Education Campaign to abolish (as was before) tuition.
Passed.
9:20AM – Resolutions!
Special Res. 1 : Mayor of Queen Charlotte – Has been on Library Board so is familiar with the region. They expressed their desire to be in the region. And in Queen Charlotte in particular does not wish to be part of the North Coast Local Government association as they feel they have more in common with AVICC communities.
Carried –
Thie first resolution @THEAVICC is to add the North Coast Regional Disctrict into the AVICC. Passed. pic.twitter.com/qiaLFdbJuq

— Chris Alemany (@chrisalecanada) April 8, 2017
—- Special Resolution on AVICC Social Procurement practice committee to investigate how Island communities can advance the issue.
Social Procurement means employing social disadvantaged people first when community do infrastructure and other community work.
— Resolution on pushing the Province and BC Transit to create a Vancouver Island Master Transportation Plan. – Passed.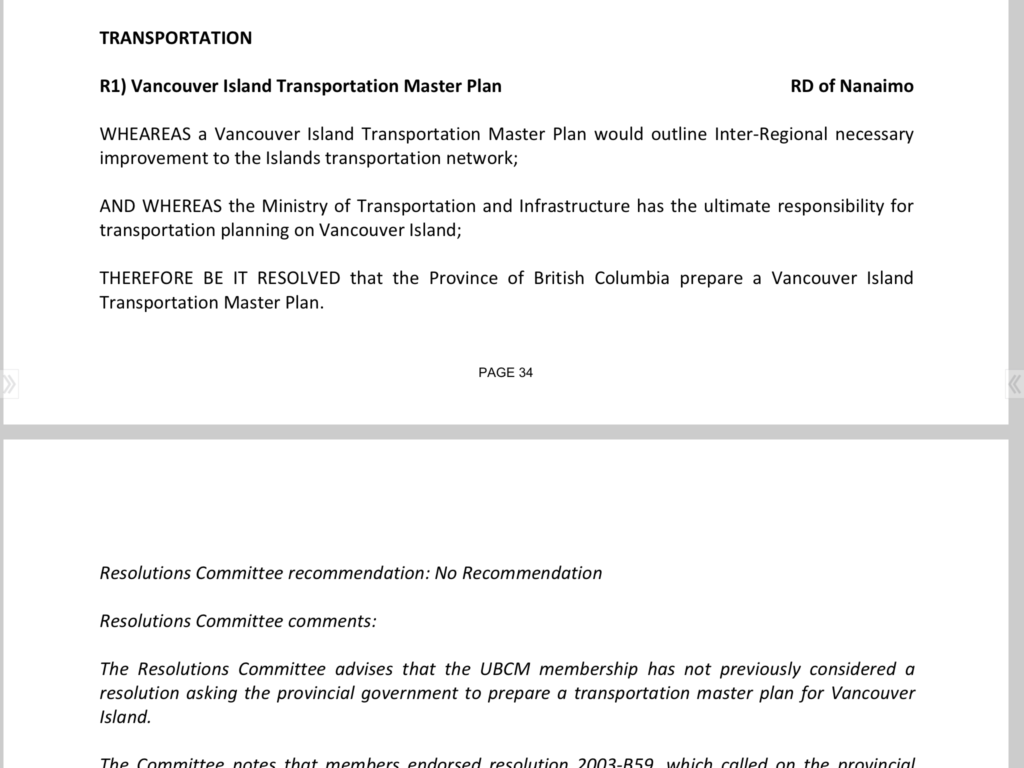 —- R3 Extension of Taxation Authority for Vacant and Derelict Buildings.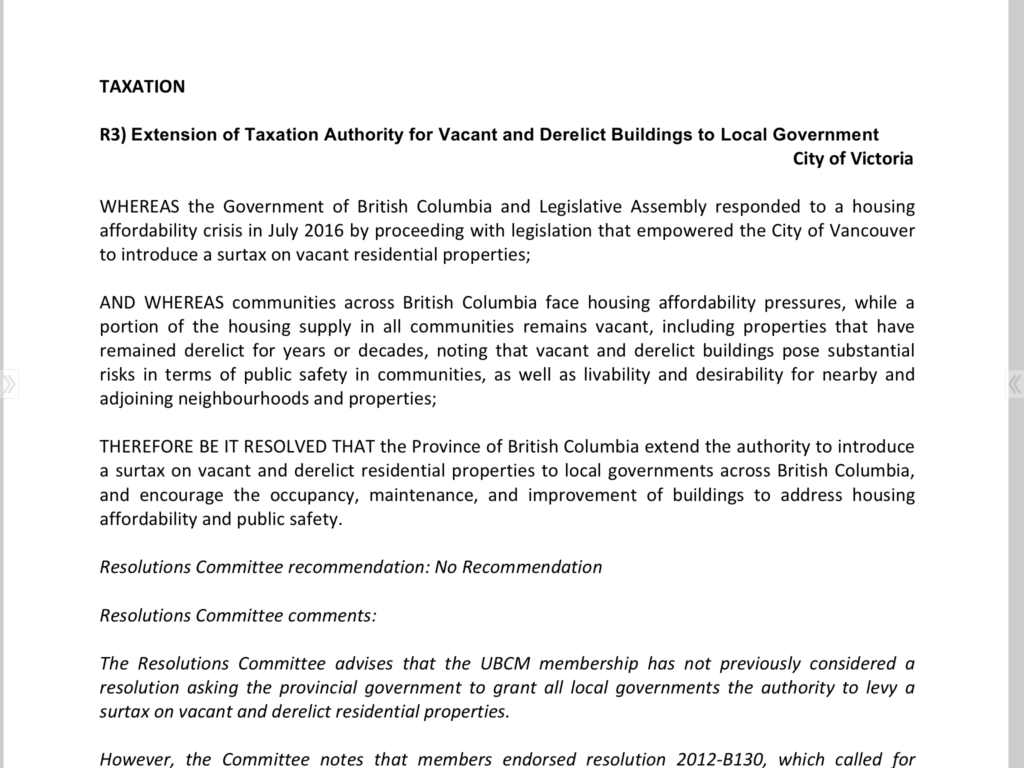 Passed.
R5 Funding for Fire Equipment – Cost Share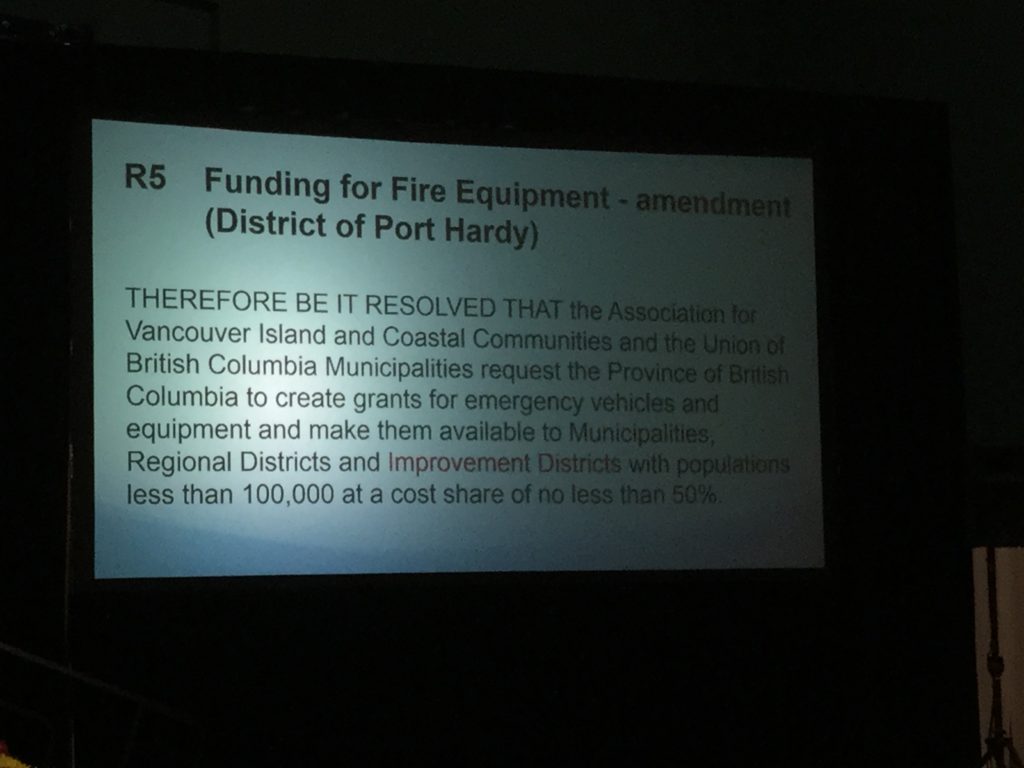 Amended to cover 10,000 and less.
Passed.
R7 – E&N Transportation Development Cost Charge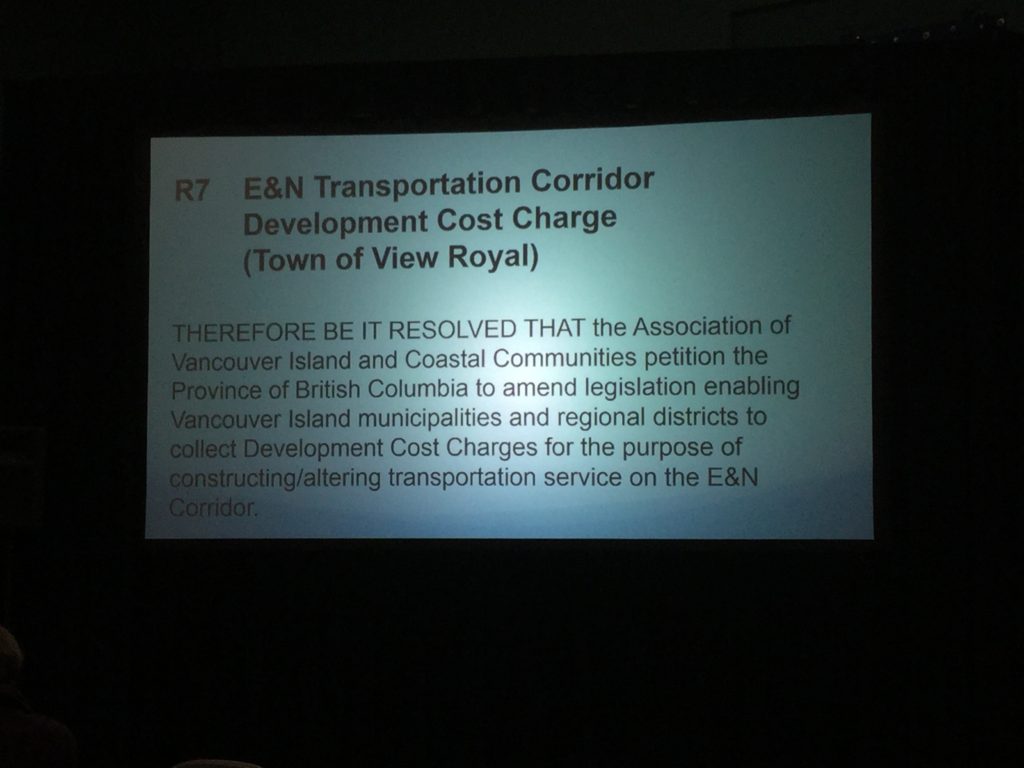 To be able to collect Development Cost Charge along the corridor to be able to go toward the rail corridor.
Motion carries CLOSELY – 78-68!
Saturday 8:30AM –
One highlight in this period was the Solid Waste Management Committee which is doing good work trying to deal with the challenges of local regional district landfills and how to improve recylcing and organics diversion rates.
Also demoed some great illegal dumping public service announcement radio ads. Councillor Sauvé will appreciate them!
The future direction of the committee will look toward WASTE TO ENERGY as BioSolids will be removed from landfills.
Saturday 7AM Island Corridor Foundation
Remarks from former CEO of Southern Rail Vancouver Island Frank Butzelaar, now CEO of Seaspan.
There is a live stream on Facebook from the ICF here:
"I believe one pf the strongest features of the corridor is that it has the trails… ability to ride a bike and hop on a train… that is something that will be unique to the Island. I believe the Washington Group firmly believes in the future of rail on Vancouver Island."
Talks about 30 year Seaspan ship building project. Re-establishing the railway and working with ICF is a focus for Washington Group. They do not expect to make money on the Island operation, they are giving back to the community.
Seaspan is moving out of Welcox terminal in Nanaimo to Duke Point. Southern Rail will now have full access to the barge terminal at Welcox and full capacity. This is already allowing more customers to use Southern Rail and transloading at the Nanaimo terminal.
"My commitment to the Railway is strong"
Graham Bruce comments on Business Plan –
Make sure you fill out the feedback –
Commuter update in Victoria – Expect to make an award of feasibility study sometime in May –
$20 Million Update – the original funding program with the federal government is now discontinued but will be reapplying and the business plan will be informing that process.
Friday 4:20PM Responsible Conduct of Elected Officials
Mayor of Nanaimo advocates for stronger Provincial action in face of a crisis in Local government and WSBC is 'inundated' with complaints from city politicians and staff.
Councillor Brennan of Nanaimo bravely speaks to the serious challenges at Nanaimo Council. Suggests appointment of an independant Administrator.
.@MichelleKOakBay notes ex. of former councillor forced out by conduct on an Island Council. Notes it is discouraging others from running. pic.twitter.com/VIC1wkUuLA

— Chris Alemany (@chrisalecanada) April 7, 2017
There should be a combination of mandated required and voluntary tools.
Social media, post truth, and other changes in  society have contributed to degrading of conduct, among other things.
How do we improve the situation when those pressures reach the Council or Board table?
In other jurisdictions/provinces… there is an Integrity Commissioner that can be accessed to investigate issues fairly at local government level.
Well this might be an interesting discussion. @THEAVICC #bcpoli @UBCM pic.twitter.com/qLmCCVCpvP

— Chris Alemany (@chrisalecanada) April 7, 2017
….. previous update….
Just got to the the Campbell Rover Community Centre for the annual Association of Vancouver Island and Coastal Communities conference. A gathering of all local government elected folks in our region!
I haven't had a chance to look through the resolution packages yet but I will get there in time for the resolutions tomorrow!
Stay tuned to the top of this page for updates throughout this weekend!