Tons of information today!
All agendas for meetings today are on the City website.
First…. in just a few minutes at 9:30AM there will be a special meeting in Council chambers on the Raven Coal issue and the work that the City's committee has done preparing the City's response for the Working Group part of the Environmental Review process.  Unfortunately I'm at work at VIU so I won't be able to attend but I wanted to post this in order for people to know what's up. Their work is due into the Ministry soon so this is their chance to present it to council first and then send it along.
At 10AM, 2PM and 6PM the City continues its series of department budget presentations.  Today will be Economic Development and Chamber of Commerce (10AM), Parks and Rec and Industrial Heritage Society including McLean Mill (2PM), and Fire Department (6PM).
Come out and learn more about these issues if they are things that most interest you! I will be at the 2PM and 6PM meetings.  There are more meetings scheduled for Thursday including Corporate Services (10AM), and Planning and SPCA (2PM) plus the regular Planning Advisory Commission meeting at 12PM.
Wanna just read?
If you would rather stay home and do some light reading, check out the City's new "Document Library" page on their website.  It is an incredible resource!  It has dozens of documents and reports on all aspects of the City going back to the 1980s.  There is a ton of information there.  Some of them I have never heard of before like the "East Bypass Study", "Bicycle Route Proposal" from 1983(!!), and the Tsunami Frequency at Tofino and Port Alberni (1979).  Might be very interesting to read some of these very old reports and see how things have changed or evolved over time since.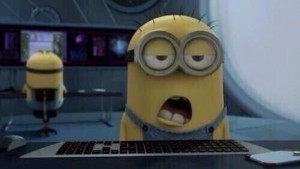 Warning: At the end of either the budget meetings or after having read every report on the Document Library page (or both!), you may feel like the tired little Minion.  Don't forget to stand up every once in a while and take a break!  But how could you be tired!?  This is riveting stuff! (No really! I like it!) 🙂