(Latest updates at top)
3:30PM Sunday Final update from the floor
We completed the election of the board members for FCM then there was an panel discussion  on what Canada and municipalitirs will look like in 20 years.
David Colleto. "Canada in 2040" The Demographics Story.
Millenials are now the largest group.
Technological and demographic and generational change happening together are causing very unique new issues.
Immigration will be required in order for Canadian population to grow.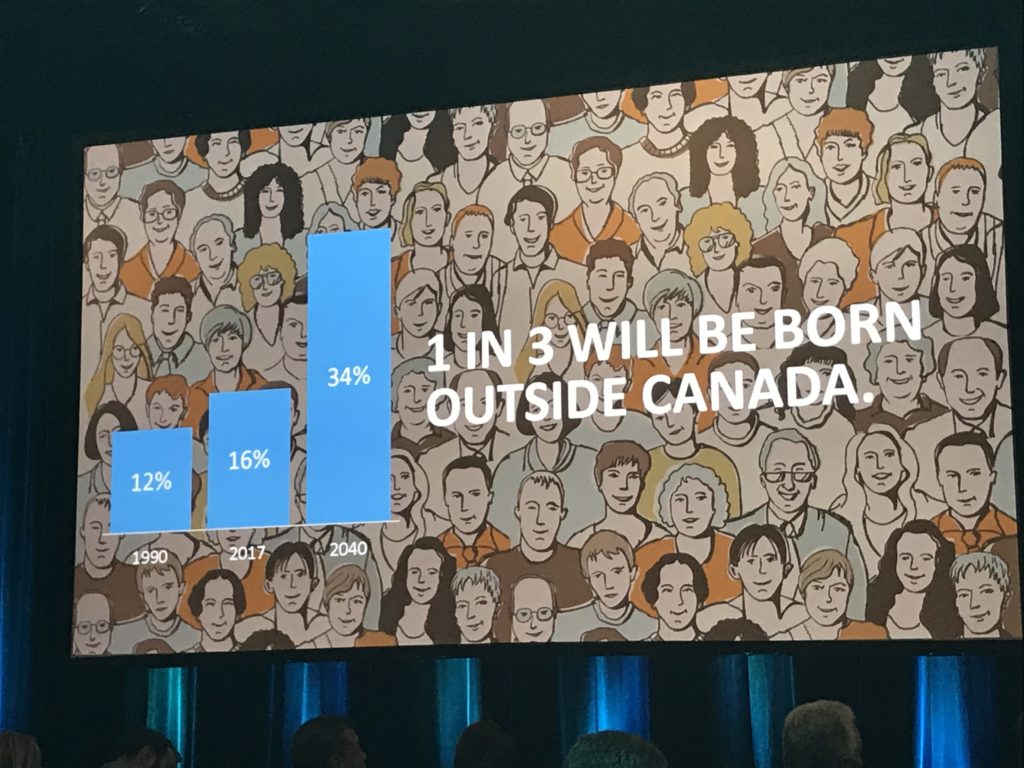 Average age in 10 years of indigenous peoples in Canada will be 40. Ten years younger than general population.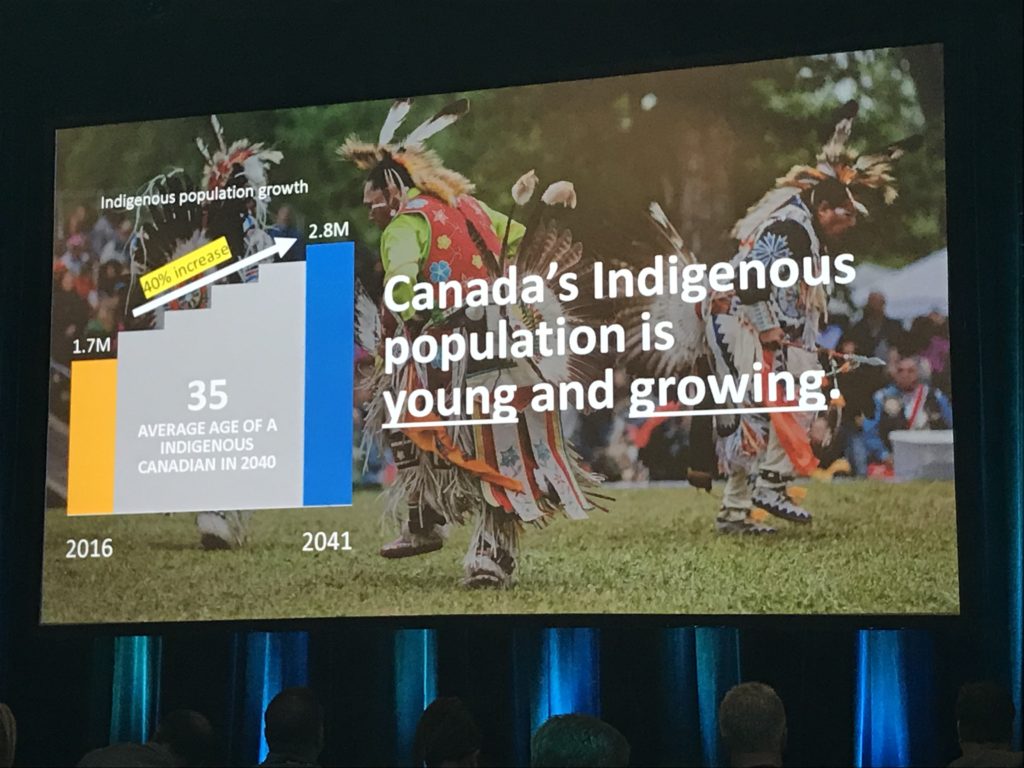 Seniors, boomers, demographic will grow hugely and be up to 2 million over 85. We will need to take care of them.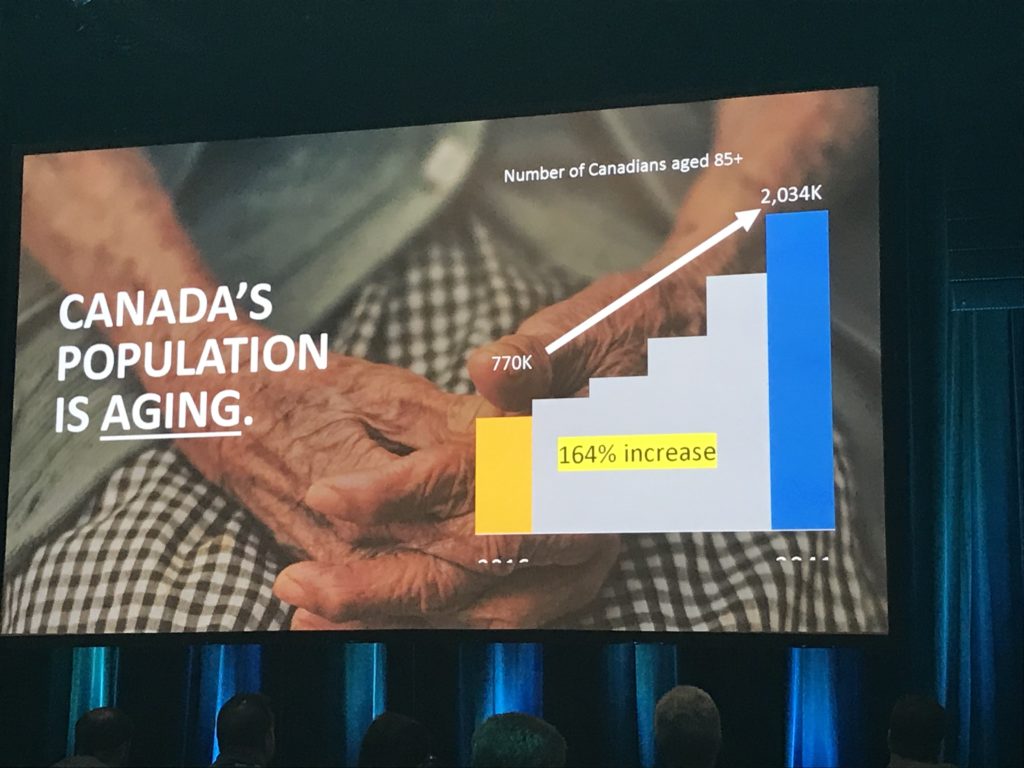 Next speaker – Paul –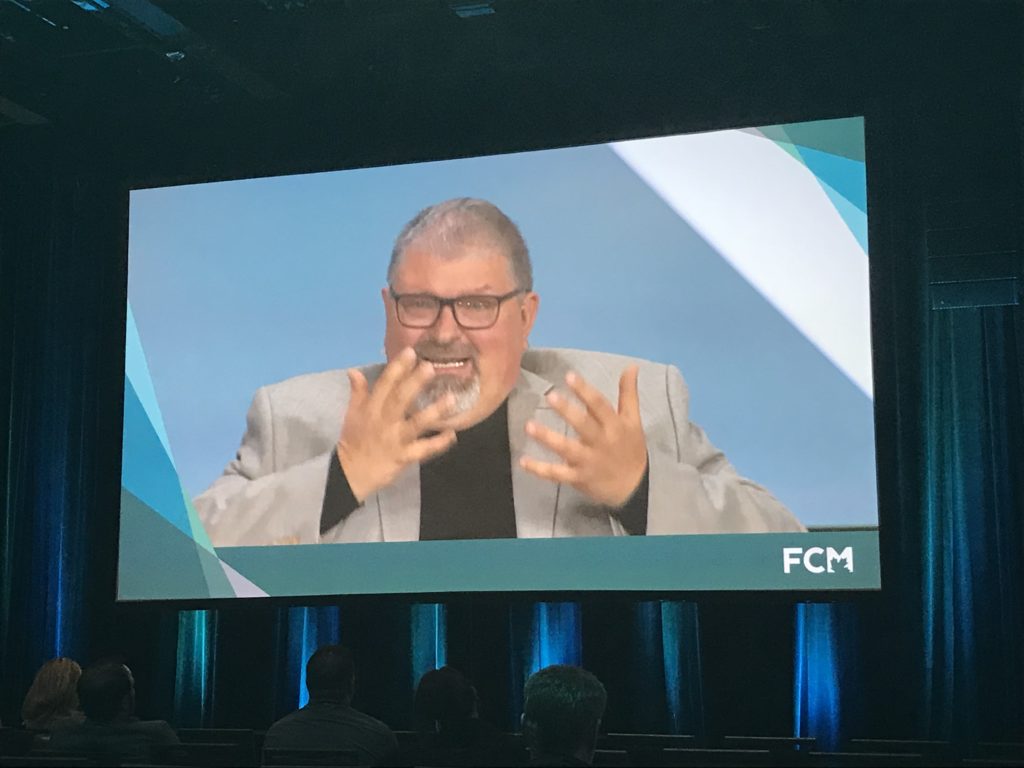 Speaking strongly on the challenges that will occur mainly from climate change but other reasons as well on refugees.
Poverty reduction is a huge way to help retain community resilience.
"Deepening Community"
www.tamarackcommunity.ca
We will welcome 7 Million refugees if demographics go "as planned" in next 25 years.  Far far more if climate change accelerated. The ideas of borders will be challenged. Do we build walls or be inclusive and welcoming.
Next Speaker – Shawna – On Mobility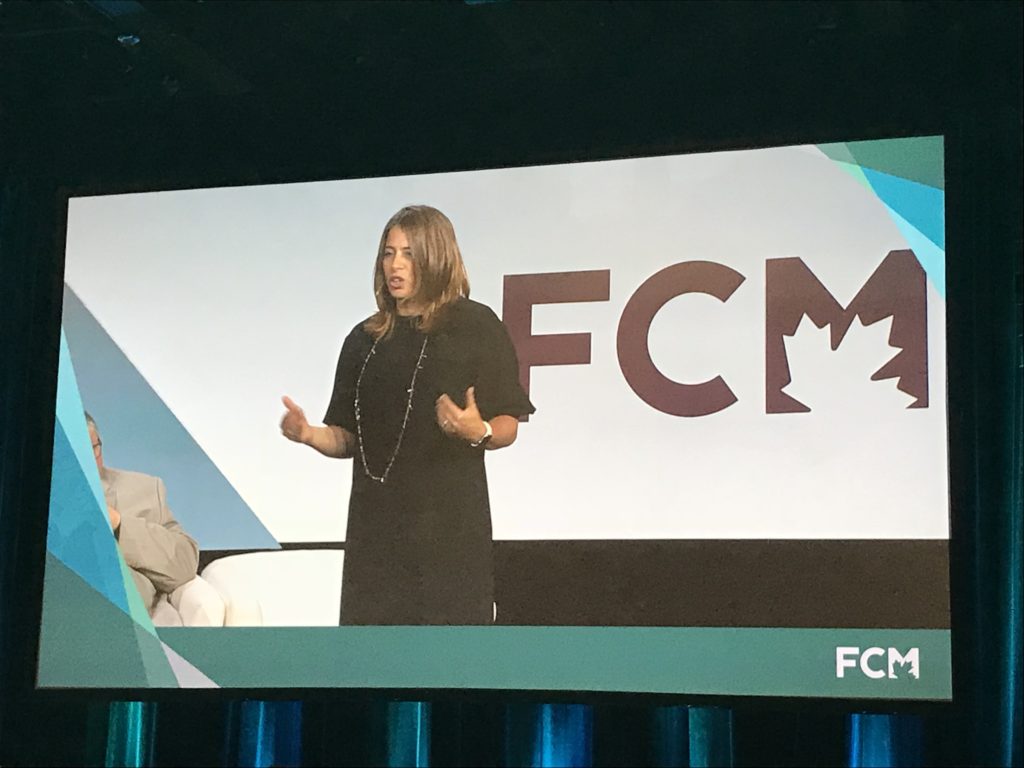 Autonomous vehicles, ride hailing, other tech is disrupting all transportation systems.
There are 11 major ride hailing companies in world (worth $1B collectively). None are headquartered in Canada.  We have an opportunity to attract talent and opportunity and jobs.
…..
Should municipalities become more active in community action?
….
Fun exercise, we were asked to give a one word fill in the blank by text to build a word cloud.
The audience was asked about which topics would be most important in the next 20 years.  Inclusivity won, but the point was made that really the answer is all three.

---
---
10:50AM Sunday Elizabeth May Speech
Her talk has been hilarious so far, on Trump and trade wars. Tune in!
"When you walk into a room with a hand grenade with a loose pin (Trump) your number one goal is to walk out again.".
Excellent short talk and then answers to questions.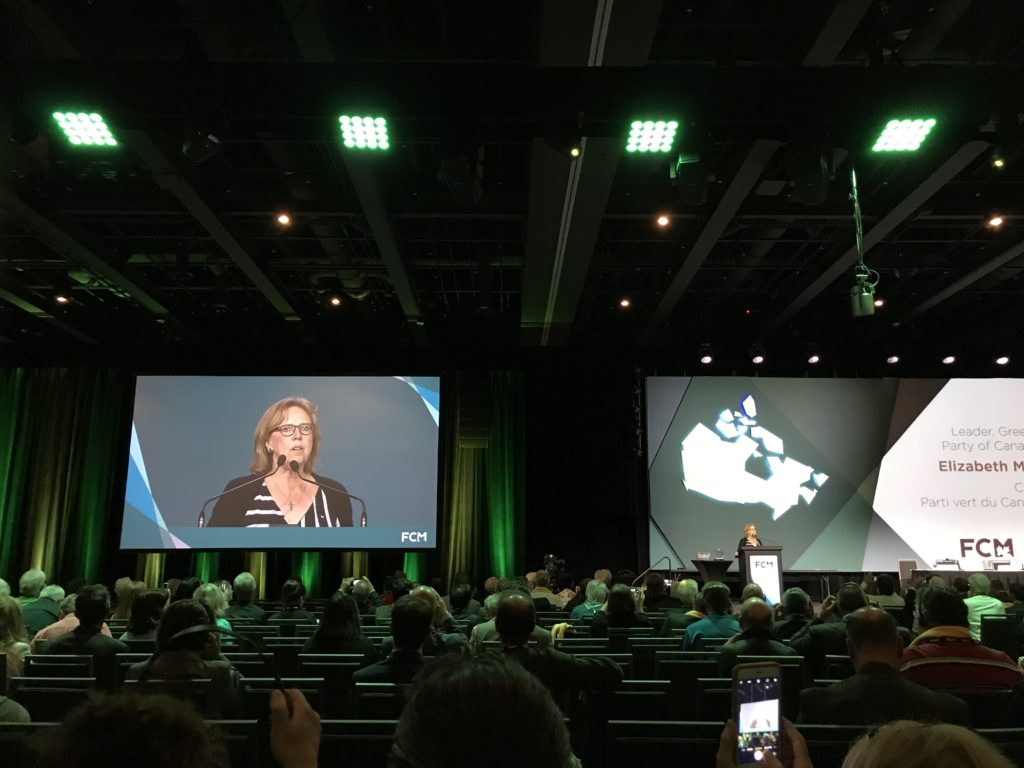 8:30AM-10AM Sunday morning FCM AGM
We get into the actual annual general meeting for the FCM this morning. We will be mainly going through the reports from board members and financials of the organization and then electing board members to represent regions across the country.
Numbers on attendance to the conference. 2118 delegates, 3545 with trade show and others participating in the conference.
Today's question to test the electronic…
The best comment from the podium this morning:
"This is the first conference to be held in both summer and winter".  (It was quite hot the first 3 days but the maritime wind has blown hard the past two!)
---
---
3:30PM -5:30PM – Youth Forum
Completely full house including a number of  Mayors and NDP Leader Jagmeet SIngh.
Our host is a young (28) director from Halifax, Lyndell Smith: "We have to have young people at the table."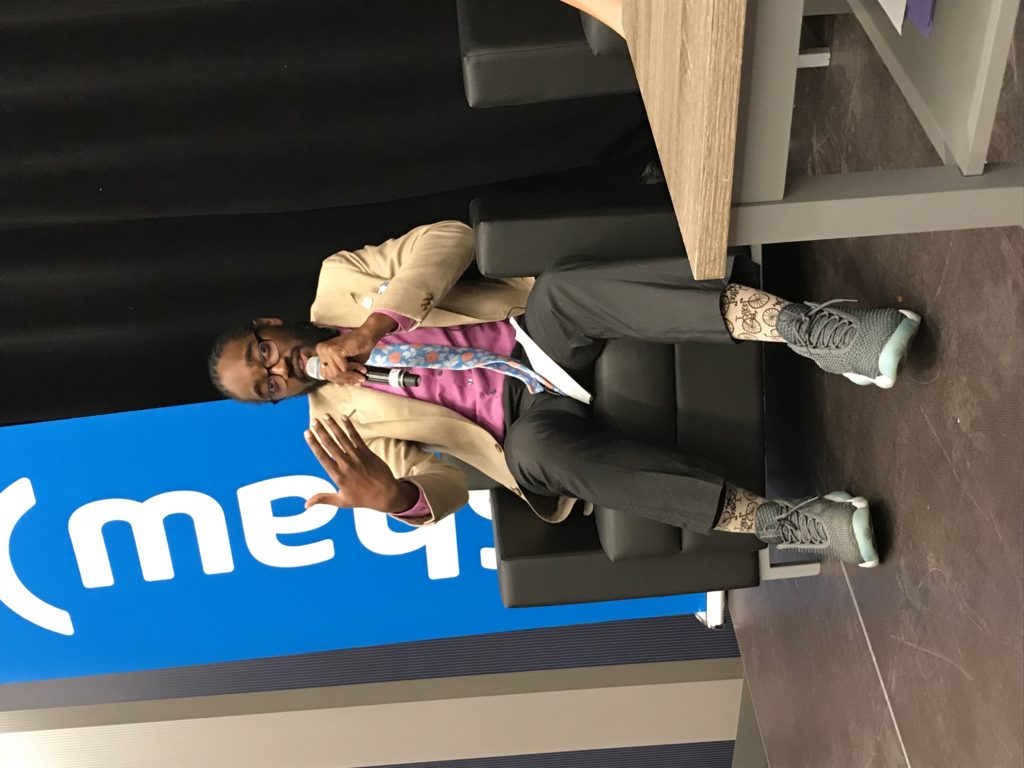 He is the moderator/question poser.
"You have to be a credible messenger".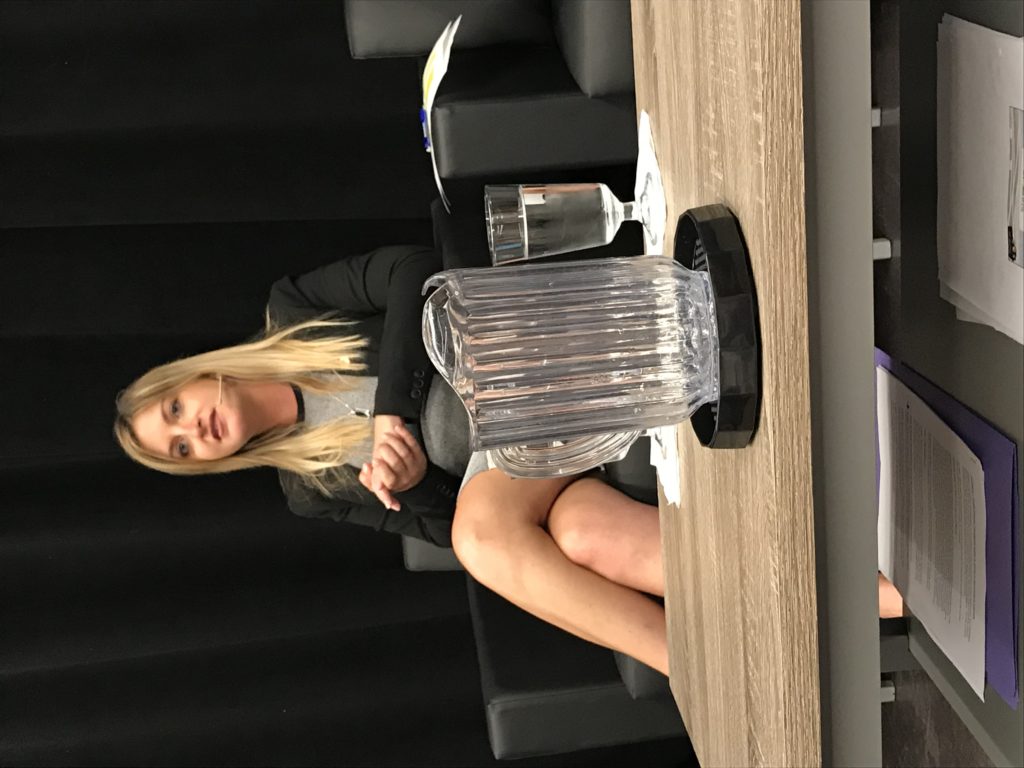 Marie-Eve Plante-Hébert (29), Councillor, Ville de La Prairie, QC •
The reality and challenges for young people who are 15 are different than those who are 25. We don't learn ar school how to work with municipal government. So she took it upon herself to help teach and bring the government to houth so they could learn how to engage. (Gave an example of a skate park).
She also participates on a provincial municipal committee in Quebec that looks at ways to engage women and young people in both voting and running in elections.
There is a program to connect youth with municipality and with jobs as well.
"Simple Plan" From Association of Quebec municipalities.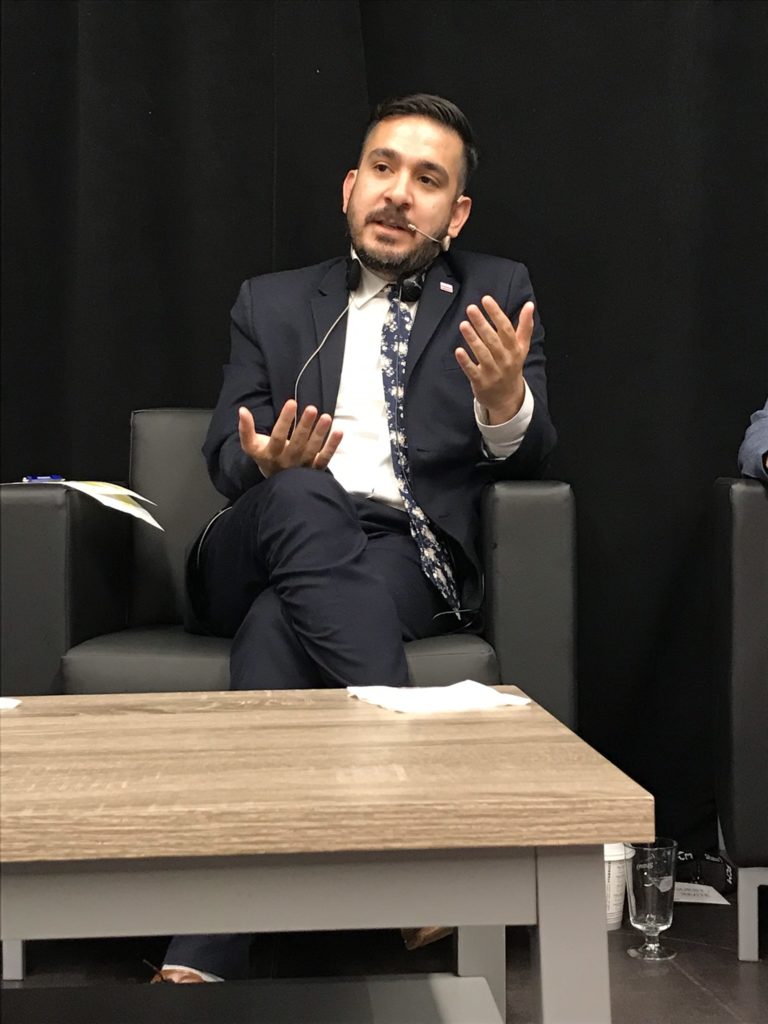 Thomàs Talamanté who works in the City if Washingto D.C. (29) as liaison between the City and Congresswho also worked on Obama's campaign.
Gives an example of creating opportunities to engage youth (listening tours) not just on youth issues but all issues. You will find them more often at City Council advocating for their issues, and for all issues.
Need also for Cities to become advocates for youth issues so they feel their issues matter.
The more you do engaging through social media, the more you will see diversity of people and opinion.
"It isn't your diversity of a city that makes you a leader it is your city embracing of that diversity."
There are working toward statehood and voting representation and are engaging and using youth to help that because they are very engaged in the topic already. Excellent organic, youth led and activist movement.
Five year olds in D.C. now know they don't have voting rights due to youth activism and work and funding from the city.
You have to hire young people and trust them. (Gives example of 20-25 year olds who were trusted by Obama to run his campaign and are now mayors, councillors, congress.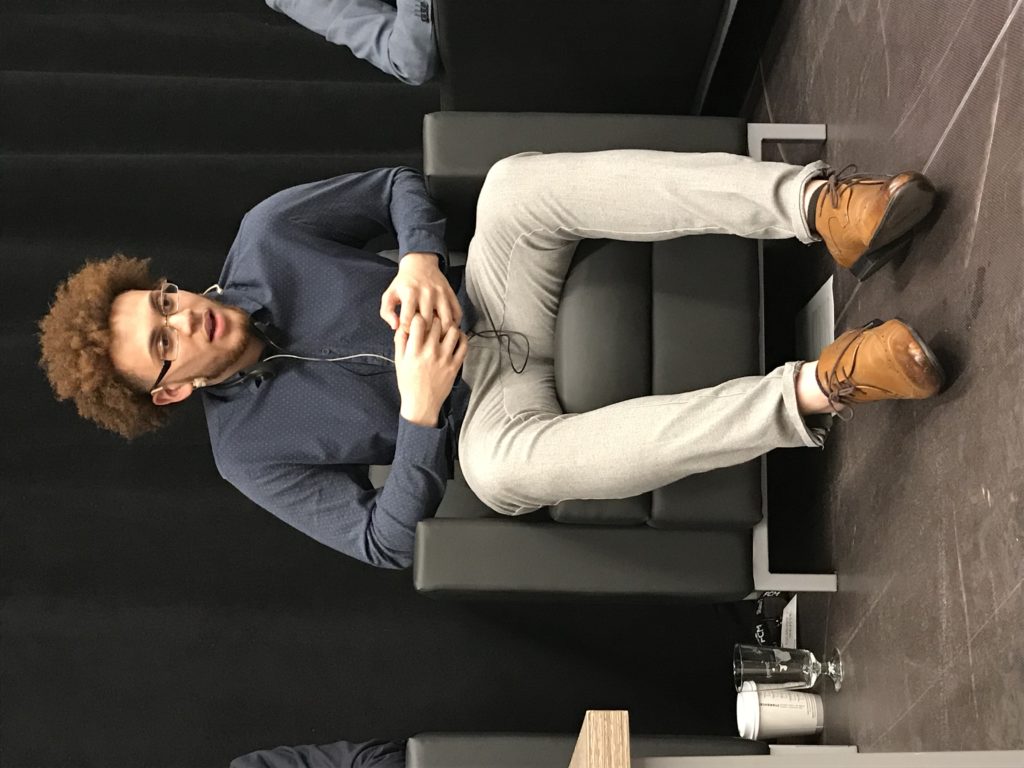 A youth from Halifax who works for the North End Community Action Committee. A group that is actially advocating for african-nova scotian issues and trying to ensure the community and culture that exists in the North end (which was a transplant of Afric-Ville). He has become interested in local government through that.
He doesn't want to speak and engage with "old white people" you need to engage with people from the community to really get people out of their shell especially for "youth youth" (12-25).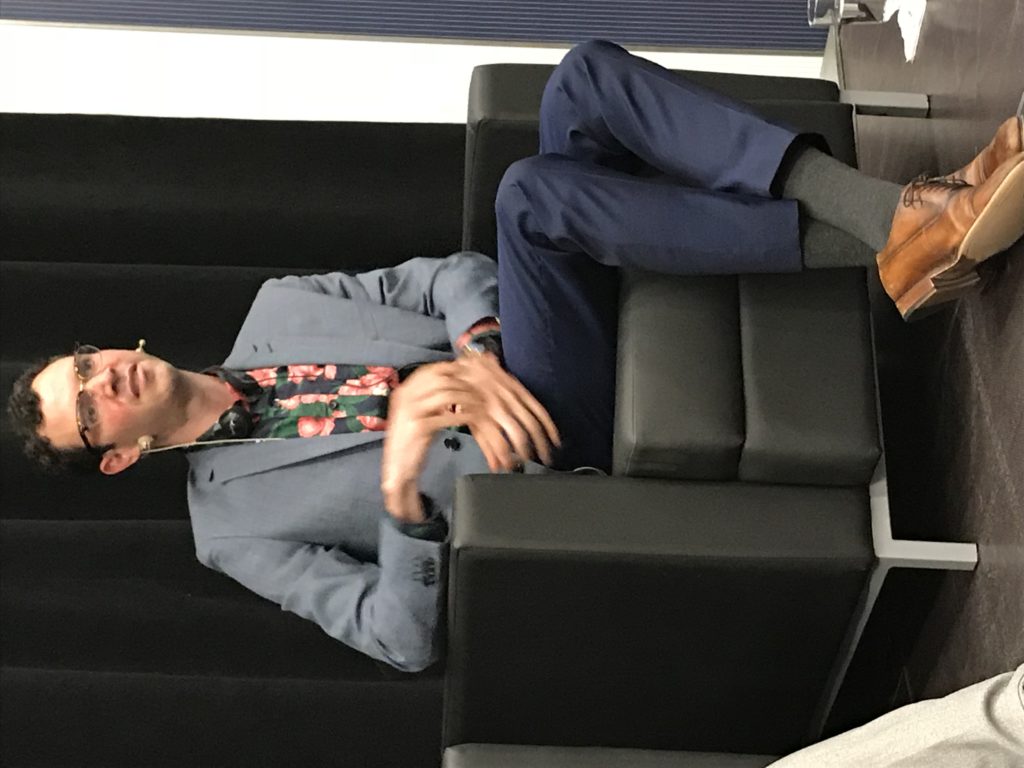 David Rauch, Open City and Technology Strategic Planner, City of Edmonton, AB.
Talking a lot about how you can use technology to engage youth and also to give them jobs and training on the job in developing new technology and apps.
Mayor Nenshi from the audience makes a point that maybe social media is not the place to engage youth in politics. ("Twitter is a cesspool"). Maybe 2010 was the time, but not now.
Mayor of Saint John made the point that maybe we need to keep it simple and just make sure we don't talk down to youth.
---
---
2:00PM – Tradeshow, Late Lunch, and Surprise!
Well, this happened!
Finally! Couldn't have my daughter @jadealemany be the only one in the family with a @theJagmeetSingh selfie! pic.twitter.com/AyuYa32rqk

— Chris Alemany (@chrisalecanada) June 2, 2018
It was great that he remembered meeting my daughter at ADSS when he came and visited a few months back with Gord Johns. He is a genuinely nice guy.. and he was outside a little later walking casually down the very pedestrian friendly Argyle (that's the street in front of the Convention Centre!) St.
Perhaps a model to look at for our Uptown near Argyle area? 🙂
One of the more interesting things at these conferences is the Trade Show, and the FCM Trade is the best one of all the trade shows at these types of conferences. It is a huge variety of people and companies.
One of the first booths I came across had a cool electronic voting machine that is touch screen and so very accessible for all users.  It produces a ballot that can then be counted like our ballots do.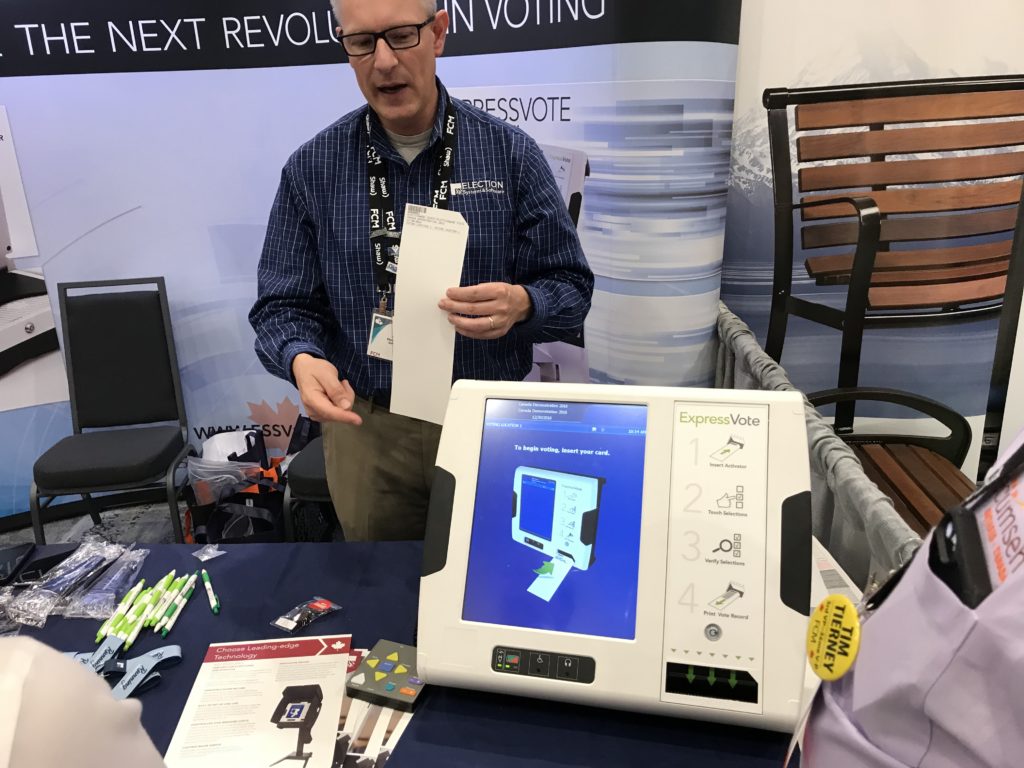 ---
---
10:15AM Saturday Jagmeet Singh.
The FCM Facebook page has a livestream of his speech and sitdown forum.
He is speaking on infrastructure first. Spoke strongly in favour od maintaining publicly owned infrastructure rather than privatization. Public owned airports, public owned electricity and most of all public owned access to high speed broadband internet across Canada.
Now speaking to opioid and drug addiction crisis and decriminilization of hard drugs.
Touched on Climate Change, Affordable Housing and closing tax loopholes and ineqalities.
Wonderful discussion at #fcm2018ac about the amazing opportunity of energy transitions for rural communities.

As a founding member of the 2nd Transition Town society in Canada, this warms my heart and gives me hope to see these sentiments in such high level discussion. https://t.co/JOlD1CO1J1

— Chris Alemany (@chrisalecanada) June 2, 2018
---
---
8AM – 9AM Plenary – Six resolutions
FCM generally has very few resolutions because they weed out things to things that are very clearly federal plus municipal issues.
The first resolution was from the Regional District of Nanaimo on Ocean plastics.
I voted in favour.
Bill Veenhoff, Chair of RDN, spoke to it and it was carried easily.
The second resolution was on Climate Change to urge the Feds to meet their Paris targets and partner with municipalities more directly.  Mayor Iveson of Edmonton was sponsor.
There was one notable speaker who I videoed who presented common myths about climate change. Thankfully, the resolution passed strongly. I will post the video later.
I had to record his comments. They were stunning.
I voted in favour. It passed strongly though this just progress, in the past (Winnipeg 2016) these resolutions have only passed in the 50s.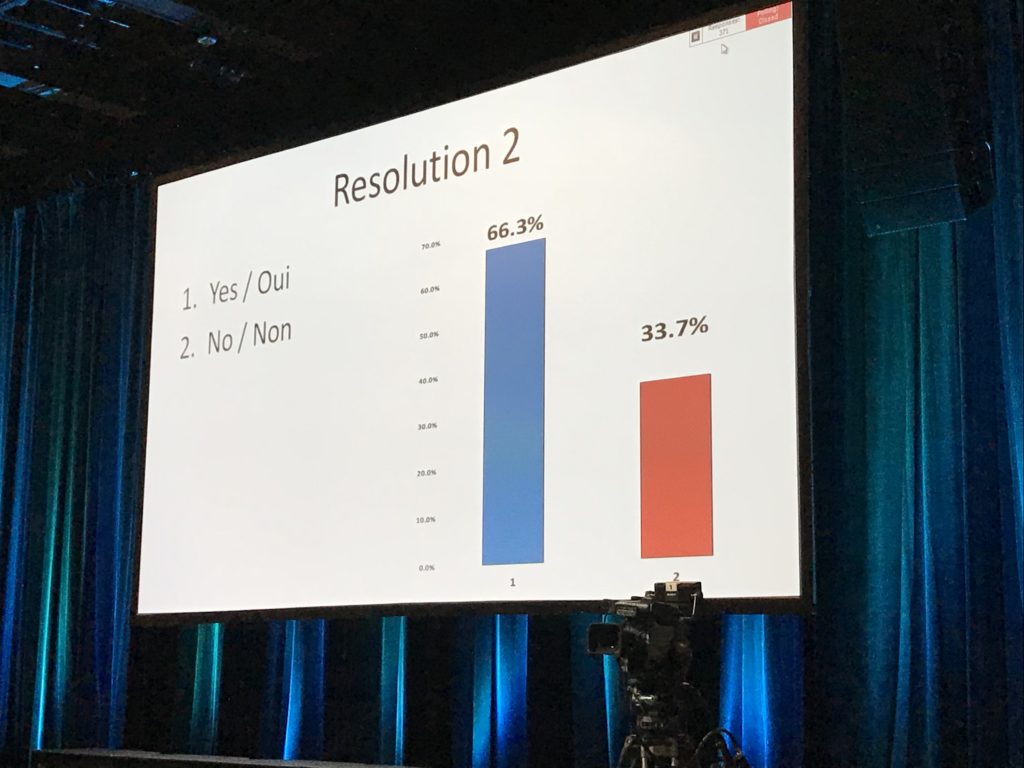 Third Resolution is on Species at Risk… but there is some controversy because it appears this resolution takes away protections for land habitat.
The northern alberta delegates are advocating for this motion and against protection of 1.5 million hectares of cariboo habitat. They want to be able to develop industry on the lands.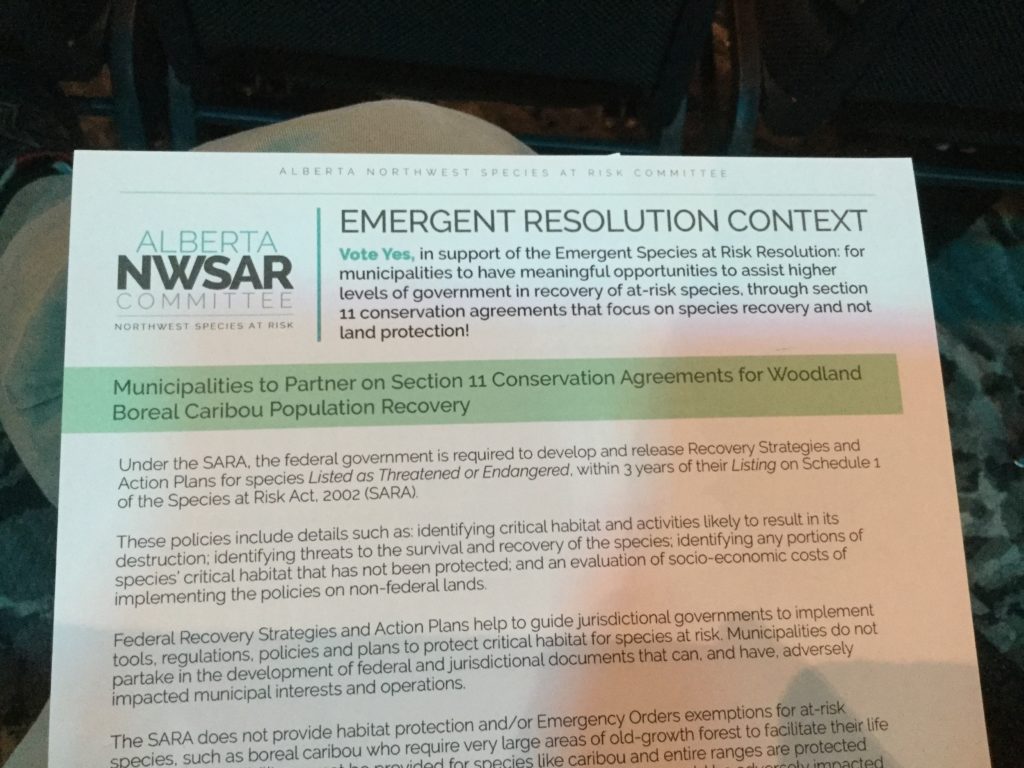 I voted against. It passed strongly.
The fourth resolution is on International Trade.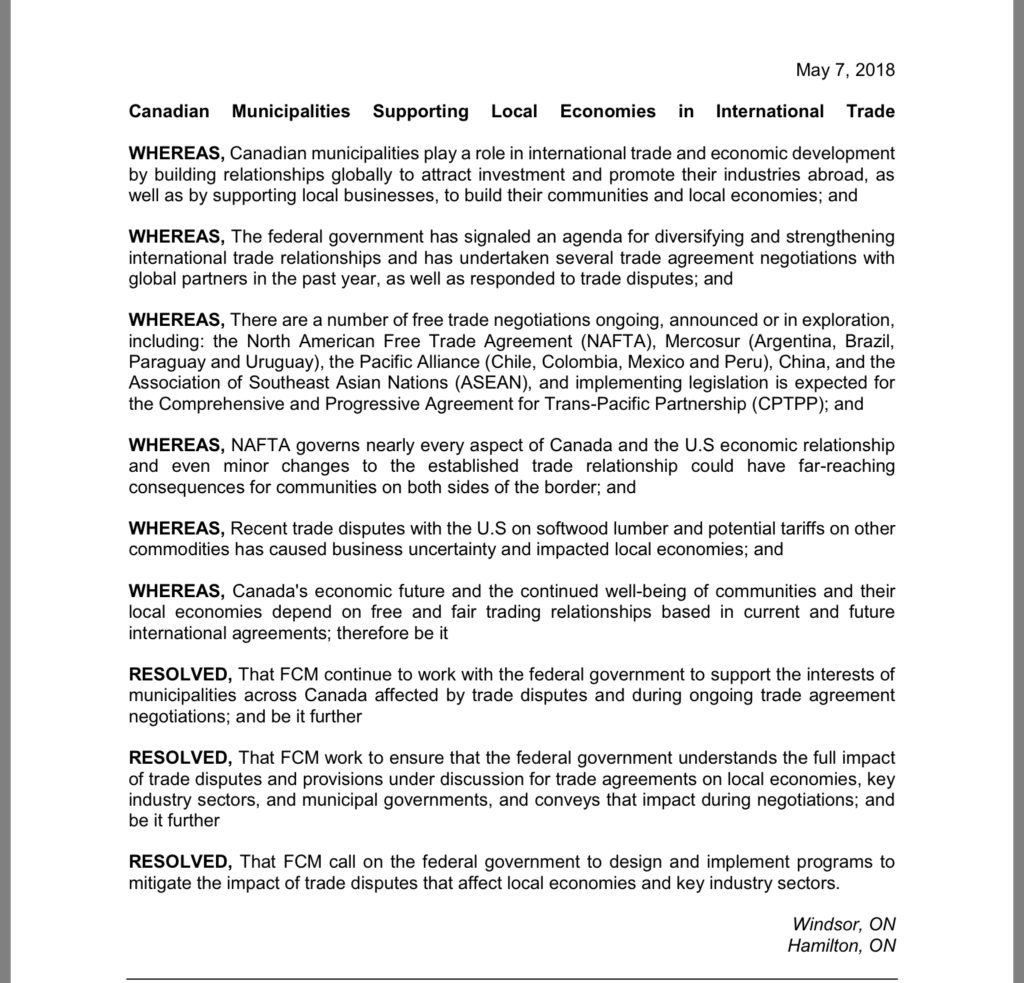 I voted in favour, it passed easily.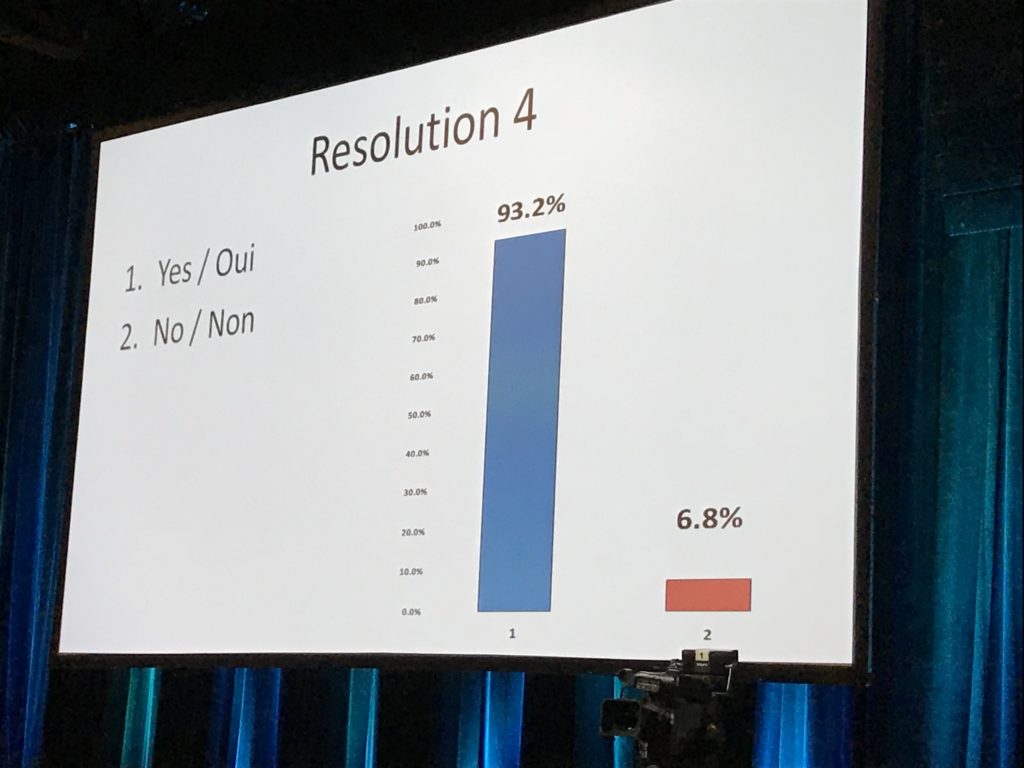 Fifth Resolution is on Policy tools for solving rural challenges and creating a "rural lens" to establish impacts from federal policy.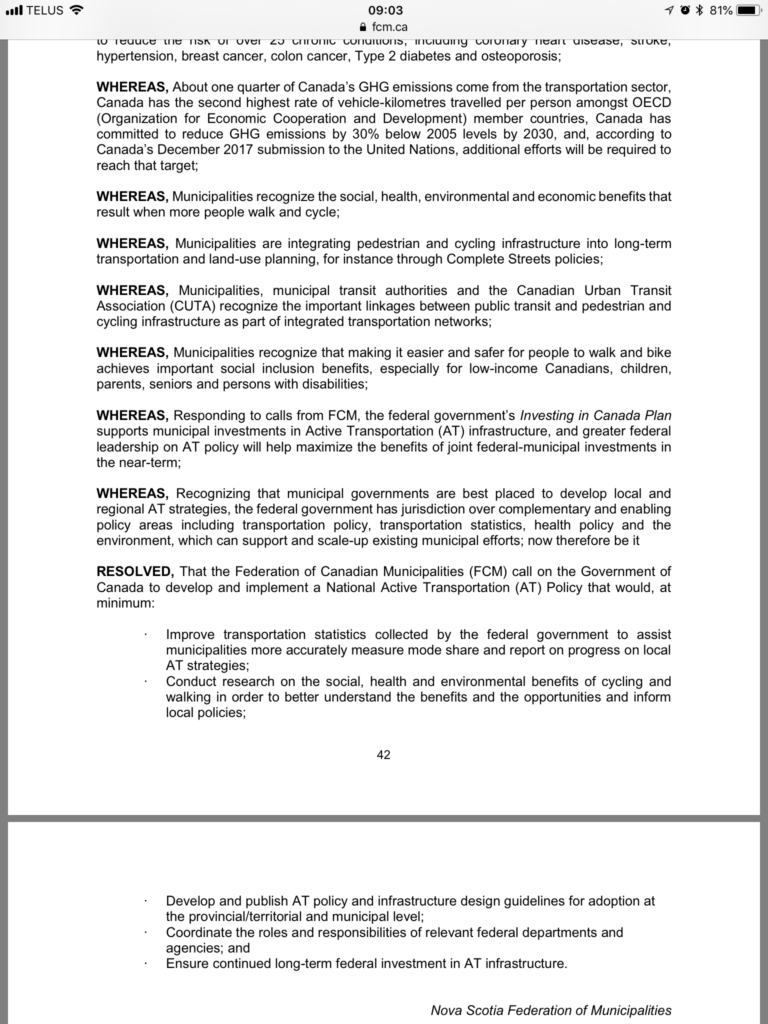 I missed a picture of the vote but I voted in favour and it passed with over 90%.
Last Resolution: on creating Federal Active Transportation Plan with municipalities.
Sponsored by Nova Scotia federation of municipalities and their Active Transportation committee.
There was an amendment passed to strike the whereas clause on conducting research with the justification that there is ample research and best practice out there and that we needed decisive action from the federal government to create a national policy as other countries have.  I voted in favour and it passed easily.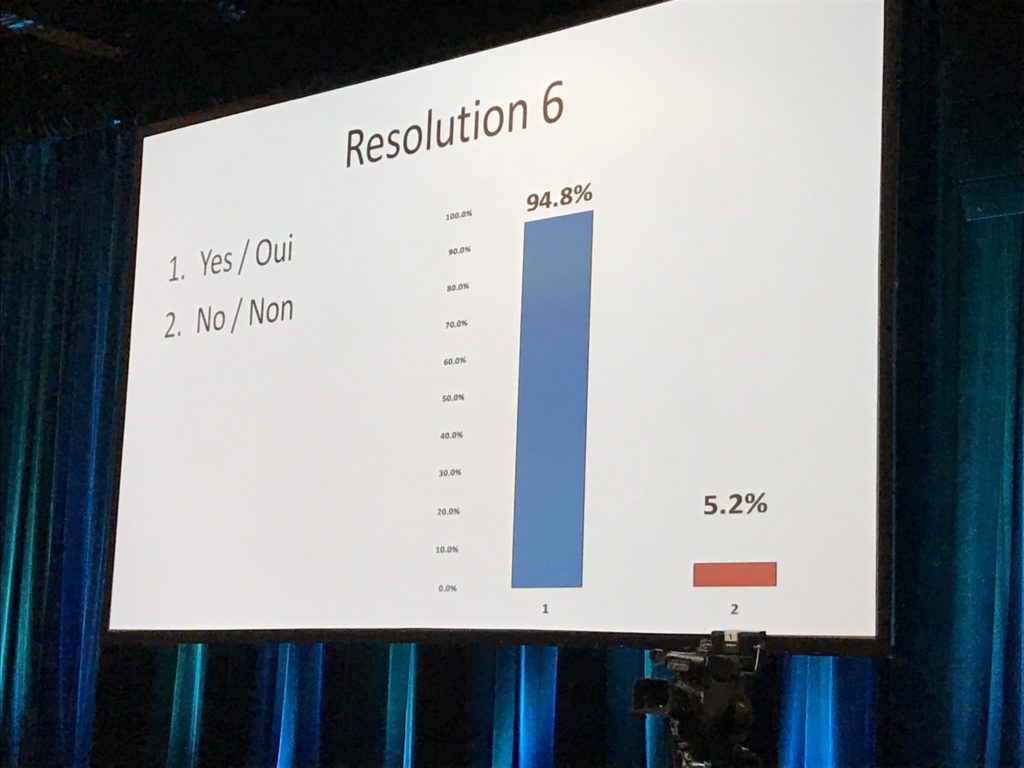 That was it for the plenary and resolutions. Next major event with be a speech from Jagmeet Singh.
---
---
1:30PM Friday  – Library Tour. (Will include pictures later)
Library tour – very different philosophy to libraries from traditional.
Used to be large collection of books, rules about food or drink or talking.
this is a social space, designed to come together. Small concert space See teens playing video games. University students working in groups and teams. All social spaces.
It is a "destination". (NUMBER ONE DESTINATION FOR CRUISE PASSENGERS ESP WHEN WEATHER IS POOR).
Hold public engagement… rooms heavily used.
Construction in May/Opened in 2014 – Budgeted at $55M came in under budget. 130,000 square feet. City supplied land. $12M Fed fund, $11M, and the rest was municipal, mainly from land sale.  Delayed land sale until after library built so that could take advantage of high price because people wanted to build next door.
Costs $6M/yr to operate (80 staff). About 1-2% per year growth. About 80% funded by municipality.
Used "Construction Management Delivery Management" – Fixed Fee for Management company architects and builders collaborate during design as team.
$10M for "soft costs". About $330/sqft for hard cost.  Don't talk about capital costs because it puts you "into hole".  Plan for 50 year with 25 year renovation (which should cost near same).  They used materials that would last 50-100 years.  Europe builds for 300 years.
Achieved $5-6M in donations from both large and small donors.
There also private commercial vendors on contract to City two coffees.
Extensive public consulation. Not as much input from Council. Public demanded music as it is part of culture of Nova Scotia… was not in original plans. Now have two recording studios.
High level of trust of Council to staff to ensure "we have a budget we will stay under… you let us manage it".
Projected use: 300,000 in previous facility. 600,000 projections. 2M first year. 1.5M plateau.
You will see 15-25 year olds using the space. Benefit of community input.
Parking: (you can never make it work) 88 spots… revenue generator, but chose to build more library versus parking.
On homeless or addicted "problems".  All peopl are welcome. The open space makes for safe feeling. There is no traditional security. Security officials walk around freely and make relationships with those in need. Engaging with them and has helped to keep security issues very rare. Also now hiring a social worker to provide support when needed.
Totally different philosophy…. open. welcoming, loud, creative, beautiful, inspiring. Books are almost secondary.
Opposition stems from "why do we need a big library. We dont need books anymore".  They don't realize the library space is completely different, when they engage and esp. when they see result, it is so much better.
---
---
Update 11:45AM Friday: Workshop : Tech & The Future of Public Engagement.
5G is coming from Rogers…. (workshop is sponsored by Rogers). Requires far more towers or end points. Points will be on light standards and other small places. Not towers.
Panelists (Mayor Arnold of Moncton and Bowman of Winnipeg and a city planner);
Talking mainly about things like water and sewer integration with city tech systems for better management. Also Mayor of Winnipeg talking about Waze like system where people can report things like potholes in real time in order to fix very quickly.
Also, WIFI on the bus, Mayor of Moncton says they have had wifi on the bus since 2007.
Bowman of Winnipeg has an "Office of Citizen Engagement".
On Planning
How do you get people excited about planning??
"Visual Preference Survey" Have to really push the tools on Social Media to have any engagement work now.
On property tax
Bowman notes that Property Tax system needs to be reformed (removed). Era of large warehouse or industrial property subsidizing loval gov is over.
On Decision making.
Getting the Data out there and open and public. Harder to ignore and make poor decisions if open data and information is there for public.
More proactive watching and posting publicly of ongoing projects to show numbers and costs near real time. It avoids surprises and anger.
questions – What Role for Local Gov on Participatory engamgement
Live Stream *all* committee meetings.
But, if you put everything online, you must communicate it. Data is not enough. Has to be user friendly and digestible.
Find the balance between open and always engaging, and people being "elected to make decisions". Bowman uses "Gecko Board"…. to measure and see facebook and social media trends. Social Media must be used to listen almost more than engage…..
You still need ads in the paper.
Join the FCM Innovation Network. 
Off now to Study Tour to the Central library hopefully!
---
---
---
---
Midnight Thursday – before I head to bed…
This is a heads up to inform you that I will attempt (technology permitting) to Facebook live video stream Prime Minister Justin Trudeau's speech on Friday morning on my Councillor Facebook Page.
The speech should begin at 9AM (5AM Pacific) so I will likely start just before then.  I will try to get into the room early in order to get a good vantage point.
I will also try to post a recording immediately afterward. Possibly also embedded on this website. The speech should be no more than 30 minutes.
I will also livestream the Leader of the Official Opposition, Andrew Sheer, at 3PM (11AM Pacific). And the leader of the NDP and Green Parties on Saturday and Sunday respectively.
See you tomorrow.
---
---
4:00PM Thursday – BC Networking event – Political Speakers announced!
This is an annual session for all delegates from the province of BC. There are sessions for each province, or region (like "Atlantic").
200 meetings by BC FCM caucus with MPs, Senators, senior staff.
Political speakers:
Prime Minister tomorrow morning. Sheer Tomorrow Afternoon. Jagmeet Singh Saturday. Elizabeth May Sunday.
Also Smart Cities finalists will be announced Friday.
$243M for new Brownfield funding.
UBCM/FCM is working on a code of conduct guidelines for all BC elected officials. Expect more info from Elections BC before October elections.
3:30PM Thursday – First Day of Tours. Study Tour: how community partnerships are supporting dynamic rural centres.
The formal conference doesn't start until Friday but the Study Tours started today at 11AM.  After a nice breakfast in the hotel with the Mayor I headed across on the fantastic ferry between Dartmouth and Halifax. It is part of the transit system like Seabus in Vancouver but has been in service in some form since 1752!  One of the oldest ferry services in the world.
We entered the conference centre to register and were greeted with a little bit of mayhem.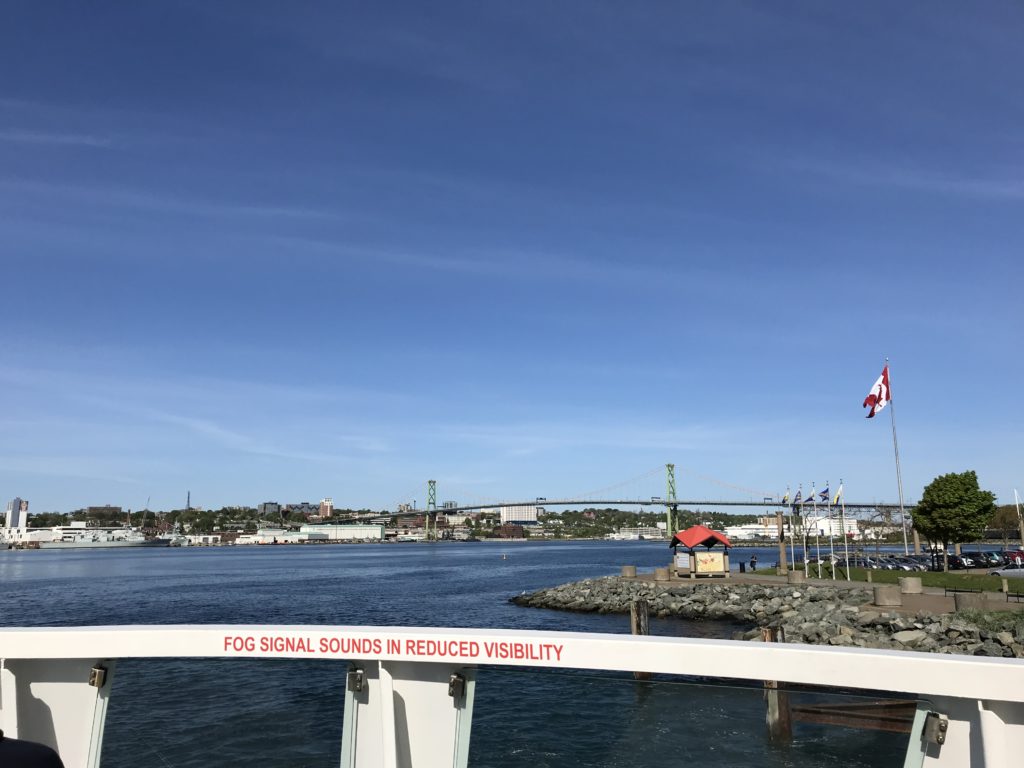 The conference centre was packed, this was just the one line to sign up for study tours.  I ended up having to head up to the buses to just try to get in as an extra.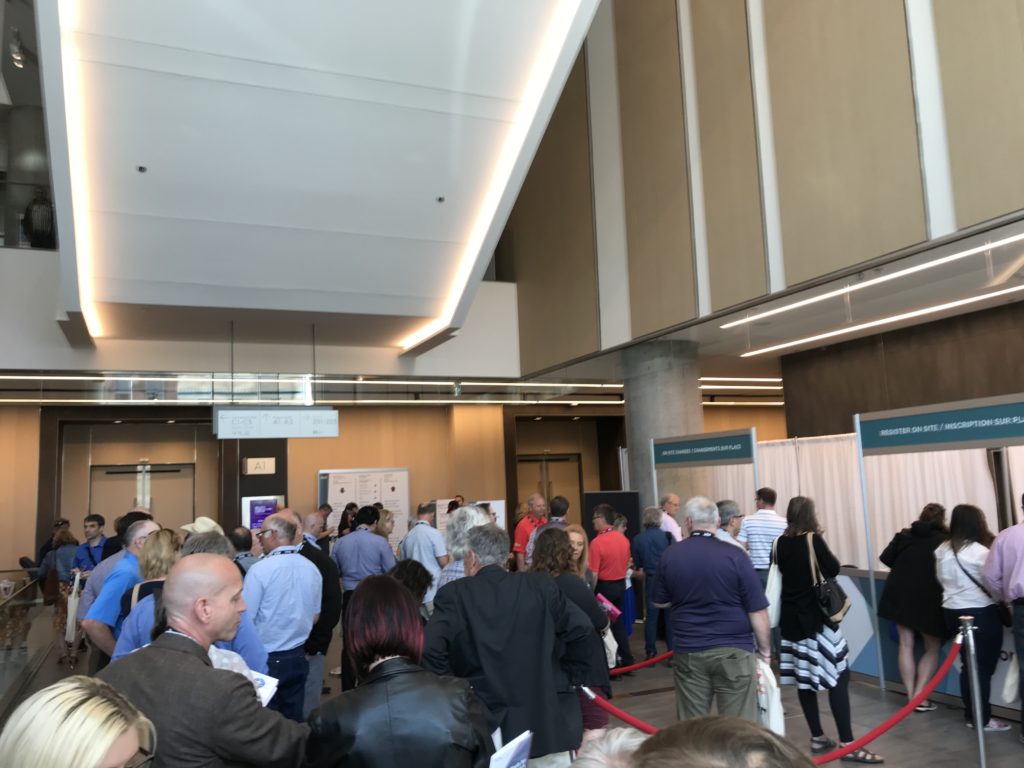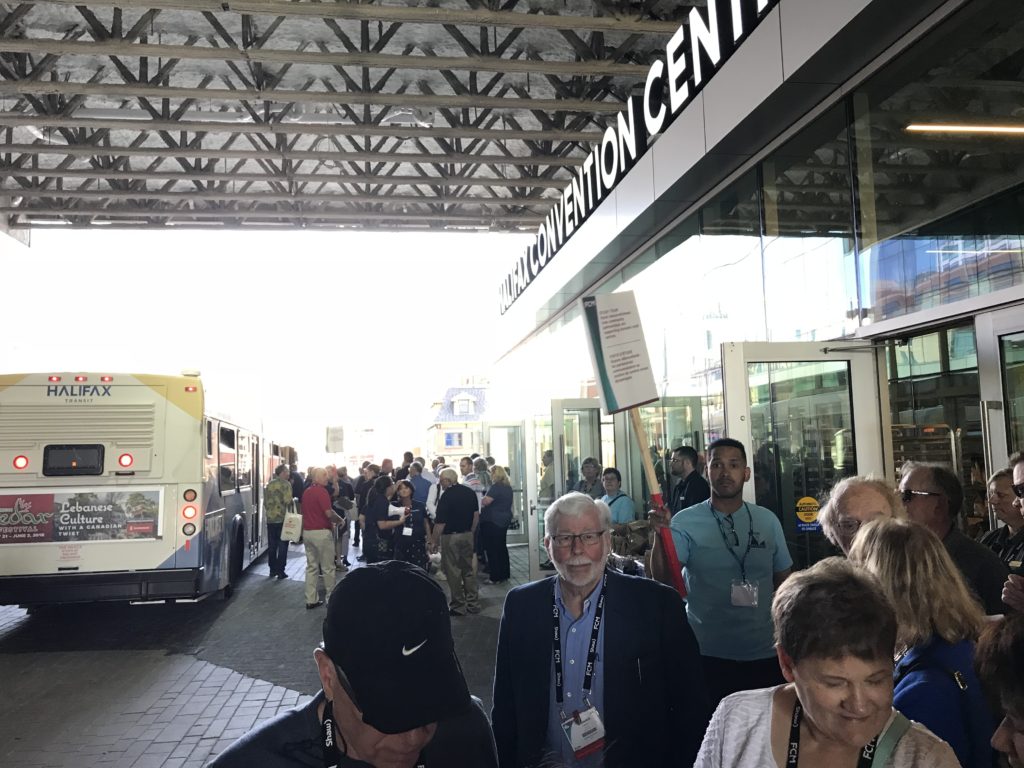 Thankfully my extensive bus experience paid off when the organizers called for people who were OK with standing on a City bus.. yup! That's me. 🙂
So off we went to a small community outside of Halifax called Musquodobolt Harbour to see their newly renovated small community centre, library and fitness centre.
They are a community of about 6000.  (This is all within the Regional Halifax Municipality which is the size of PEI!)
They took what was a pretty run down little strip mall style building (unfortunately I don't have a before picture below is today) that looked kind of like the Gertrude Street shopping plaza with RHM.
and turned it into a very well put together modern and multi-purpose community space.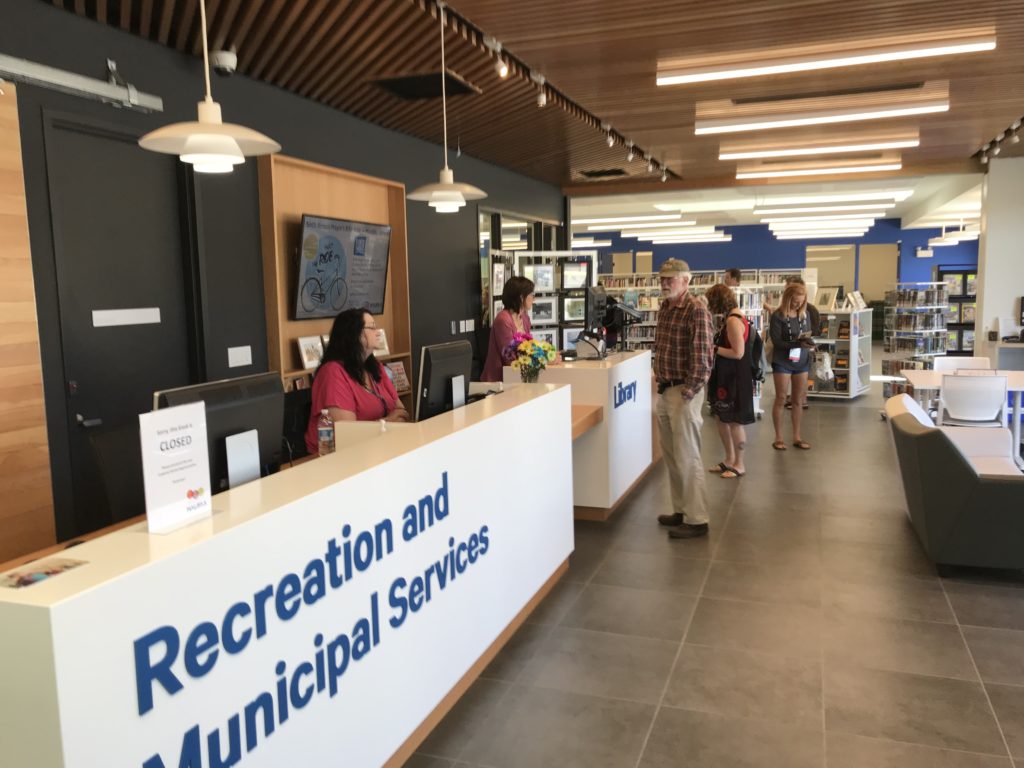 I see the potential here for us to renew buildings like Gyro or even Echo Centre or Glenwood or some of our commercial spaces.
Here is a shot of their multi-purpose rooms, the floor is a rubbery material to make it suitable for yoga classes.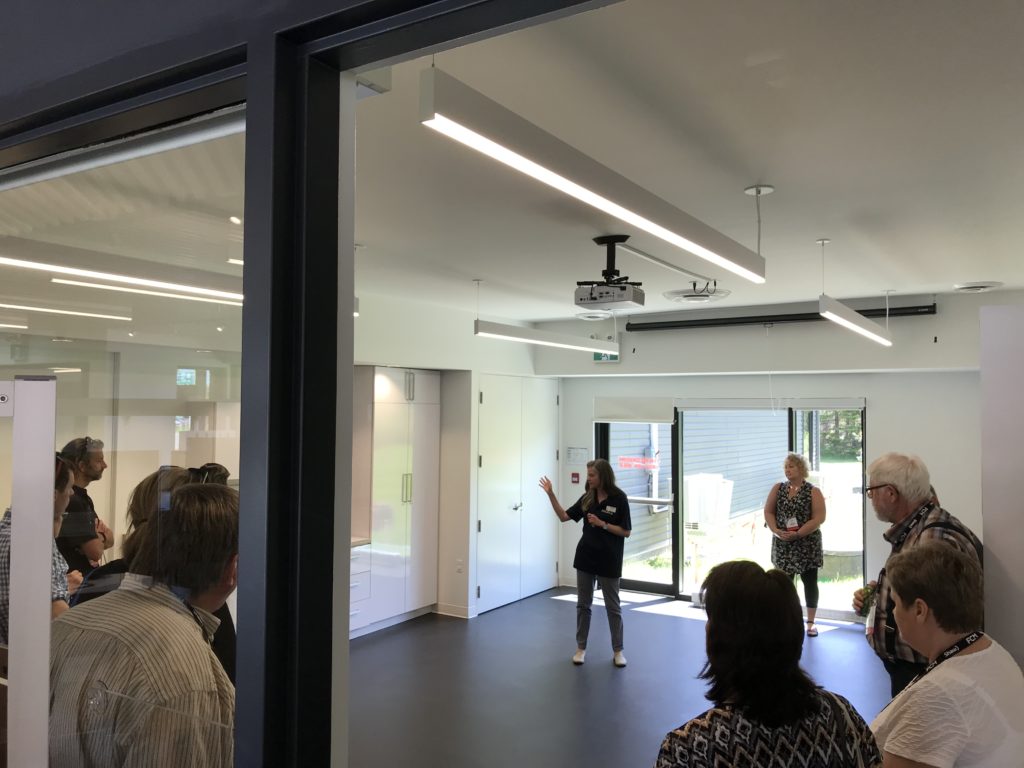 We then went to a former school building that was converted in 2007 to a community space.  They actually talked more about a really interesting small regional transit service that uses small cars and vans to transport mainly seniors from the rural areas into Halifax city.  This could be a model for us perhaps to bring people to and from Port Alberni, Parksville, Qualicum and Nanaimo for health appointments or other things.
It is part of their transit system and costs about $80-$150,000 a year to operate all the vehicles and pay the drivers. The drivers are "not well payed" they said but they love their jobs because of the connections they make with community members. They are currently serving about 500-600 riders a month and are growing rapidly.
Finally, we heard from an Economic Development manager about the "Wild Islands Archipelago" of 700 islands along the Atlantic shore of the huge municipality.  They just talked about the tourism opportunities from these islands which apparently had never actually been properly explored and documented since contact.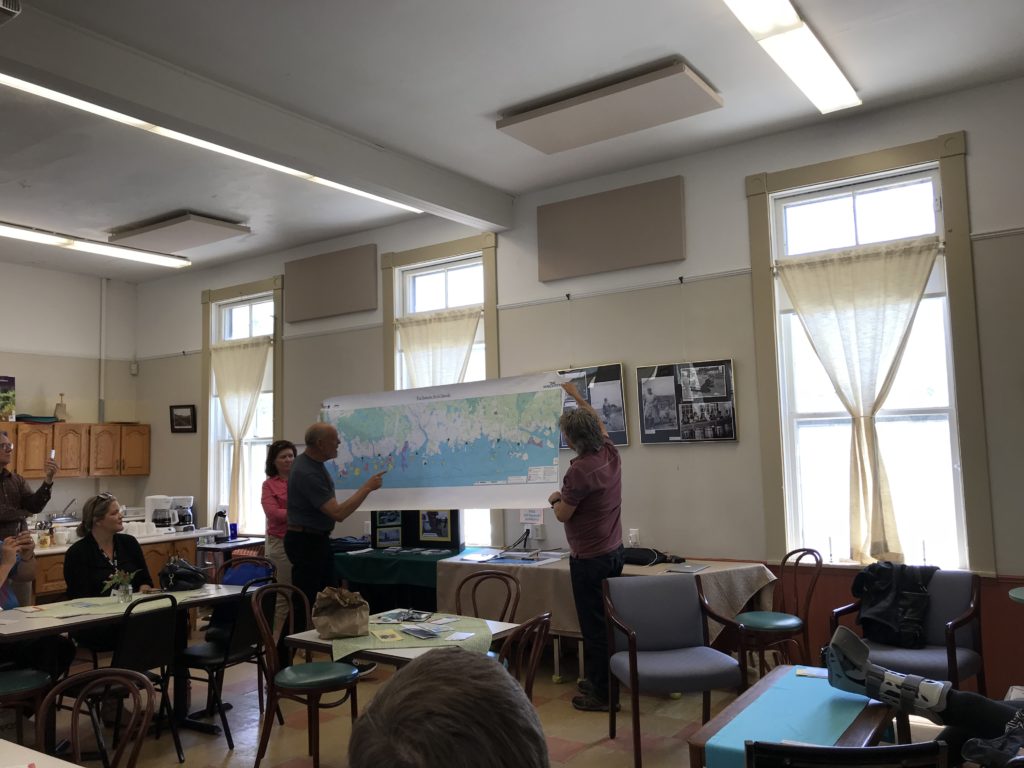 We got a bit of a bonus with a tour of a nice new community garden. $20 a year for each box… they mulch to limit watering to almost zero though they have barrels for water.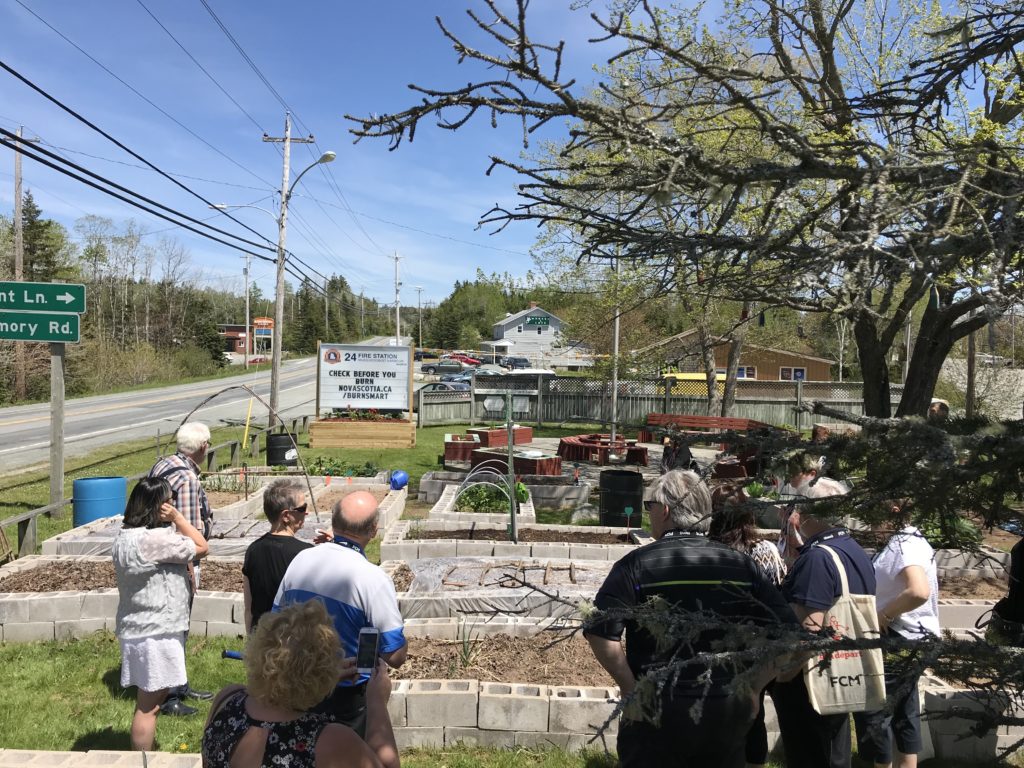 That was it for the tour and we are going to find some late lunch before a reception this evening.  Main events start tomorrow including finding out who are finalists in the Smart Cities Challenge!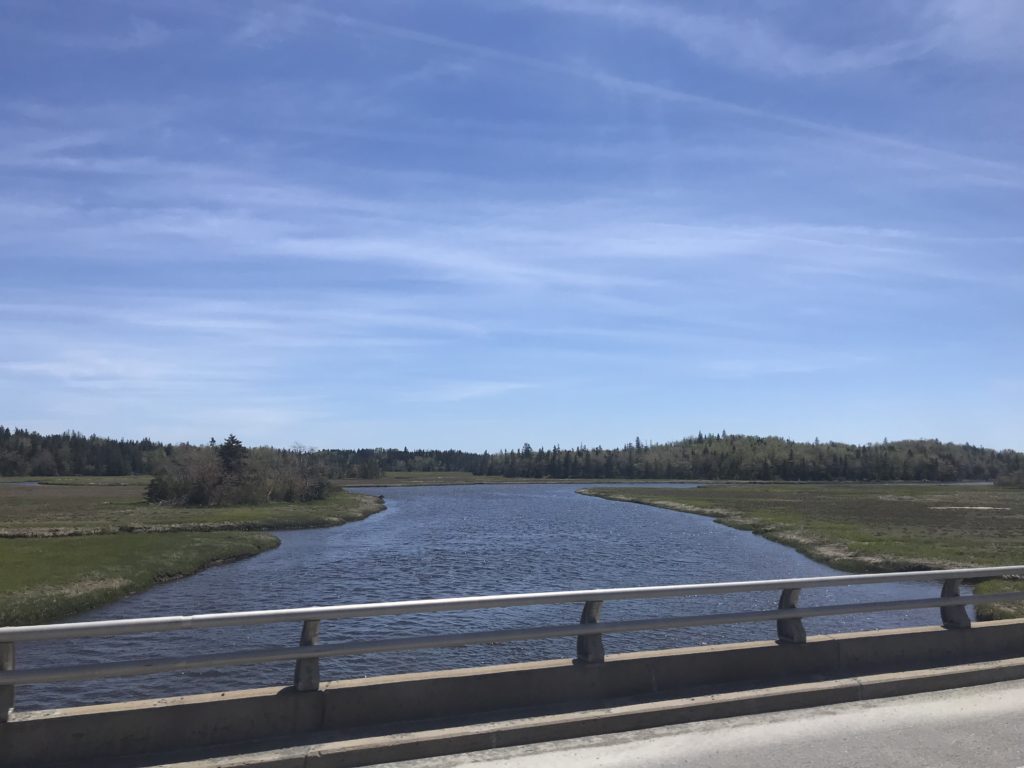 12:45PM Wednesday- Over Northern Ontario – the full program.
I have wifi on the plane but it died half way through this update… add that to the power situation and it was nearing the apocalypse on here. Thankfully, wifi returned.
We just flew over James Bay!
I did manage to download all of the FCM annual general meeting content and read that. You can see that stuff here. 
More interesting though is  the full program.
I put a bunch of stuff in my calendar a week or two ago but it looks like many of the names of the workshops have changed so below is what I am going to try to get to with links.
On Thursday I will try to get to the community partnerships supporting dynamic rural centres study tour.
There are two tours so hopefully I get in one. If I don't get to one, I may do the Blanket Exercise, which is always powerful and would be very interesting with such a diverse group from across the country.
The study tours filled so fast that I actually only got registered into one (urban trees at work) on Saturday.  So I will just show up at the tours I am hoping for and hope for the best!
On Friday the conference really gets going with keynotes and federal politicians speaking.  I will go for the Tech workshop on engaging the public.
I will see what study tours are available. The Library (let them build it) looks cool. May also try for the urban forest even though I am signed up for saturday. We will see.
In the afternoon I will try for the workshop on "road maintenance best practice".
On Saturday morning  I will be at the local action on national climate policy.
In the afternoon I will try if I don't get to my urban tree study tour I will go to the Youth Forum.
On Sunday there is just one (probably giant!) workshop on cannabis legislation. I will be there.
There are only repeat study tours in the afternoon so I may take the afternoon on Sunday to explore Halifax before the big dinner.  We shall see.
That is the update from somewhere over Ontario!
Next update may not be until tonight or tomorrow. I will be landing around dinner time. I have dinner planned with colleagues from other commuities and then back to my hotel room to listen to my daughter in their ADSS band concert!
thanks for reading.
---
---
10:10AM – Somewhere over the Alberta – Saskatchewan border…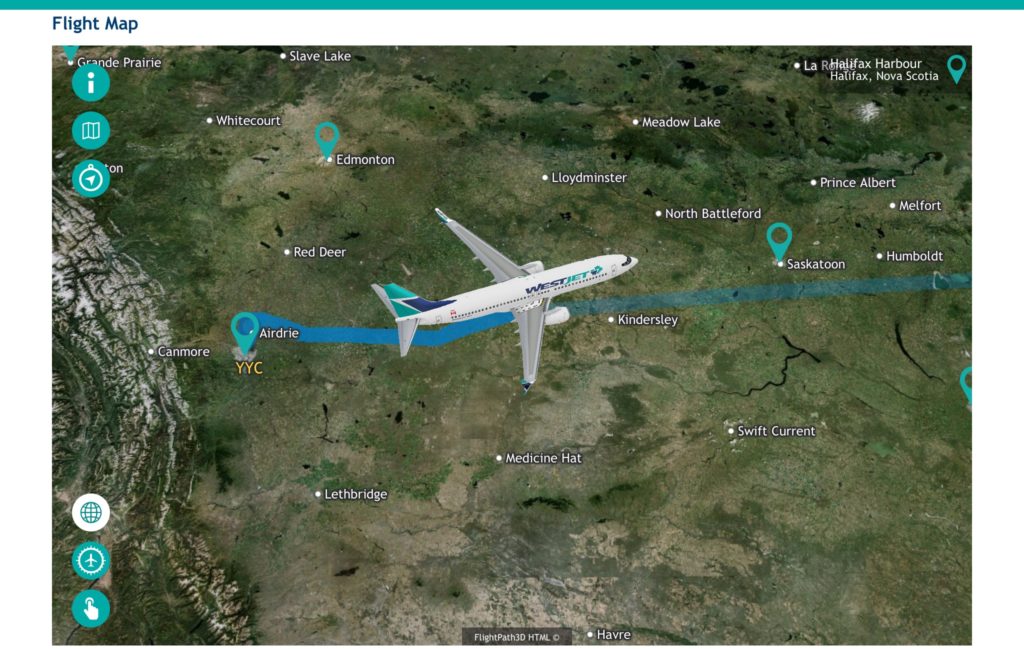 It was a 3AM wakeup call that came at 2AM since I couldn't sleep but the transportation so far has been all on schedule.  We (Mike, Bonnie and I) departed Nanaimo at 6AM.  We arrived on time in Calgary and made the very quick connection right onto the plane to Halifax.  We have now settled in to the 4hr 50min flight, dodging thunderstorms over the prairies, and I am going to take the time to read the FCM packages.
As you would expect, the flight is full, mostly of politicians! I have heard mention of Salmon Arm and Red Deer and seen regional directors from the Nanajmo district.  Maybe the extra hot air will carry the plane along a little faster!
Be back in a little bit….
---
---
9:30PM Tuesday:
Stay tuned to this space for updates from Wednesday to Monday as I will be attending the Federation of Canadian Municipalities conference.
The Mayor (and his wife Bonnie) and I will be on a flight at 6AM tomorrow morning from Nanaimo, hopefully arriving in Halifax by 5:30PM Wednesday evening (their time).
I'm packed and ready to go and off to bed. 3AM wakeup call comes fast.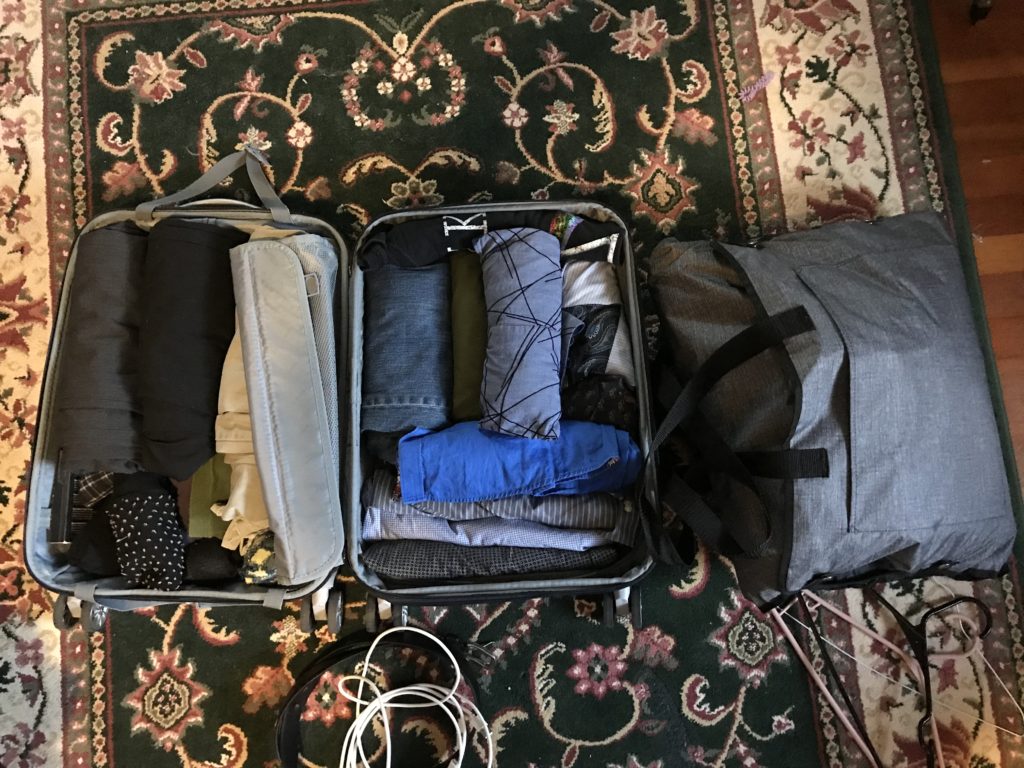 Looking forward to a week of learning, networking with 2000 other delegates from across the country, and national policy discussions with federal government.
All the programming info is here.
And here is my preliminary schedule.  I am not sure what study tours I will be on as they were very full so I will be trying to register while I am there.
I will blog more about it from the plane.