Note: The FOI documents had to be run though an Optical Character Recognition (OCR) program so that they would be searchable and copy/paste-able.  This causes some character (letter/symbol) errors with the original text that may show up in the quotes even though I have tried to catch them all.

Update: 6 months later, the information was un-redacted. See an updated to this post here.
The Big Three Air Tanker Companies
There are only three companies providing in-province fixed wing air tanker service to the Government of British Columbia.  Airspray, ConAir and Coulson.
Earlier this year I submitted a Freedom of Information request to find out the real costs of the Air Tanker program (excluding helicopters).  It took a few months but the request has been completed.  You can see the original request here and the full 297 page response here.
As the only domestic providers of air tanker services to the Province over the past 10 years they hold a critically important role in wildfire management and cost in the province.  And yet, even though as I have discovered in the documents, these contracts are often 7 years long with options to go up to 10 years, the public knows very little of their detail.  Unfortunately, due to extensive redactions which are permitted under the Act to protect 3rd party competitive information, we don't know a whole lot more today from my FOI except for some very broad numbers.  However, there are some interesting points to pull out.
RJ-85 Jet isn't New
The biggest bit of weird information that stuck for me was this one…. Remember all the fanfare about the 'new' jet that the Government was using on a "pilot" basis.  Well, it turns out that jet has been available under contract to the BC Wildfire service as an alternate since 2014 as you can se below (first line marked "RJ-85").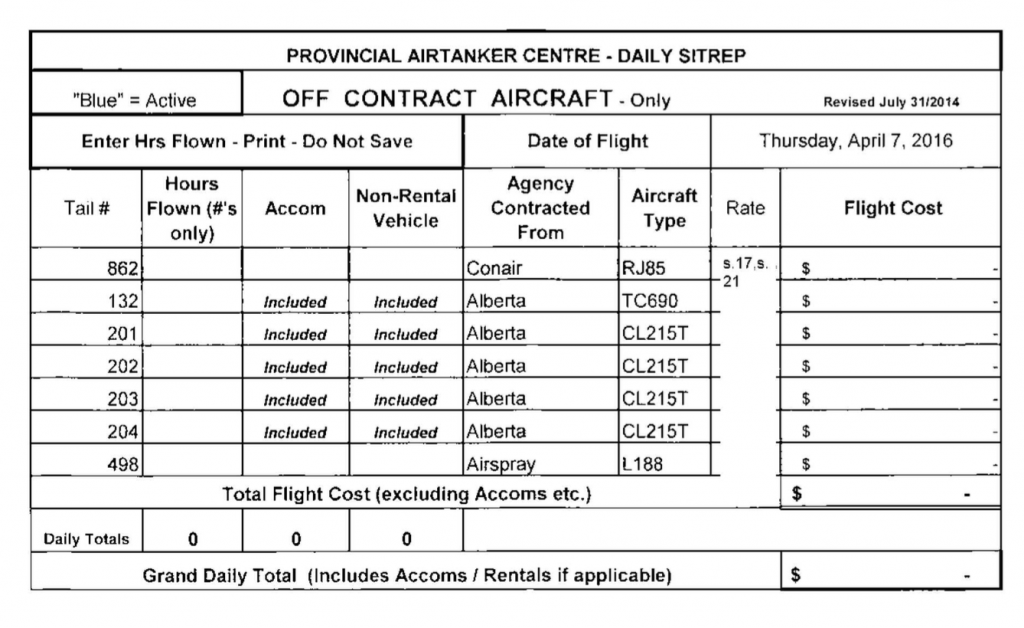 The RJ-85 remains on an alternative basis. As of the March 2016 modification agreement for Conair (pages 138-140 of the FOI) it remains listed as "Optional Additional Aircraft".

Contract small part of overall real annual spending big part of 'budget'.
The contracted cost that the government released includes flight hours, warmups, and crew costs but excludes 'consumables' like fuel and retardants.  It was $26.3 and $27.8 million in 2014 and 2015 respectively which is around 10% of the total costs for those years of $298 Million and $277 Million respectively. However, if you look at the 'budgeted' firefighting cost for this year, 2016, of $63 Million, then that $27 Million spent on contracts shows how easily that initial budget can be used up.  It makes one wonder why the budget is not increased.
MAIN Information Commission ComplainT
The paucity of information provided by the province in terms of cost makes my request nearly worthless.  This is despite the fact that, as you might remember from their "factsheet" and my subsequent rebuttal, the Government has actually provided much of this information to the media already.  All I wanted to do was understand where the numbers were generated.  The FOI as it stands is not adequate to achieve that goal.
Common contract details though Mars is a special case.
The Airspray and ConAir contracts are very similar in that they are very long term contracts with simple modification agreements in later years from 2014 onward.
Airspray's contract runs from 2007 to 2017.  ConAir has a contract that runs from 2010 to 2017 with an option to go to 2020 and another that goes from 2014 to 2021 with option to 2024.  By contrast the documents indicate that since at least 2007, the Martin Mars has been operating on a year to year contract.   The "operating" portions of the agreements are subsets of those.  Generally 90-120 days for Airspray and Conair over the summer months to just 30 days for the Martin Mars in 2015.
This isn't an exhaustive list but A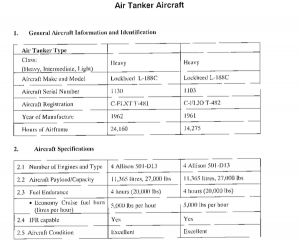 irspray has two L-188 aircraft built 1961/62 with 14,000 and 24,000 flight hours on them in 2010.  ConAir has a similar L-188 with 54,000 flight hours and a number of CV-580 built in the early 50's with between 50 and 80,000 flight hours.  These planes are workhorses and are in excellent condition according to the report.  Unfortunately the same engineering details are not provided in the documents for the Martin Mars though reports online indicate Hawaii Mars has approximately 22,000 hours.  Signficantly less than many ConAir planes. I will try to obtain that information elsewhere. The small Air Tractor amphibious planes from ConAir are brand new and had very few if any flight hours on them.
Contracts Tailored to Airplanes
In all cases, Airspray, ConAir, and the Martin Mars, the contract requirements for airspeed, capacity, endurance, even engine type are often tailored to the airplanes.  For example, the 'endurance' required for fire fighting operations in the ConAir contract is 3.5 hours.  The fuel endurance of a CV-580 is listed as 3hrs 35 minutes.  The 1600HP required for light air tankers on takeoff matches exactly the Air Tractor's capabilities.
It is interesting that their 'heavy' air tanker requirements are for a payload of 11,000L.  The Mars payload is 27,000L.  For comparison, the Martin Mars' endurance is 5.5 hours.
What is a little more interesting is the "Required Minimum" hours listed in the contracts.  Each company is different, the Martin Mars requires usually around 45 hours minimum (only 15 hours in 2013).  ConAir requires 150 hours minimum for their Air Tractor group.  Airspray requires 60 hours of flight time minimum.  If they do not achieve this minimum hours of flight time they are paid it out.  The rates for that pay out were redacted except for one year of the Martin Mars contract where the rate was quoted as "twelve thousand per hour".  Without knowing the others this number is not really helpful.
Fuel Costs difficult or Impossible to ascertain
In my discussions with the head of the BC Wildfire Aviation in Kamloops it became apparent that I would not be able to get the actual costs of the fuel or other consumables easily because the province did not have a succinct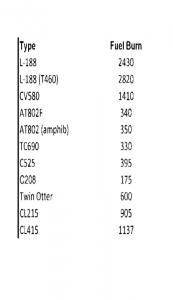 system for tallying that cost.  They only had fuel bills from all of the companies that were reimbursed presumably as they came in.  So that is why i did not get any fuel numbers.  The fuel rates charged by the companies as well as the hours flown were all redacted from the FOI which makes it impossible to know these details or to estimate the cost effectiveness of the airplanes even though they did provide an "average" fuel burn in litres per hour for all the aircraft (left).
For some reason the Mars is not included in the list so we have to go by Wikipedia. It lists the "operations" fuel consumption at 3000L/hr or the cruise at 1600L/hr.  I would take the operations number as the comparable in this case.
Pre Season Air Tanker Availability
Airspray in particular had an interesting agreement in 2008 which gives an indication that at that time the province was concerned about the fire season starting earlier.
ln order to respond to the potential for eariy wildfire activity in British Colunibla, the Ministry wishes to confirm the pre-season availability of air tanker services.

To respond to this anticipated demand, AirSpray (1967) Ltd. is instructed to have any or all of the Brirish Columbia Ministry of Forests and Range contracted airtanker fleet available within two weeks of our service instructions.
How Many Lakes?
The Mars Contract did include the full listing of lakes that the Martin Mars could both scoop and base at.  It included a map as well but it was a very poor scan and basically unreadable.  Below are the list of lakes, click the thumbnails to see a larger version.
Unsatisfactory response – Info Commish complaint coming.
As I've mentioned above, due to the extreme lack of information provided on costs, and the strange double standard the government has had about releasing this information to the public in the past, I will be submitting an official complaint to the Information Commissioner to try to have the redactions overturned.  I believe that especially since there are essentially only three companies being provided these contracts that the public should be allowed to scrutinize them in full as they would any open tendered contract for many government services.  I would expect the complaint to take at least a couple more months to be processed.
Thank you for your Donations.
I was very happy to see the Government refunded $147 of the $250 original fee that I paid for the FOI request to proceed.  This is down from an estimate of over $1000 initially.  I am not sure if there will still be a need for any of that money in the near future to support this request so I will hold on to it for a while longer.  When everything is done, I'll donate the remainder (around $1400!) to the BC Burn fund.
I hope you have found this information interesting.  If you go through the FOI yourself and see anything of interest you would like me to highlight please don't hesitate to leave a comment.