At the just past Council meeting, a report was brought forward by the City planner (Page 70, May 9 Agenda) on the implications and steps forward to change the name of the thoroughfare that stretches from one end of the City to the other from Gertrude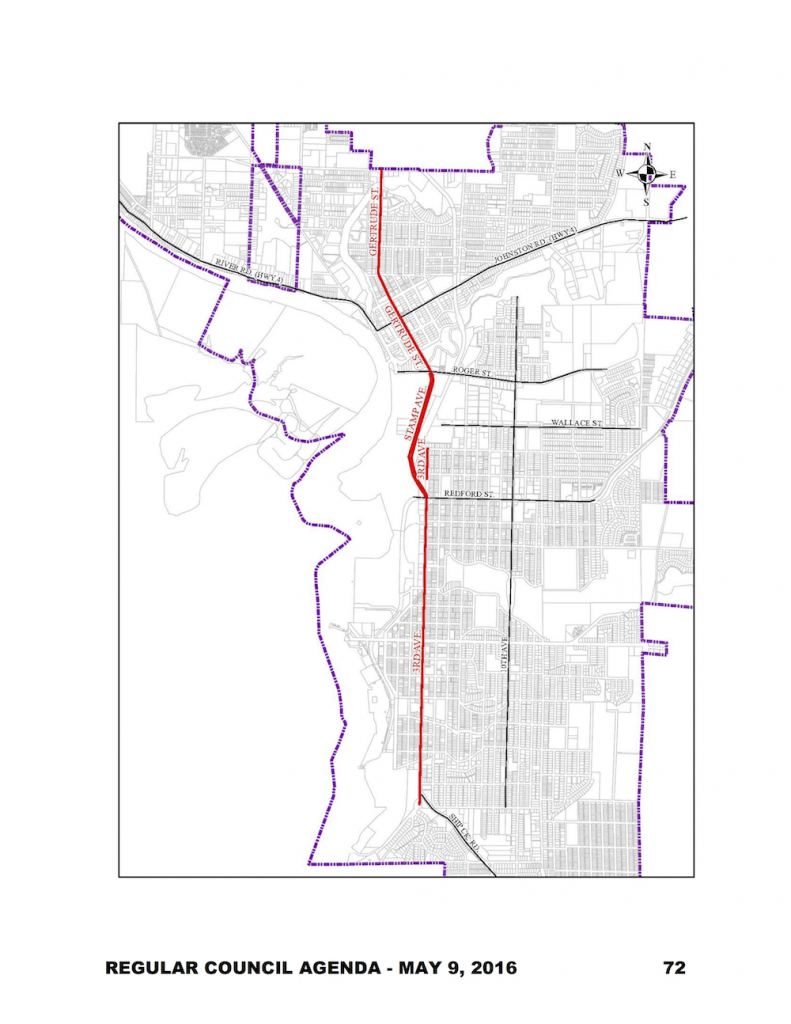 St, to Stamp Avenue and 3rd Avenue. A portion of 3rd at the end of Morton, above Stamp, would remain.
I and a majority of council supported the recorded motion (Cncl. Sauvé and Washington voted against).  You can see the discussion on Youtube starting at 50:00.
You can see and hear the points I made there but what I thought would be helpful for the discussion on this page would be a list of some of the Pros and Cons as came out during the meeting and have come out since in the lively discussion that has ensued.
Some general information:
Cost, to either the City or to affected residents or businesses has not yet been estimated.
A name would be chosen by the community.
The City and Canada Post would coordinate to update your address automatically (for free) in their systems.
The Government of Canada allows you to write in a new address on your Passport if it has changed, a new passport is not required.
The Government of BC allows you to change your residential or business address free of charge and reissue new cards for BCID, Drivers License, Care Card, ICBC and MSP through their Address Change website.
The City of Ottawa has created a very good page for the numerous changes they have made.  It gives an idea of all of the things that would need to be changed.
Pros vs. Cons. Fill in the table by leaving a comment.
I've put the pros and cons that I have heard so far in the table below.  If you think I've missed anything, and I am sure I have, please put a comment on this post or PM me on Facebook, or email it to me at chris_alemany@portalberni.ca if you want to do it anonymously and I'll put it in.
| | |
| --- | --- |
| Pro | Con |
| "Joins" the community together | Erases Heritage Street Names |
| Makes it less confusing for tourists and newcomers. | Costs may be too high for both City, residents and business. |
| A good thing to do in honour of 50th Anniversary of Amalgamation/150th Canada | Is not an important initiative at this time. There are more pressing needs. |
| Opportunity to bring First Nations / Indigenous names to the community | Quirky identity of the 3 streets is an asset to the community. |
| Feature street would help businesses in Uptown and along corridor attract customers. |  Removing 3rd Avenue would cause confusion |
This is just the beginning of the process and as I have learned many times over the past year and a half, the first motion on a topic is rarely the last motion. I look forward to hearing more input.
There is also the obligatory poll at the AVNews.