Initial Post 9AM Friday
As I did with the UBCM Conference in the Fall, I am going to be live blogging my experience as much as possible during this weekend's Association of Vancouver Island and Coastal Communities conference being held in Nanaimo.
If you're wondering what the AVICC is, it is an organization to which all the local municipalities and regional districts on Vancouver Island and the Sunshine Coast belong (and unique to the ACRD, also treaty First Nations!).  It is a place where delegates (councillors, mayors and regional directors) can learn, network, and most importantly debate and pass resolution on topics of interest and concern in their communities that would like to have support from other communities for as they bring them forward to senior levels of Government.  It also is tied to the Union of BC Municipalities so that issues that come to the regional associations like AVICC go to that larger body to get further support from the communities around the province as a whole and thus the hear of the Government in Victoria.
Here is the program (you can download the full package from the AVICC website linked above).
All of City Council will be at the AVICC for at least part of the time as some councillors and the Mayor have other important commitments they will be attending to in Port Alberni like the Where is Here event on Saturday (go participate!).
The City of Port Alberni will be bringing forward 3 resolutions to the convention floor on Saturday: One (R3) to get the AVICC to use its lobbying power to urge the Federal Government to release the funding for the Island Railway; One (R5) for the AVICC to petition the Vancouver Island Regional Library Board to take note and address the constant and significant increases in funding demanded by it from small communities like Port Alberni; and one (R27) for the AVICC to lobby the Provincial Government to enact stricter regulations on forest companies for slash burnings in community air-sheds;
Here are all of the resolutions, not including any possible emergency/late resolutions from the floor. There are a few!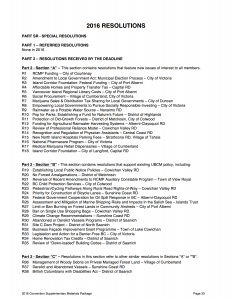 I've included the resolutions that the City of Port Alberni is bringing forward in full below.  That will be the end of this initial post.  I will post updates as the day and weekend moves along.  My day will begin at the Nanaimo Train station for the Island Corridor Foundation's 130th Anniversary celebration and train ride where there may be some interesting news.  I'll post pictures of course!
R3: ISLAND CORRIDOR FOUNDATION FEDERAL FUNDING
WHEREAS the Esquimalt & Nanaimo (E&N) Railway corridor remains a critical transportation asset for the current and future needs of the people and economy of Vancouver Island;
AND WHEREAS the Association of Vancouver Island and Coastal Communities (AVICC) passed a resolution urging action in 2012 and further delay in repairs to the corridor jeopardizes its viability;
THEREFORE BE IT RESOLVED that the AVICC petition the Government of Canada to approve and release the $7.5 million for capital works on the Victoria to Courtenay rail line in order for work to begin as soon as possible and ensure the future of rail based freight and passenger transportation between Victoria, Courtenay and Port Alberni.
BACKGROUND MEMO
ISLAND CORRIDOR FOUNDATION FEDERAL FUNDING
The Esquimalt and Nanaimo (E&N) Railway corridor was built in the late 1800s and extends from Victoria to Courtenay and inland from Parksville to Port Alberni. The railway was acquired by the Island Corridor Foundation (ICF) after Canadian Pacific and Rail America donated their portions of the line to the ICF in 2006.
Since its inception, the ICF has been pursuing the revival of rail service on Vancouver Island. Passenger service had been suspended because of safety concerns due to poor track conditions along the rail line however, rail freight continues to operate between Nanaimo and south Duncan.
In 2012 the federal and provincial governments jointly committed approximately $15 million to the restoration of the rail line with the intention of making the corridor safe again for passenger service. This included a $500,000 bridge engineering study supported by the provincial government.
With the total project estimated at approximately $20.4 million, ICF secured the remaining funding through agreements with Island regional districts, Via Rail, Southern Railway of Vancouver Island (SVI), and ICF's own source funds.
In July of 2015 the province affirmed their commitment to provide $7.5 million to the ICF for the project. However, the transfer of funds is contingent on confirmation that the $7.5 million in federal funding is in place and, through a tendering process, that the upgrade work can be completed within the $20.4 million budget.
With the change in government following the October 2015 federal election, the Island Corridor Foundation is now seeking an affirmation of the previous federal commitment for $7.5 million in order to develop and issue a tender for the necessary upgrades required on the rail line.
This resolution seeks to ensure the future of rail based freight and passenger transportation between Victoria, Courtenay and Port Alberni by petitioning the federal government to release the committed funding for the project.
R5 VANCOUVER ISLAND REGIONAL LIBRARY (VIRL) COSTS
WHEREAS the Vancouver Island Regional Library (VIRL) is a much valued cooperative regional library system that serves over 400,000 people on Vancouver Island, Haida Gwaii and the Central Coast and has a member board comprising thirty-eight representative local governments;
AND WHEREAS many local governments are struggling to fund significant annual rate increases imposed to levies:
THEREFORE BE IT RESOLVED that the AVICC petition the Vancouver Island Regional Library to fully consider the ability of local governments to continue to pay for rate increases that impose an increased burden on the already-strained municipal property tax base.
BACKGROUND MEMO
VANCOUVER ISLAND REGIONAL LIBRARY COSTS
The Vancouver Island Regional Library (VIRL) was established in 1936 and today serves over 430,000 people on Vancouver Island, Haida Gwaii and the Central Coast (Bella Coola). VIRL is the fifth largest regional library system in British Columbia, operating 39 branch libraries, an eLibrary and Books-by-Mail service.
Library services are recognized generally as a fundamental public service that act as a focal point for literacy and digital literacy and provide universal access to knowledge in the communities they serve.
The cooperative regional library model utilized by the VIRL is a common approach for communities in rural and remote areas to provide standard library services at an efficient cost. This type of arrangement is established by the provincial Library Act, Part 3, that outlines the powers, duties, governance and financial arrangements for regional library districts.
Over the past five years the VIRL has undertaken significant work with respect to facility replacement/expansion and maintenance to meet set service model guidelines. These are articulated in the VIRL Facilities Master Plan which outlines a long-term strategy for these improvements. While others factors are acknowledged, facility improvements and maintenance appear to be the main drivers behind substantial increases to member levies. A review of levies from the past four years shows increases of 5.22%, 6.94%, 5.95% and 6.22%. Looking forward, the recently released 2016-2020 Financial Plan projects an approximate 19% increase over the next five years.
The rationale for these increases has been publicized as a sustainability initiative to meet set service standards in diverse and rapidly changing communities. Local governments are very familiar with these challenges, made even more complex by the provision of a wide spectrum of services including: policing, public works, recreation, garbage collection, fire protection, bylaw enforcement and water and sewer provision. Meeting optimum service standards across all of these operations and programs is desired but budgetary constraints must be considered carefully.
The downloading of services from senior governments and reduced funding for critical infrastructure renewal have forced municipalities to in many cases raise increased funds through property taxation. Taxpayers have expressed significant concern regarding increases and challenged local governments to find new ways of funding additional expenditures. With local government levies now forming the bulk of library revenues, this resolution seeks to share this challenge with VIRL to ensure they fully consider the ability of member local governments to pay for these rate increases.
R27 LIMIT OR BAN BURNING ON FOREST LANDS IN COMMUNITY AIRSHEDS
WHEREAS data from the BC Ministries of Environment and Health indicate that seasonal air quality concerns from outdoor wood burning combined with common air 'inversion' events greatly impact the health of residents, and noting that municipalities and regional districts have taken strong measures to limit or ban outdoor burning by residents;
AND WHEREAS the BC Wildfire Act and Environmental Management Act permit the burning of woody debris ("slash") from forestry operations on Private and Crown land within community air-sheds that often contribute to poor seasonal air quality;
THEREFORE BE IT RESOLVED that the Association of Vancouver Island and Coastal Communities petition the BC Ministry of Environment to bring forward new regulations to further limit or ban the burning of wood debris piles on private and crown forest lands within community air-sheds in order to ensure communities and industry
are synchronized in working toward the same goal of a safe and healthy environment for all.
BACKGROUND MEMO
LIMIT OR BAN BURNING ON FOREST LANDS IN COMMUNITY AIRSHEDS
The burning of wood debris piles, or 'slash', generated by forestry-related activities is a management tool utilized by forestry companies to abate fire hazards and dispose of waste. This practice is regulated through the Wildfire Act and Regulation, the Environmental Management Act's Open Burning Smoke Control Regulation (OBSCR), or through permits, approvals and solid waste management plans.
Due to the increasing scientific understanding of the health and environmental impacts of wood smoke, slash and other open burning is now widely perceived as an undesirable activity by the general public. In response, many local governments have enacted bylaws to regulate open burning within their jurisdictions to address residential and backyard burning, as well as open burning from other activities.
The mountainous terrain of British Columbia and the common location of communities along valley bottoms create air quality challenges from both air inversions and periods of stagnant air. While it is acknowledged that there are a number of sources of air emissions, communities with nearby forestry operations are acutely aware of the impacts from wood debris pile burning. This is particularly the case for a number of regions on Vancouver Island, including the Alberni Valley.
In 2008 the Ministry of Environment initiated a review and rewrite of the Environmental Management Act's Open Burning Smoke Control Regulation. This regulation governs burning of vegetative material associated with a range of activities and generally encourages open burning as a last resort. However, the current regulation follows an "authorize-by-regulation" approach whereby burn operators are not required to obtain a permit but rather expected to simply follow the requirements outlined in the regulation. An audit of the regulation conducted in 2004 by the province found that a significant percentage of burn operators were not in compliance with regulatory requirements.
In the 2008 Policy Intentions Paper for Consultation, the Ministry of Environment articulates a clear desire to tighten the OBSCR burning regulations around populated areas as a means to address air quality impacts. Eight years later, the process appears to be stalled in the consultation and drafting phases with no indication of the progress or timeline for implementation.
This resolution seeks to improve air quality and associated health objectives in communities across the province by encouraging the Ministry of Environment to bring forward new regulations to further limit or ban the burning of wood debris piles on private and crown forest lands within community air-sheds.
8:30AM Saturday
A recap of the events from Friday.
At noon I attended the Island Corridor Foundation's event at the Nanaimo train station where they were showing off an incredible excusrsion train that they, Southern Rail and the Nanaimo Port Authority are hoping to use, and have development an economic assessment for, to attract cruise ships in Nanaimo and transport people to events and activities up and down the Island.
It was an incredible ride, 4 trips from the Nanaimo station to Wellington were completely sold out.  There were people literally lining the street, stopping on the highway to watch and take videos, hanging out their windows and balconies and sunrooves.  There was even a police officer who turned her sirens and lights on as she drove by the train and then stopped firther up to take pictures.  The response was just amazing.
After the train ride the main conference began, we had a nice keynote speech from Chief Dr. Robert Joseph from Reconciliation Canada.
I recorded and live streamed his speech on Periscope, part 1 and part 2. 
We then had a speech from Minister responsible for Local Government, Peter Fassbender.
You can see his presentation here.
That completed the events for Friday aside from a netowrking reception and trade show that is so common at these events.
This morning, Saturday I woke up early to catch a breakfast presention done by the Agricultural Land Commission.
The main takeaway from that presentation was that the Commission was very busy with about 500 applications across the province every year.  They will be putting the Massey Bridge project to the executive level of oversight at the ALC.
They also talked about the importance of the ALC being involved early in any process and most notably that there is no "no-net-zero" requirement, so communities should not put opposing applications in to take land out, and then land in to the ALR as all applications are always done separately on their own merits.
This morning will be taken up with resolutions and the city of port alberni motions should be good fodder for debate.
I will update again hopefully this afternoon before going on a tour of the Nanaimo water treatment plant.
6PM Saturday – Resolutions and Water
After I signed of on this mornings update we dove right into our long list of resolutions (you can see them in the previous update).
The most contentious ones had opposite outcomes.  The first big one was our Railway funding resolution which I spoke to as the sponsor from Port Alberni.
(photo taken by Councillor Minions)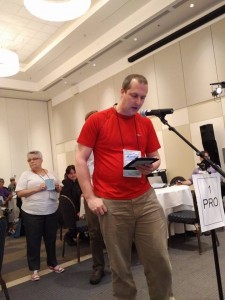 There was a a lot more back and forth on the issue than I anticipated, with the same "con" arguments being brought up basically centering around the thought that rail would never be viable again, so why bother? There was also much concern expressed about the management of the railway.
Many also spoke on the pro side advocating for the need of the railway to be there as an alternative to highway traffic, as a potential passenger and commuter service, and as a potential tourism and excursion opportunity.  The point was also made that the motion was exclusively about the money required to get started on fixing the tracks on the line between Victoria and Courtenay, not the management of the Island Corridor Foundation.
In the end, the resolution passed quite strongly.
Motion to have @THEAVICC lobby Fed government to release $7.5M @ICF_IslandRail passes strongly after long debate.

— Chris Alemany (@chrisalecanada) April 9, 2016
#AVICC delegates support rail funding https://t.co/OvMJfYqLxS #VancouverIsland needs #PassengerRail for environment&economy. #cdnpoli #VIA

— Sheila Malcolmson (@s_malcolmson) April 9, 2016
Interesting conversations regarding Island Corridor Foundation future at #AVICC. Lots to consider but still support a review. #Lantzville

— Colin Haime (@ColinHaime) April 9, 2016
The other really contentious issue, perhaps unsurprisingly or perhaps so, was a resolution to urge the Federal Government to legalize medical marijuana dispensaries "without delay".  I saw this motion simply as a way for the group to push the federal government to bump the legalization file further up the list in terms of priorities to get done in its entirety sooner rather than later.  The need I believe comes from this explosion of dispensaries that all communities are seeing appear.
The counter argument was generally that there was too much left to be done in terms of regulating the production of the marijuana, of funding the administrative enforcement aspects and other issues.
In the end this resolution was the closest in voting.  Rather than only raising our hands/cards we had to do a standing count where each person was counted by scrutineers.
#AVICC votes 78-62 *not* to urge Fed government move forward with legalizing marijuana dispensaries "without delay" pic.twitter.com/brEtQl1lEA

— Chris Alemany (@chrisalecanada) April 9, 2016
The motion was narrowly defeated.
The last controversy of sorts came back to the railway issue as a Langford resolution to look at the management of the ICF was put off due to time until Sunday morning.  The folks in the room weren't too happy but it is what it is.  It will be the first thing tomorrow when we get to resolutions again around 8:50AM tomorrow.
The results of all the resolutions will be posted on the AVICC website after the conference but some other motions of interest, by tweet, were:
#avicc strongly passed @SoniaFurstenau Cowichan RD resolution assess professional reliance regimes. #ShawniganLake pic.twitter.com/p5TcG0CAYV

— Chris Alemany (@chrisalecanada) April 9, 2016
I just introduced this motion @ #AVICC calling for National Pharmacare. It passed almost unanimously #Cdnpoli #yyj pic.twitter.com/HTi9QlM5jj

— Jeremy Loveday (@JeremyLoveday) April 9, 2016
If it ever happens, I'll remember this meeting: #AVICC calls on Federal Govt to create a national pharmacare program. #Saanich #yyjpoli

— Colin Plant (@ColinPlant2018) April 9, 2016
Hey, heard that at #AVICC passed a motion to end okd-growth logging on Vancouver Island – great work @THEAVICC ! #bcpoli #walbran #yyj

— Mark Worthing (@OrcaCedarbough) April 9, 2016
In the early afternoon there were a few sessions on a number of topics.  I did not attend however they generated a considerable amount of discussion which filtered back and I heard from many including our own Councillor Washington who you can see below.
Discussing gaps in legislation 4 parental leave 4 elected officials #AVICC @MajaTait @jessiehemphill @Marsh_Kate pic.twitter.com/ZBjOrcmlw7

— Olga Liberchuk (@Olga_Liber) April 9, 2016
Next up at #AVICC, Michael Shoop 4 Conflict Engagement & Communications. #Nanaimo #csaan pic.twitter.com/iH15yXXgE9

— Carl I. Jensen (@carloncouncil) April 9, 2016
https://twitter.com/Eco_RyanWindsor/status/718903201362104320
.@michellestap starting off the discussion on Youth Councils #AVICC Duncan and Nanaimo Youth Council representing! pic.twitter.com/4eh9yaqkUP

— Michelle Kirby (@MichelleKOakBay) April 9, 2016
The final part of the afternoon I spent touring the brand new, $70 millionwater treatment and filtration facility just brought online for the City of Nanaimo this past December. What an engineering feat! I wanted to check it out system of course we in Port Alberni may be looking at being forced to build one of these one day.
Nanaimo had one of its worst seasons for turbidity events ever this year.  This plant likely saved them from at least 5 boil water advisories according to Mayor McKay.  It is a very impressive facility. Check out the pictures and description below.  This may be a preview of an addition that we might have to make to our new UV plant at Bainbridge.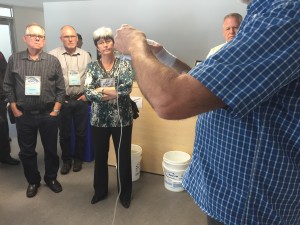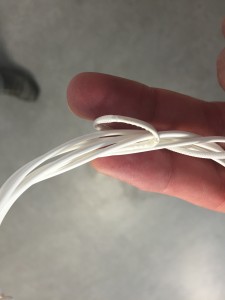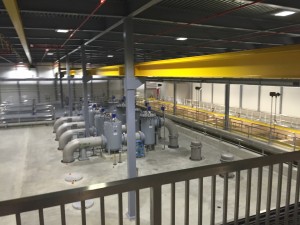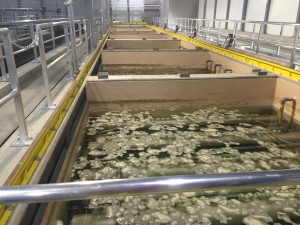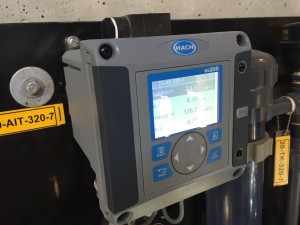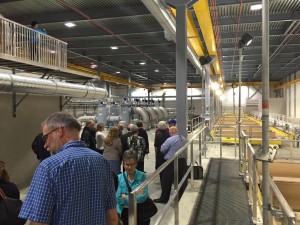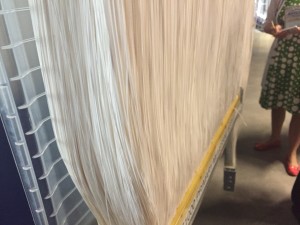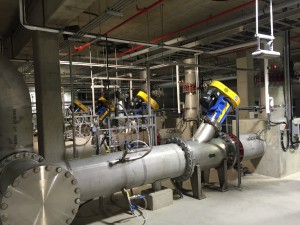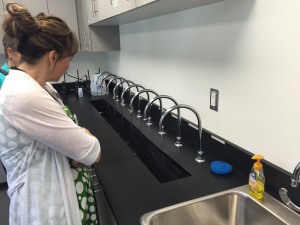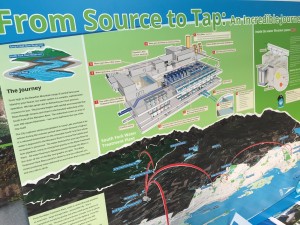 That's all for Saturday.  We have the reception tonight and then back to work early tomorrow morning!
Final Update – Consequential resolutions passed on rail and rights. Speeches and Asset Management.
After a fun night of food and dancing on Saturday night it was back down to business after a 7:30AM breakfast on Sunday.  We started off with a speech from the Leader if the Green Party Andrew Weaver who I also had the pleasure to sit at a table with.  He is always a good person to chat with.
You can see his speech on Periscope here.
The speech of course centred on the alternative his party provides to both the BC NDP and BC Liberal Parties.  I expect we will hear from him again this time next year which will be rit before the next BC election.
After his speech the convention considered the last main resolution.  This was he resolution on management and financial review of the ICF.
It was amended from the original motion to read this way: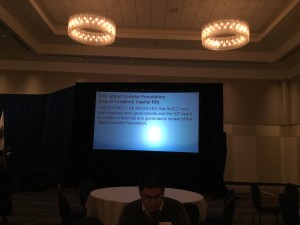 I voted against this resolution mainly because I believe the regional districts themselves simply are not being proactive enough to ask the questions they should be asking if they are worried about the ICFs finances.  The ICF is required, as a federal charity, to follow strict reporting guidelines and it also produces audited financial reports.  It seems that this information is not being sought by the regional districts that make up half the ICF Board.
Another reason is the AVICC does not have the financial or staff resources to pursue this kind of review so it is unclear what the AVICC can do.  And finally, the AVICC and ICF are separate bodies that are completely unrelated to one another.  The ICF has its own governance structure and so it seems strange that one outside agency is reviewing a completely different outside agency especially when you consider that the ICF is set up in a way that First Nations and RDs hold an equal stake.  The First Nations that are on the Board are not being asked to participate or for their opinion at all on this "review" process.  I find that strange.  Regardless, there is definitely concern and frustration about the lack of results.  While that may or may not be he fault of the ICF management, sometimes, the coach gets fired, or gets heat at least, when they perhaps are not the root of the problem.
We then considered the 2nd group of resolutions that are grouped in a block because they are expected to be generally supported by the membership. This included our slash burning limits resolution.  A few motions were attempted to be brought out of the block so they could be debated separstely but none got the amount of support (2/3rd) needed to be considered.
Then there were a number of late resolutions, the biggest was born from a very bizarre situation where an elected official on the South Island was prevented from sitting on committees she was a part of after returning from parental leave.
Here is the resolution. It is truly incredible that something like this would be needed "in 2016".
Parental Rights late resolution #AVICC to ensure elected officials keep roles after mat leave! @MayorNils @MajaTait pic.twitter.com/aqcpDCYz6E

— Michelle Kirby (@MichelleKOakBay) April 10, 2016
The motion passed with no one that I saw raising a hand in opposition. You can seea video of that motion being presented and passed below thanks to a in Sooke which is where the Mayor is the person, mother, in question.
We then had a speech from NDP Leader and Leader of the Official Opposition John Horgan.  You can see it here.
Speaking about booze, jackpot + bungalows as reason budget is balanced. #bcpoli pic.twitter.com/bPi5PBIfvJ

— Colin Plant (@ColinPlant2018) April 10, 2016
.@jjhorgan tells #AVICC delegates BC gov non-response to questions on sale of Wexford Creek care home in #Nanaimo was *Site C* #bcpoli #HEU

— Roseanne Moran (@rosiemoran) April 10, 2016
Mr. Horgan is a great speaker and he too will be back in front of the AVICC before the next election.  He is very much already in election mode.
And finally, to end the conference we had a presentation on Asset Management.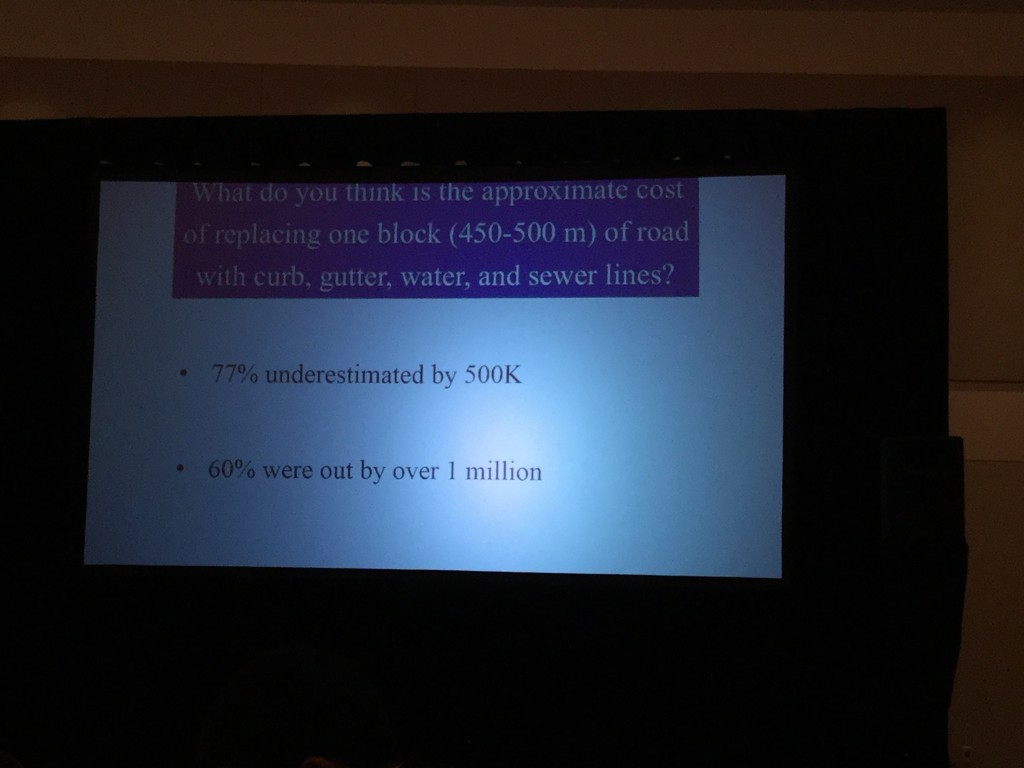 It addressed the age old question of having to actually pay for infrastructure on an ongoing basis in a large enough fashion to actually avoid it deteriorating to the point where even larger sums of money are needed to catch up.  This is a situation we are in right now in Port Alberni and continue to face.  The slide above showed the results of a survey done of residents on how much they thought repairing a road cost.  As you can see, people generally hugely underestimate the real cost of this work, which is likely partly why there is such a disconnect between the electorate and the elected official and the staff on what is needed in order to truly maintain infrastructure to the level citizens expect.
The presenter gave some good strategies for closing that knowledge and acceptance gap by showing priority maps and plans done for the community of Golden.  It is something we could definitely use here if we do not already have it.
That was it for the conference.
IT was another great event.  The organization was excellent, the City of Nanaimo provided excellent facilities, and the learning sessions I attended were informative and provoked discussion.  The resolutions were debated thoroughly and when we werent debating on the floor we were often deabting with table mates or over a glass of wine at the reception.  I feel as though I further strengthened some ties with officials from other communities which I think will certainly serve me, and by extension, the City better.
The next big conference is the Federation of Canadian Municipalities in Winnipeg.  I expect to be blown away as there will be over 10x as many people and a huge amount to learn, but it should be fantastic.  It is in the first half of June.
The next UBCM is in September in Victoria and the next AVICC is this time next year in Campbell River.
Thank you again for reading. I hope you have found this useful.