What a Week…. final thoughts.
I have been to a few of these kinds of conferences in my time.  I went to two Apple World Wide Developers Conferences in 1999 and 2001,  I've been to a few for work including one for my Union (VIU Faculty Association) and of course AVICC earlier this year.  However, this conference was truly a cut above.  I am very glad that I have described it in full below not only because it will be good information for you to know what I did on your time, but also for me, personally and professionally as I can refer back to it over time.
I would describe UBCM as amazing, informational, inspiring, challenging, fun, and above all important, not only for me professionally and personally but also for the City as a Corporation and government.  I have not learned that much outside an actual educational institution since the World Wide Developers conferences at Apple.  I have never connected with so many different people with different outlooks all with a desire to be better and to serve.  It was simply fantastic and I can say without a single doubt in my mind absolutely worth the expense of all of the councillors and mayor of going.
On that note, here are my expenses (the City Clerk will know the cost of the hotel I didn't have it handy with me today when I did this, I believe it was around $120 a night) that I'll be submitting.  These may change if I missed something somewhere but I believe it to be correct.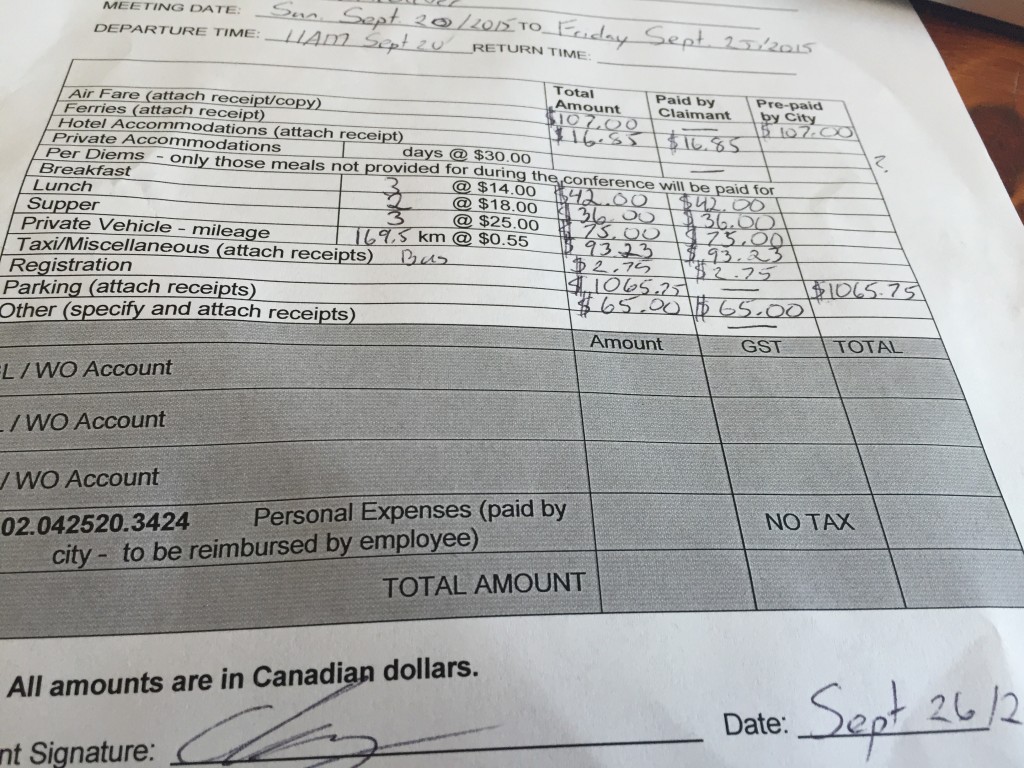 There is nothing cheap about getting to or even just attending the conference, that's for sure.  However, I truly believe it was worth every penny.  And I am glad I chose the transportation I did.  I walked on the Nanaimo ferry (with my suitcase, laptop/backpack and suit-jacket holder) and took the bus into downtown.  I would have taken the ferry back if it had not been for my commitments I had to get back to VIU for early on Friday morning.
After Wednesday's sessions started things got fast and furious but I hope what I've put down here will be just a little bit as helpful and interesting as I found it to be having had the privilege of representing you at the Union of BC Municipalities.
Enjoy.

Hi everyone!
I am excited.  I will be headed to the ferry (walkon) in the next few hours on the way to Vancouver for the big Union of BC Municipalities (UBCM) conference.
Council is staying a couple blocks from the convention centre at Canada Place.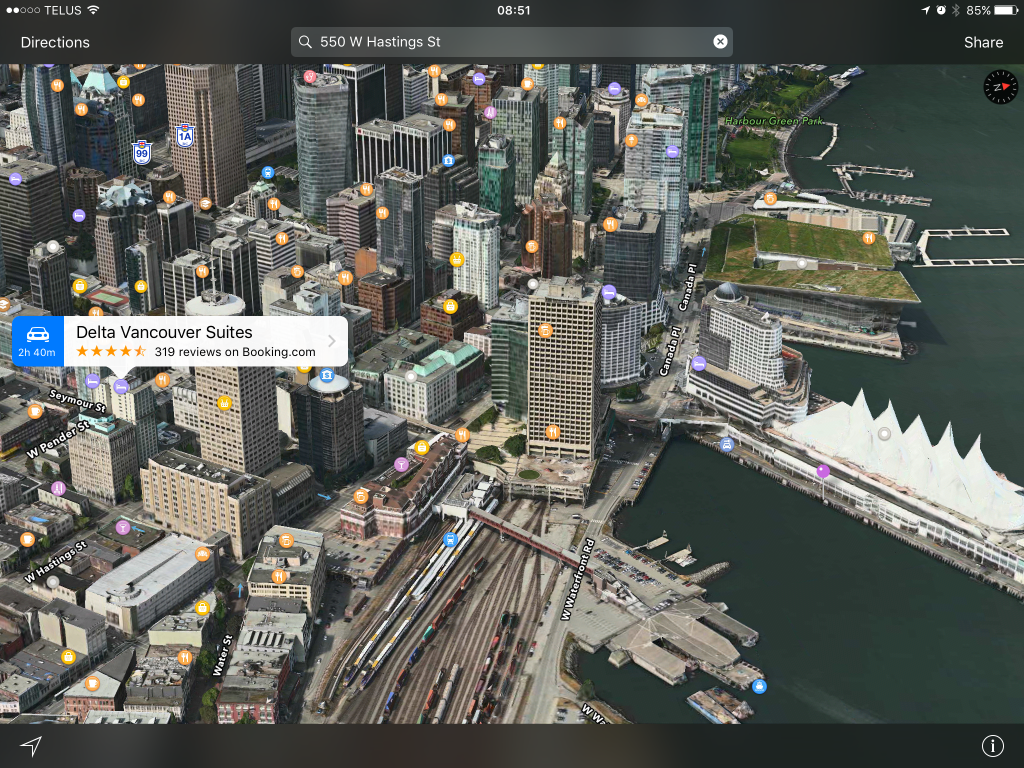 The great thing about these conferences is everything you learn and all the people, councillors, mayors, ministers, assistant ministers that you meet.  There is so much to learn from other communities.
The clinics and workshops start Monday and Tuesday and then the main UBCM meetings and resolutions happen on Wednesday and Thursday.  Below is my schedule so far. I will be flying back to Nanaimo first thing Friday morning in order to get to do some important filming and a meeting in the morning and classes to support.  Busy busy! 🙂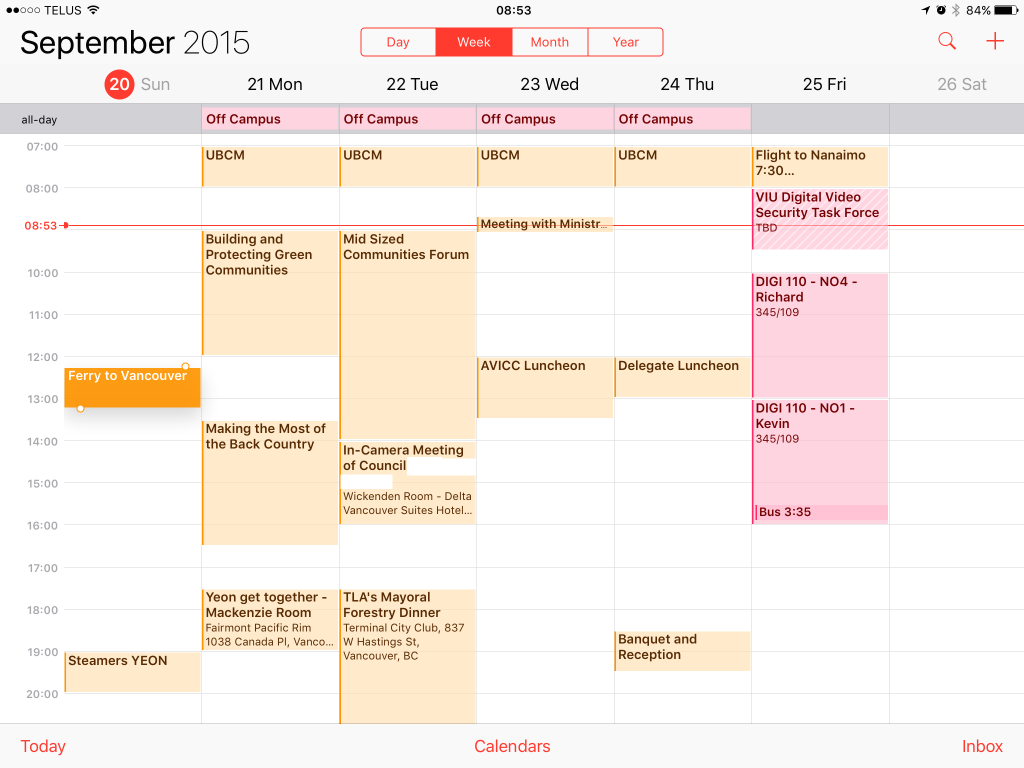 You might wonder why we are having an in camera meeting in Vancouver. You can see the purpose of the meeting from the Agenda posted on the city website. The content of the meeting itself is of course all in-camera until the final report is delivered within the next few weeks.
You might notice the "YEON" events.  That stands for Young Elected Officials Network.  Basically it is a place for conference goers under or near 40ish to network, share ideas and support each other in bringing forward progressive resolutions to this and other regional conferences (AVICC).  It has been a fantastic resource for me to learn how this all works and to bounce ideas off of.
Oh and in case there is any doubt that this event is serious, it even has its own app that you can download for free to help keep attendees organized and informed about what's happening.  There will literally be a few thousand people there!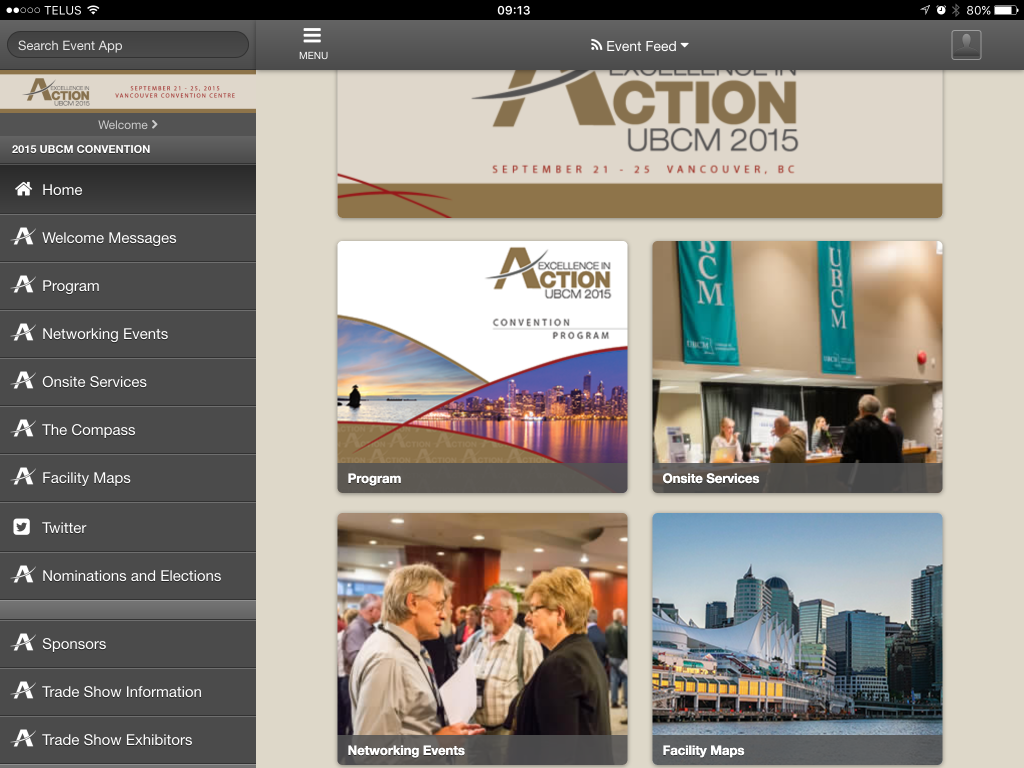 I will try to keep this post updated through the week but I will apologize if I don't live up to that promise. I am told it is an insane week with very little down time.
6:30AM Monday – It has begun.
And so it begins.  After a somewhat rocky ride on the ferry and walking off into a rainstorm and onto an typically packed Translink bus, I made it to our hotel for the week.  I Connected over dinner with colleagues and new friends from municipalities in Ladysmith, Chemainus, Cobble Hill, Esquimalt and Tofino and the debates and ideas came thick and fast.  It is energizing to be around others who share many of the same passions as I do and who are committed to working hard to make positive change in their communities.
There were tons of people on the street thanks to 3 huge cruiseships that apparently just docked on the same evening, but walking through Gastown was beautiful before turning in last night.  Reminds me of the bottom of Argyle.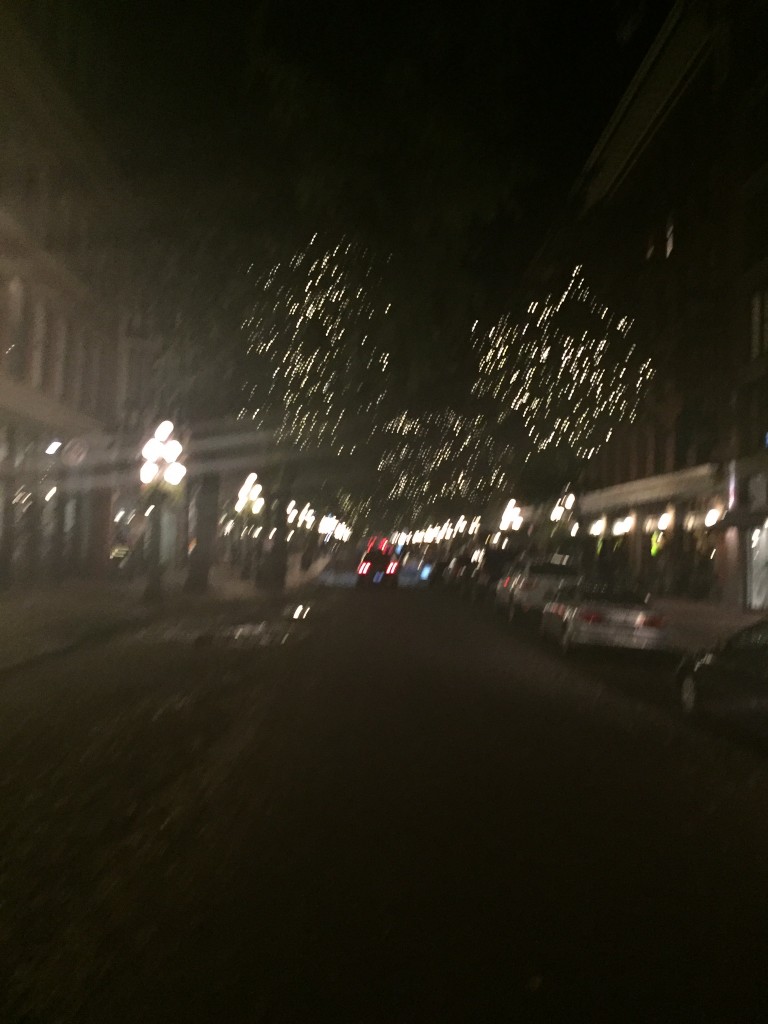 Apologies for the terrible picture.
First up on the calendar this morning is "Building And Protecting Green Communities" at 9AM.  Will have to register and find some breakfast too. I'll try my best to keep this post updated.
1:30PM Monday – Building Green Communities and BC Gov Position
After finding a rather horrid "Road Runner" smoothie (veggie smoothies aren't usually terrible, this one was lol) to skarf down for breakfast I headed over to the Fairmont ballroom for the Building Green Communities talk and forum.
Mayor Josie Osborne was one of the speakers and she spoke eloquently about how Tofino is both preparing for things like sea level rise and dealing with things like drought and water conservation.  She made an excellent point when she said she tries very hard to address issues around climate change without utterring thst exact phrase because the phrase itself is so politically charged.  The fact is much of what will help mitigate and adapt to climate change are things that just generally help the community to grow and be desirable anyway.  So there is less need to beat people over the head with the climate change mantra.  Perahps this is adivce I should take to heart. 🙂
The next presenter was Doug Smith from the City of Vancouver.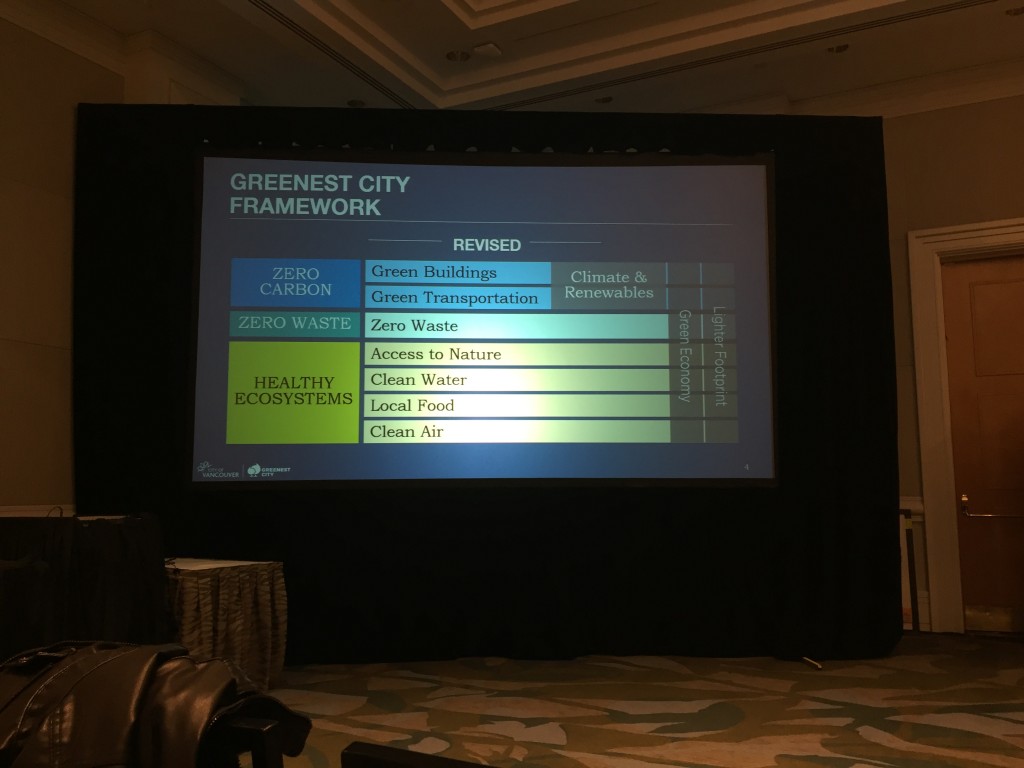 He provided some great examples of how Vancouver has moved toward a total 100% renewable goal for 2050 including building code enhancements (which Vancouver can uniquely do), District Energy (which Port Alberni is also pursuing of course), mapping of sea level rise (which if nothing is done could flood huge and very valuable portions of the city including False Creek).  And he also shared what Vancouver was doing around mitigating the Urban Heat Island effect which they estimate killed 100 people (likely mainly seniors) in the big heat waves in 2009.  I had a nice chat with him after his presentation and will be emailing him for more info about his iniatives, especially the urban heat island studies they did.
The third speaker was Jordan Sturdy who is the new Parliamentary Secretary for "Energy Literacy and Environment".  Up until a few weeks ago, Sturdy was the P.S. to the Minister of Transport.  Minister of Environment Mary Polak gave a brief introduction at the beginning of the session but it quickly became clear why she may have left.  After P. Sec Sturdy finished his presentation on what the BC Government was doing with its Climate Policy, the questions from the assembled councillors, mayors and staff delegates were quite tough.
There seemed a genuine disagreement between those in the audience and Mr. Sturdy on the "Leadership" the province of BC has provided in Climate mitigation and adaptation.  At one point, in response to a question about funding alternate modes of transportation on the Island rather than $80 million interchanges, Sturdy emphasized that the government sees highways as key to the climate plan as people shift to electric vehicles.  The point was made by the audience that this would be an extremely long term proposition and that there are much more immediate alternatives that could come to fruition with current technology.  Sturdy did not show much interest on behalf of the government of considering that.
After the session I asked Mr. Sturdy whether the province would be bringing new GHG reduction targets to COP21 in Paris when the Premier attends.  He said yes they have and will be updating their targets and their overall climate plan that is due next Spring will include information gleaned from the world conference.
I asked him if he thought BCs LNG policy was consistent with meeting GHG emissions targets in the province and he said we would be able to do it with reductions in other areas and that we faced a choice about where the "inevitable" fossil fuel energy that will be needed as we work toward near zero emissions in 2050 will come from.  East Africa? The Middle East? The US? Australia?
I thanked him for his time and his courage in being thrown to the wolves.  I don't think his answers measured up frankly. In fact, they were completely at odds with the progressive and proactive presenters beforehand.  The second half of the session turned into a discussion about pipelines which didn't strike me as what I was really there for (new ideas) so I left.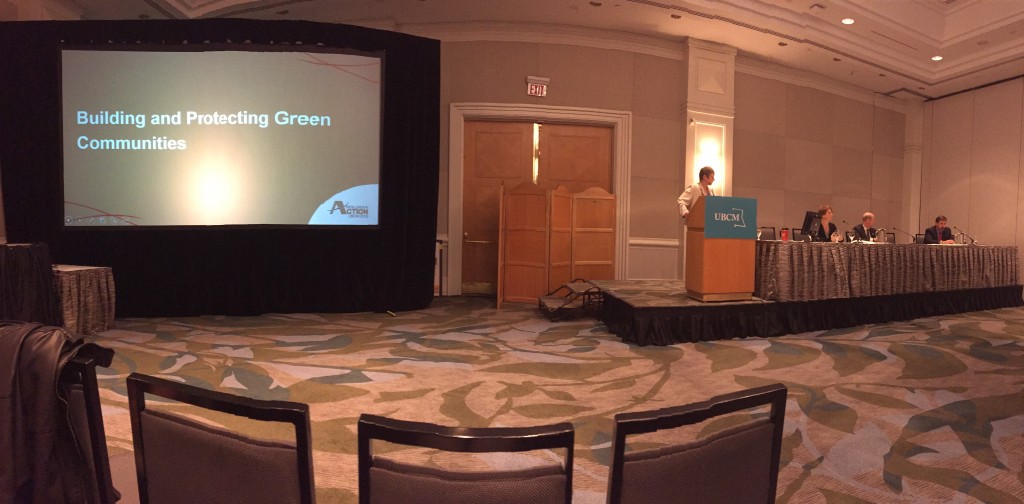 Next up, a change of plans:
Should be a lofty presentation….
10:30PM – First full day comes to an end – Marijuana session extremely helpful – YEON group networking
It has been an excellent afternoon.  The session on "Marijuana: Legalization, Legislation and Access" was extremely good and very well attended.  The panelists including 2 lawyers detailing the overall federal situations and local concerns, a councillor from Vacnouver talking about their experiences with retail outlets, a former campaiggner and lawyer that helped bring forward the legalization campaign in Washington State, and Dr. Perry Kendall, Chief Medical Officer of BC.
Dr. Kendall predictably provided the best visual graphs and evidence strongly favouring legalization and regulation  including this: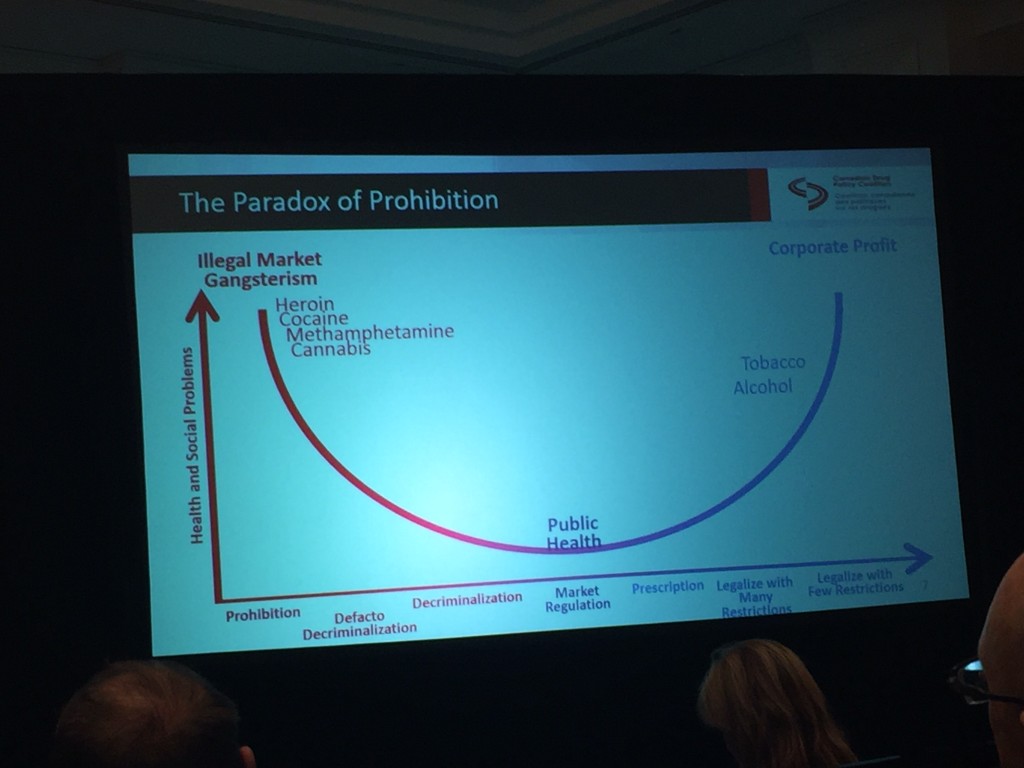 Although he did not suggest it, I thought it was very intersting he included the much harder drugs in his graph.  Was he advocating those be legalized as well?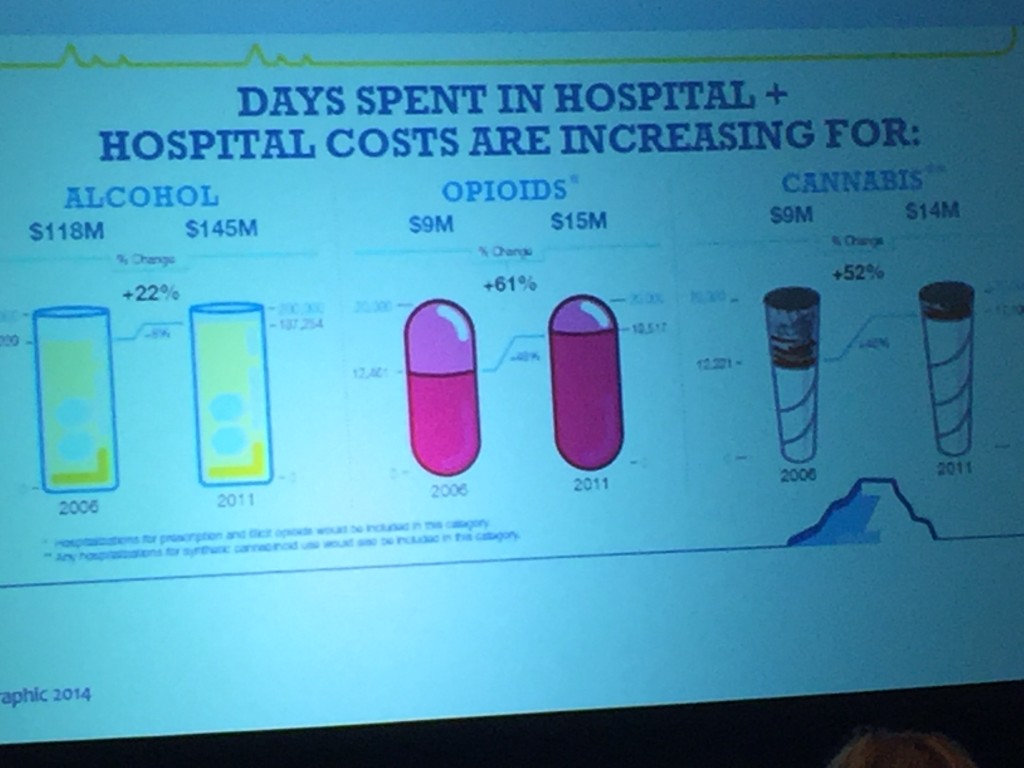 The outcome of the session was clear though.  There are many many ways that municipalities can properly zone and regulate the legal uses and selling of marijuana right now and there are ways to do what Vancouver has done and go a step further based on the reality of our communities.  There are tangible health and social benefits to regulating and educating the public on marijuana and the door is opening bit by bit.  What will be a real wildcard is the outcome of the federal election next month as every major party has a slightly or sometimes major difference in direction.
After the sessions ended at 4:30PM.  There was a short orientation for new delegates like myself to make sure we were up to speed on things like how to vote and make resolutions during the main conference sessions.
We then had a get together with the Young Elected Officials Network where I met a number of folks from around the province.  There is a lot of exchanging of business cards at these things! I a, glad I brought a stack and added my twitter handle to them all (by hand on the ferry ride) :).
It was then off to find food as many hadn't eaten since morning.  Picture below are some of the excellent people I have connected with from near and far away.  Pictured are councillors or directors  from Huu-ay-aht, Uchuklesaht, Cherry Creek, Victoria, Mill Bay, Shawnigan Lake, Summerland, Port Hardy, Metchosin, Cumberland and probably another that I have forgotten.  Excellent conversations and sharing of ideas.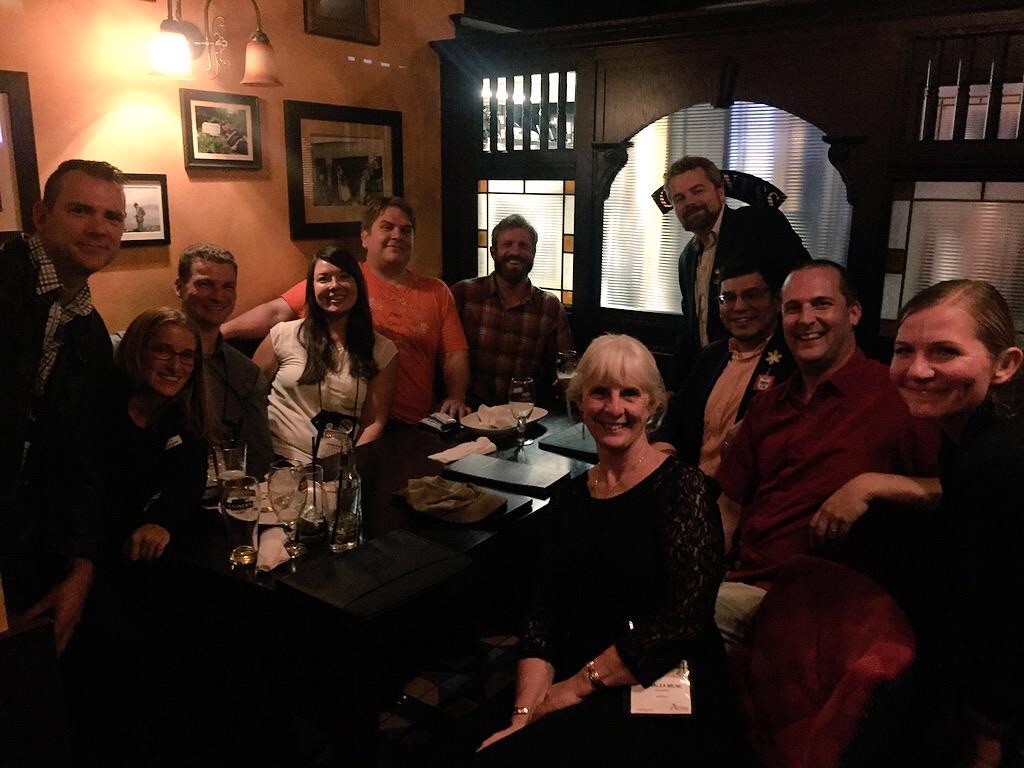 2PM Tuesday – Fire, Drought, Emergency Ops and Climate Change.
It is always extremely difficult to choose which clinics to go to.  This morning we had this choice (after the breakfast muffins and crossants)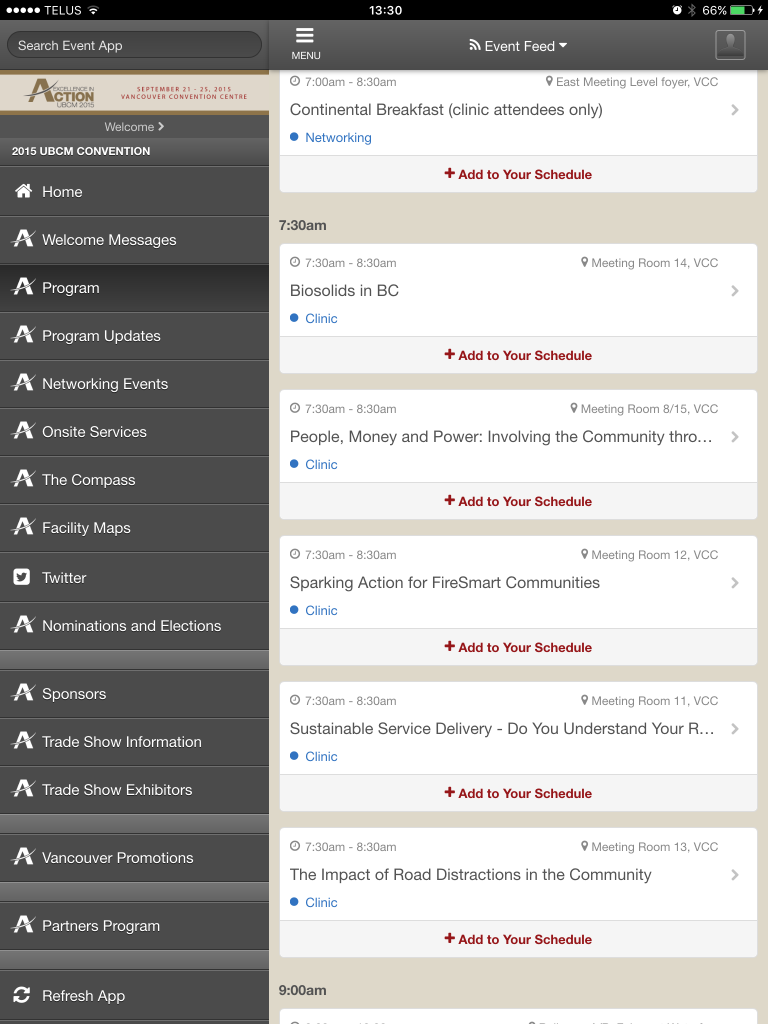 You can't do all of them.  So since we had such an unprecedented year, I chose the FireSmart communities clinic.  It did not disappoint.
The first image is of the Environment Canada projections made in the spring about how bad the season would be.  The prediction was obvious.
The bottom two are statistics.  The 2015 stats are up to a couple weeks ago.  The final tally still isnt quite in.  But the bottom picture makes it clear, since the turn of the century we have begun seeing extremely active seasons more often than not.  The blue line is the 10 year moving average and it is clearly rising steeply as far as hectares of land burned.
The presenter from BC Wildfire Management Branch said this is what climate change could look like and while they cannot say definitively this is climate change caused, it does certainly match the expectation. Including the "Highly unusual coastal rainforest fires", that we had on Vancouver Island and the Sunshine Coast.
In terms of response from local government it was notably said that even in larger municipalities… only 2 structures lost likely means overwhelming the resources at hand leading to a disaster.
Gotta go to a meeting with council…. Will finish the update later but wanted to get something down now….
8AM Wednesday – Finishing up Tuesday post and Learning Open Meeting Law.
One thing  runs into the other at this conference so my apologies for not finishing up yesterdays post.  I sense my time will only become more short now that the plenary sessions are starting today.  But here goes!
Our main morning forum yesterday for "Midsize Communities" actually focused very much on and expanded on the Firesmart topic and extended into Drought and Emergency planning.  All things that were very top of mind for our area.
Some take aways:
From the Wildfire branch rep:
In coastal zone biggest help would be to:
Thin the (mature) forest, 10m spacing with crowns not touching
Older trees (doug fir) are resistant to fire so best to leave intact.
Can also fill space with fast growing big maple and alder.
But above all: Clear the understory and clear bottom reaches of trees so can't candle.
This might be a new line of thinking to present to our local private managed forest companies to get them more reason and incentive to have the most sensitive and small footprint logging practices possible.
There are a number of grants, including through the UBCM, that are out there to help with planning and implementation of measures to help secure our urban, wildland interface.  We obviously have a huge border that is up for treatment.  The good news is doing these things that will help prevent wildfires from overwhelming our community will also make those areas very pleasant places to walk, hike, and recreate.
There was also a question from the audience about keeping the public out of the forest in times of extreme danger and all of panel members who consisted of municipal fire fighters, wildfire management and others.
The rest of the meeting was dedicated to Drought monitoring and emergency planning.  Basically, the drought team at the province hardly exosted at the beginning of the year but because of the severity (3% notmal snowpack on  island in June) the capacity was very quickly ramped up and now they are likely to stay focused on it through next year.  They want to improve messaging as there was a lot of confusion between Drought "levels" and water restriction "stages" in municipalities.  Apparently a few places were within 2 weeks of running out of water at the end of August so they were very thankful when the rain came.
The funny thing about all these sessions was that so much of it really boiled down to a discussion about the current and future realities of climate change.  Communities and government are being forced to adapt quickly.  The more we can get out ahead of these issues so we are acting proactively rather than reactively, the better.
Next update will be about the Open Meetings and the Law session this morning.  It was too short! Packed room and only a 45min session.  It could have and maybe should have been the whole morning.
Meeting the Ministry of Forest and The Big Room
Wednesday was the official start of the Meeting of the Union of BC Municipalities itself in the main halls of Canada Place.  We were in a speed meeting (yes, like speed dating) with the Ministry of Forests for 15 minutes to talk about trying to get more direct lines of communication between municipalities and forest companies enshrined in the Private Managed Forest Land Act.  These minister meetings are a really important part of the UBCM event.  All of the Ministers of the Province including the Premier are made available to all of the municipalities for 15 minute blocks.  So for the provincial politicians and their staff, it is very much like speed dating.  It was an interesting experience.  Our councillors (McLeman, Paulson, Minions and myself), the Mayor and Penny Cote of the ACRD attended our meeting.
The Minister himself unfortunately was not at the conference due to other commitments but the meeting with his staff, including the Deputy Minister was good.  I will be surprised if anything immediate comes of it, but they were at least willing to listen and receive our information and agreed to set up another time when we could meet the Minister himself.
After that meeting I did catch the last bit of the speech from the Lieutenant Governor after she had officially opened the convention.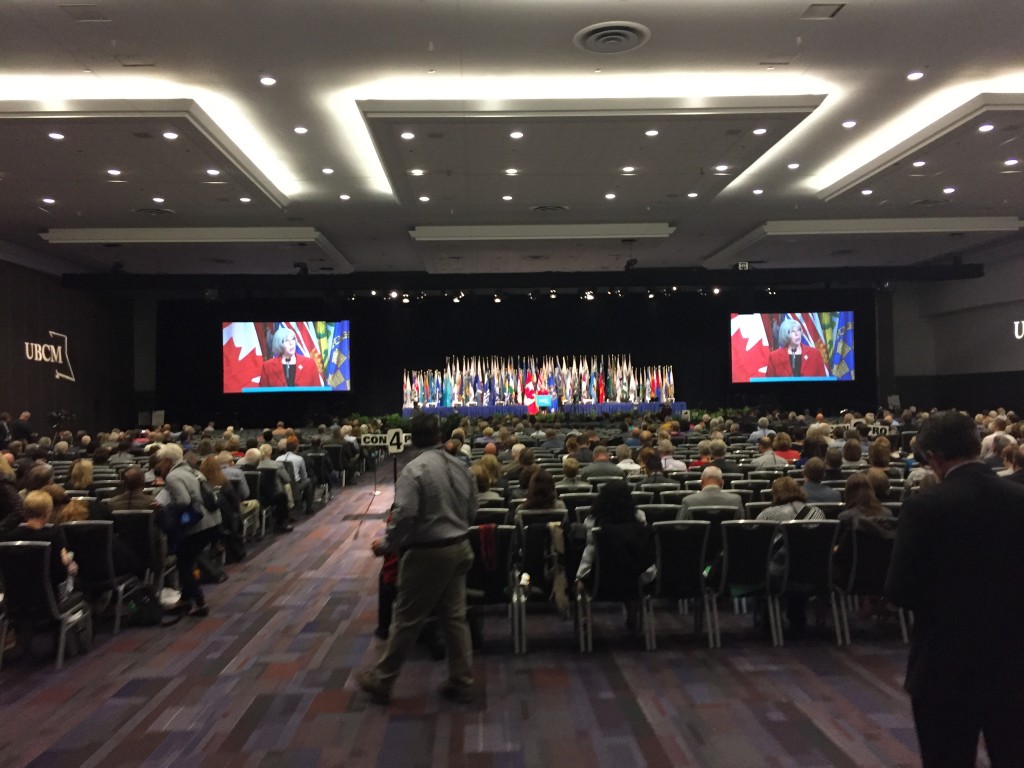 We then were treated to a Keynote Address from former Canadian Astronaut Roberta Bondhar. She was an excellent speaker of course and talked about how we can all use our own energy to take our communities to new places.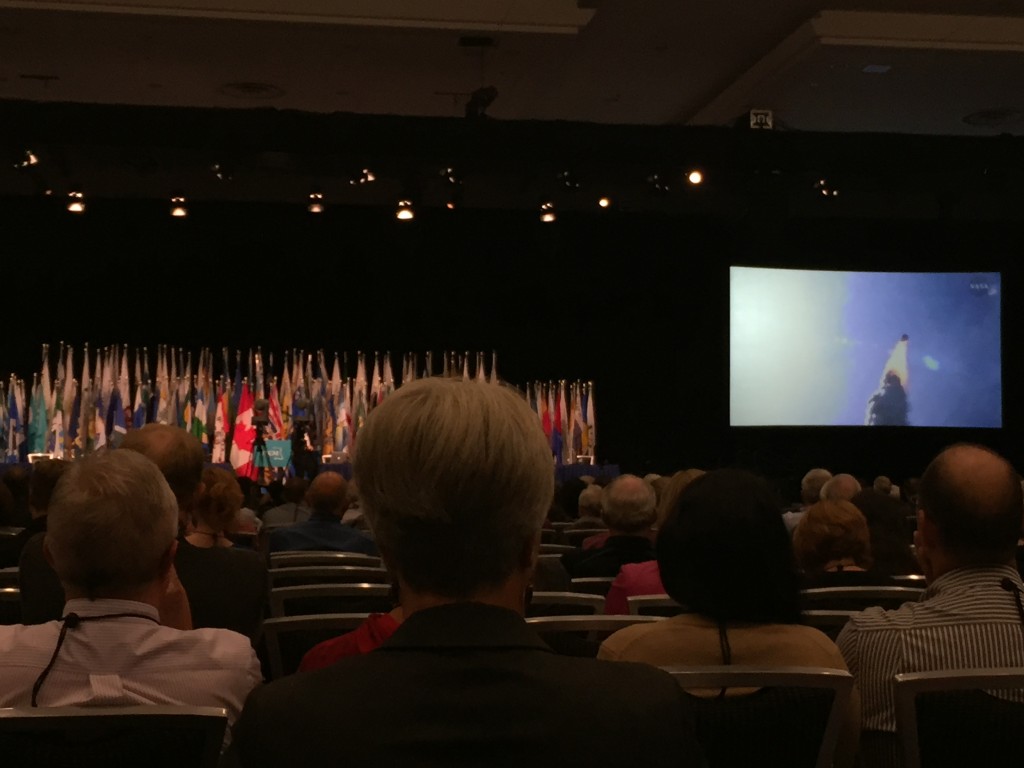 There were big ships….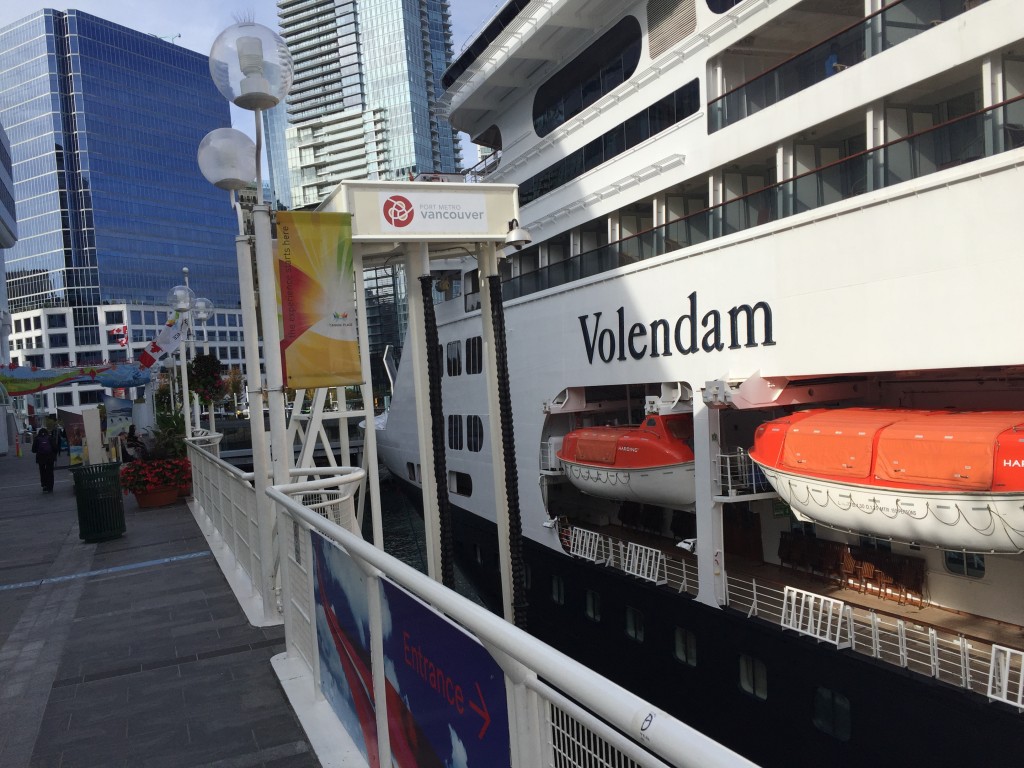 The Plenary Sessions – Resolutions and Debates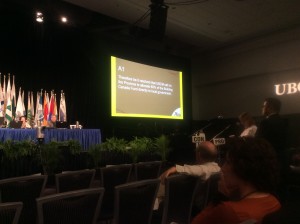 Just like the Association of Island and Coastal Communities (which is sort of the little brother to the UBCM) we spent a huge amount of time considering all sorts of resolutions that came forward from communities and regional districts all over the province.  Every delegate was provided a 100+ page book (or a PDF) with all the resolutions (166 in all!).  Ranging from grant requests like the first one pictured above and on the side (A1, A5) to the final one done on Friday (C39) urging Port of Metro Vancouver not to encroach more on the ALR.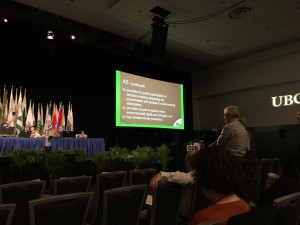 Because it would be impossible to consider all of the resolutions separately without the conference stretching on for days, the "B" resolutions, which is the largest block, are "blocked" (thus the "B") and voted in a few different sets.  Delegates can "move" to have individual resolutions removed from the block vote and considered on their own.  I was involved in about a dozen that were handled in this way. Some of the important resolutions that were debated extensively even went to an electronic vote.  If a vote can't be decided by a show of hands it can go to an electronic vote.
Unfortunately it was all too fluid for me to write notes the entire time during the plenary session.  I only attempted to approach the mic on one motion, which was A5 picture above on recommending that the Province and Federal Government advocate and implement an Environmental Bill of Rights.  Here is the full motion, at the end you'll see who brought it forward and what the recommendation was from the UBCM resolution committee.:
A5 ENVIRONMENTAL BILL OF RIGHTS Richmond

WHEREAS municipalities and regional districts are the government nearest to people and the natural environment, and therefore share a deep concern for the welfare of the natural environment and understand that a healthy environment is inextricably linked to the health of individuals, families, future generations and communities;

AND WHEREAS fostering the environmental well being of the community is a municipal purpose under section 7(d) of the Community Charter and regional district purpose under section 2(d) of the Local Government Act:

THEREFORE BE IT RESOLVED that UBCM request that the Province of British Columbia enact a provincial environmental bill of rights that:

recognizes the right of every resident to live in a healthy environment, including the right to clean air, clean water, clean food and vibrant ecosystems;
provides for public participation in decision-making respecting the environment and access to environmental information;
provides access to justice when environmental rights are infringed; and
has whistle-blower protection.ENDORSED BY THE LOWER MAINLAND LOCAL GOVERNMENT ASSOCIATIONUBCM RESOLUTIONS COMMITTEE RECOMMENDATION: Endorse
It was debated quite extensively, as one would expect.  After a few really backwards thinking statements from some delegates I felt compelled to say my piece.  Unfortunately, there had already been many who spoke so the house was tested, which means the Chair of the meeting asked the entire assembly whether the question should be decided, and then the vote was taken.  So I sat down.  But for the record, here is what I would have said.
It was actually very similar to what I told the President of the Truck Loggers Association at their reception to which I was invited on Tuesday evening:
We are the representatives of ours and we must ensure to protect them now and in the future.  We have resources in this province especially one that is near and dear to my community's  heart and that is Forestry.  We can and must ensure this resource is available to our future generations and I see this Bill of Rights as protecting that resource as well as all of our land, air and water that we all and our economy rely on.  If we continue to expect our environment to play second fiddle we will eventually have nothing upon which to base our economy and lives of our citizens.
The Alberni Clayoquot Regional District Sponsored 3 resolutions specifically:
B2: ESTABLISHMENT OF A PROVINCIAL FUND TO SUPPORT SEARCH AND RESCUE
B36: RE-EXAMINE LOG EXPORT POLICY
C3: PROVINCIAL FUNDING FOR POLICE-BASED VICTIM SERVICES
B36 was specifically mentioned at the Truck Loggers Association for delegates to reject.  As the sponsors, and given the Mayor's comments a few weeks back, Port Alberni's delegates obviously intended to vote in favour of that motion.
B2 and B36 were both adopted by the UBCM as part of the first block.  C3 was debated individually and passed (on Thursday).  Some other interesting resolutions from Wednesday:
A4 RESOURCING LOCAL GOVERNMENTS FOR OIL AND HAZARDOUS AND NOXIOUS SUBSTANCES EMERGENCY PLANNING RESPONSE.  This was brought by City of Vancouver and was Endorsed.
B8: LOCAL GOVERNMENT ELECTIONS – INTERNET VOTING.  Brought by Osoyoos. Ironically, it was a very close show of hands and had to be decided by electronic voting.  It was defeated by 51-48.
Here is something fun I saw!  Click for larger images… it's a single seater.  Looked pretty cozy!  It does 120kph and is fully road legal.  It's a car called a "Sparrow" from BC company ElectraMeccanica at www.smallev.com.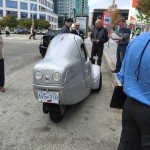 The final session on Wednesday were done by panels of provincial ministers.  Just because I felt like a good laugh, I went to the Responsible Resource Development session.
Sitting at the table you can see Minister of Environment Mary Polak.  She was joined by Minister of Energy and Mines Bill Bennet, Minister of Agriculture Norm Letnick, Minister of LNG Rich Coleman and Minister of Aboriginal Relations and Reconciliation.
After the Ministers were given 2 minutes to talk about their ministries (which really wasn't all that interesting, mostly talking points) the floor was opened for questions.  I asked one to Minister Polak… which was quite an intimidating experience even though I had chatted with her Parliamentary Secretary Jordan Sturdy a couple days before.  It is a lot different when you are standing at a mic with a whole bunch of your peers around you and you're being stared at by 5 Ministers of the Crown.  My question, about plans they might have on how their respective ministries might achieve climate change goals set at the upcoming COP21 session was really intended to be to all of the Ministers but we were only allowed to address one Minister so I chose Minister Polak.  She gave a fairly stock reply about their efforts and the government's belief that it could achieve its goals while still developing LNG.
The Evening on Wednesday was dedicated to grabbing some dinner from the restaurant and then going to the big CUPE reception held at one of the hotels nearby.  The wine flowed and the networking began.  It really is a huge part of these conferences.  It is extremely interesting to hear how other communities have such similar issues to ours and how those communities deal with them.
Wednesday Roundup – Open Meeting Session, Minister Meetings, First Debates on Resolutions.
So Wednesday's big deal was our meeting with the Ministry of Forests.  Normally this would include meeting the Minister himself but unfortunately he was away but we were still in the room with his Deputy Minister and senior staff.   So I wore my good duds.  I don't know if I've ever taken a mirror selfie before. lol.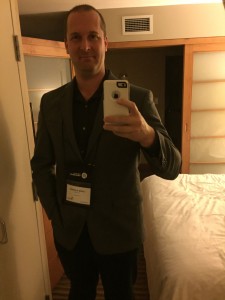 That was one super early 7AM start for the short session on "Politics, Accountability and the Future of Open Meetings".
Here are a couple slides.  The presenter, a lawyer, started off by telling us how B.C. was still very much only catching up in terms of requirements on holding of open meetings and consequences of not sticking to the rules like discussing public items that are not on an in-camera agenda during an in-camera meeting.  He mentioned that the U.K. was basically in the dark ages still but that every state in the U.S. had taken far more steps, especially Texas.  And Ontario's Auditor General was pushing for similar steps there.
H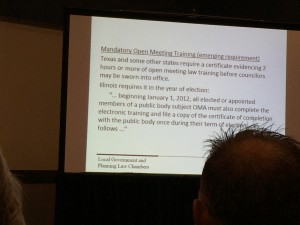 ere is a slide about mandatory training on open meetings and conduct.  It is worth noting Council did receive some very good training in this regard so I think we do meet this even though we are not required by the Community Charter or Local Government Act.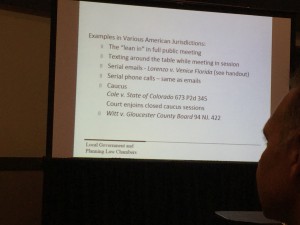 Here are some examples of ways that councillors or elected officials might participate in inappropriate meetings out of the public eye (ie. having quorum or sometimes even just very close to). "Lean in" doesn't really apply to our small board since there are only 7 of us.  I mentioned penalties… in the States the fines for inappropriate meetings range from $100 to $1000 and can include jail time.
In Ontario, the municipality can select an outside lawyer or the Ombudsman to investigate complaints.  Some examples of municipalities in Ontario that had been highlighted by their Ombudsman for various infractions uncovered by the "Open Meeting Law Enforcement Team" are below.  Now that's a name that could strike fear in some people's hearts!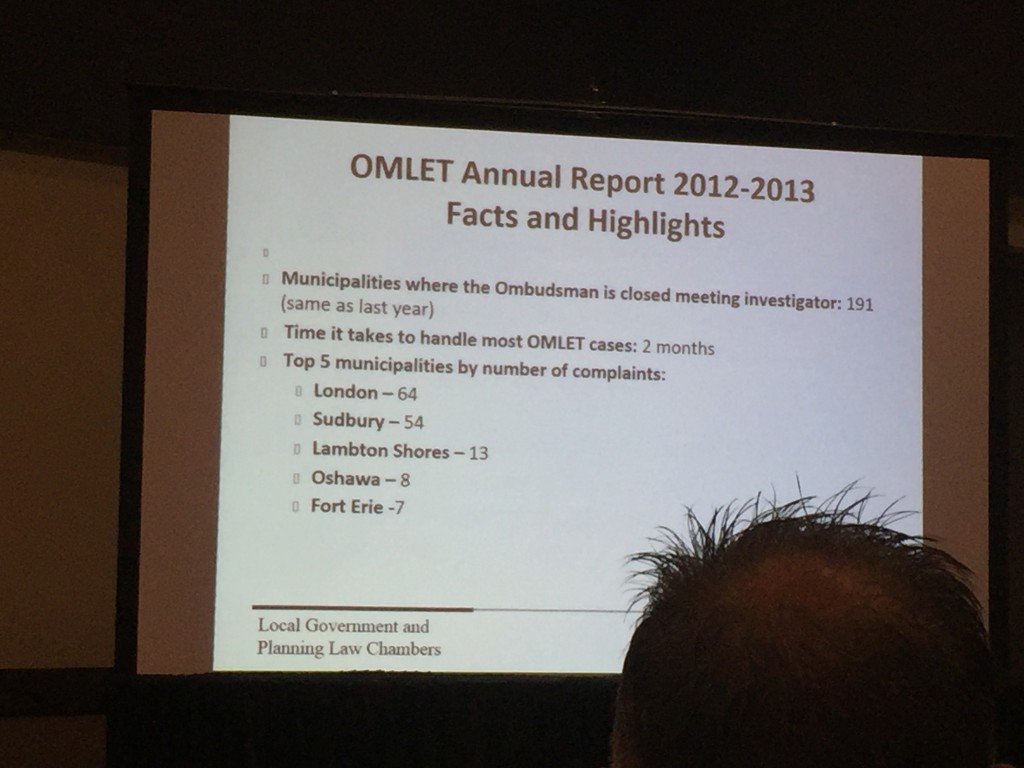 Here are some common issues and recommended practices…. apologies to the person sitting in front me of me for the lack of permission to publish the back of their head.  I sympathize with their balding spot. 🙂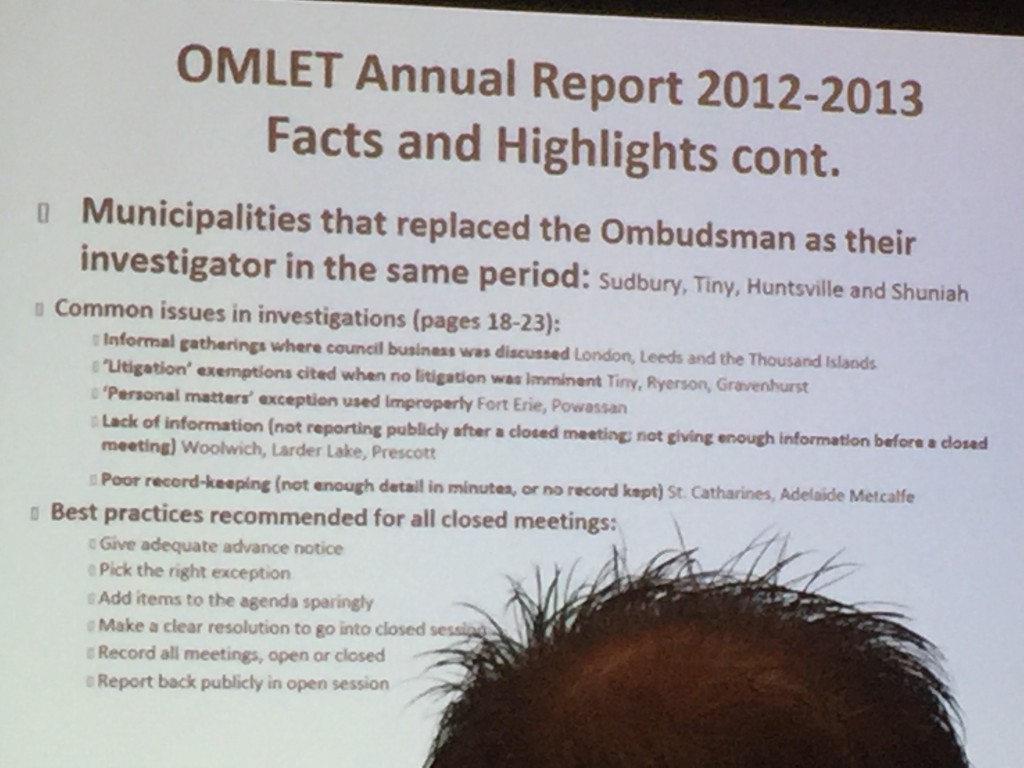 Here's the bottom line on transparency and open government, as described by a Canadian court.  ("Intra veres" means "within the power of")
And below was a real kicker.  While I do not believe we have done anything that contravenes any legislation, I think things like our Strategic Planning session held a few weeks ago should have been an open meeting.  They could perhaps be convened as meetings of a "Committee of the Whole".  Even if you are just receiving information, the courts have said information is the first step to decision making.  The presenter said that the Ombudsman recommendations in Ontario said there should be civil penalties (like I listed above) for being at a meeting that should have been open.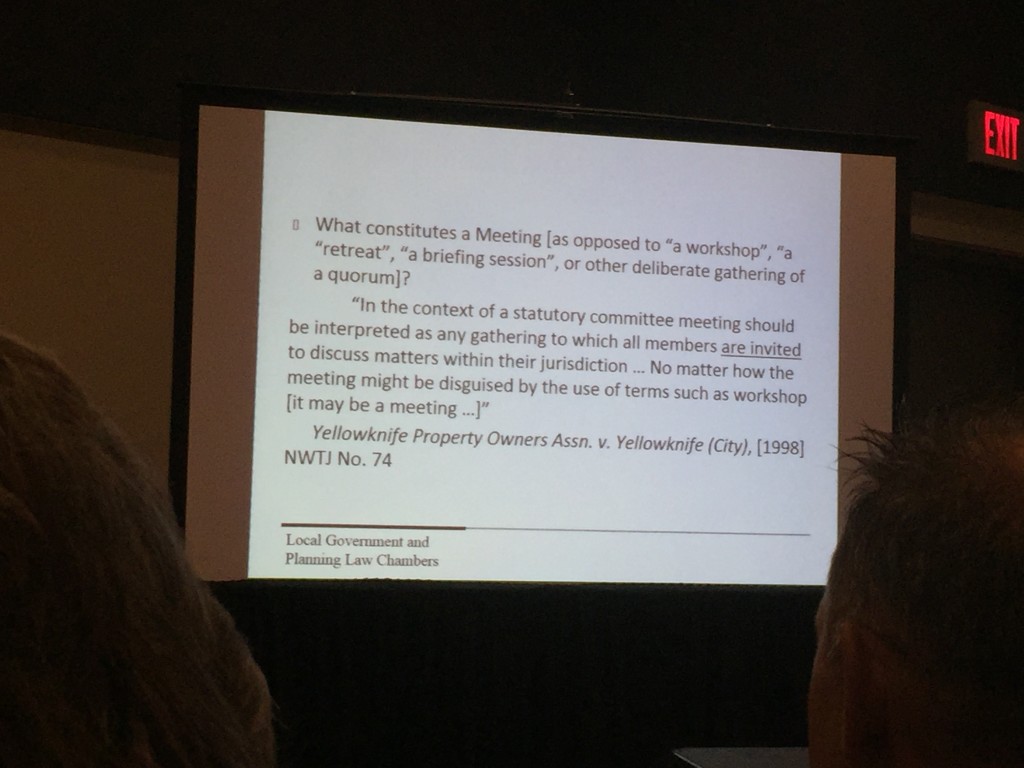 One's and Twos are ok for chats outside a meeting… but anything approaching, or certainly being, a quorum has to be avoided.  "Caucusing" of parties or unofficial groups is OK as long as it doesn't meet quorum but as we saw in Vancouver during the UBCM, if you have a large council and caucus and are only one or two people away from Quorum, not watch out not unlike 'perception' of conflict of interest, the "perception" of quorum may start to be just as dangerous.  If one or two other people get informed of the meeting, is that now a quorum and illegal?  Maybe?
Thursday Morning Resolutions
After the short morning session it was back to the big hall.  We heard John Horgan speak as leader of the Official Opposition.  (I actually had a chance to listen to him in a much more informal gathering at the Young Elected Officials Network social on Monday night).
After that, it was back to dive into the resolutions.  Here was a big one.  On gradually raising the Carbon Tax.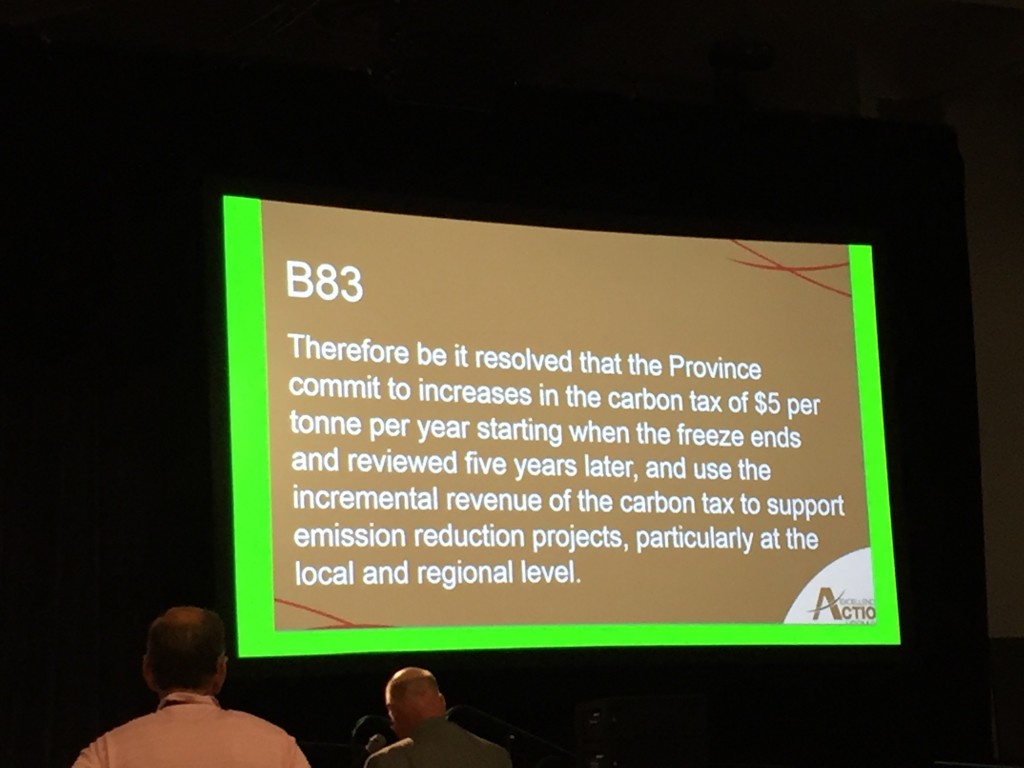 There was actually an attempt to improve this motion by extending the carbon tax from only a tax on consumers of energy to all industrial and commercial operations as well that are now exempt.  The amendment was unfortunately (and I think inappropriately) ruled as out of order because it changed the intent of the motion.  But it certainly led to a strong debate both pro and con and that means it was a close vote.  We had to go to electronic vote again.  This time it did not pass.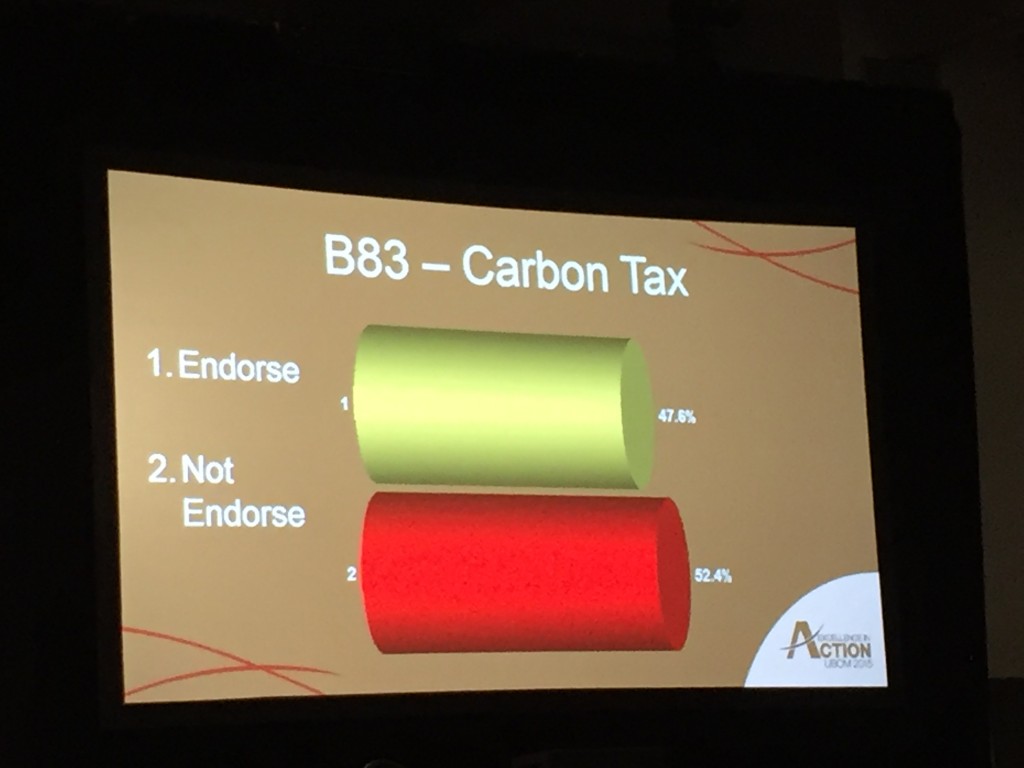 Another really important resolution was on rape culture urging the creation of a task force to investigate and make recommendations to government to try to address the issue.
After some very heated, and even tearful debate including from some young and older victims of rape, the resolution passed.
RT @chrisalecanada: Powerful stories were heard at the mic at #ubcm on rape culture. Here are two: http://t.co/BODhVVzst2

— karen skadsheim (@prcitykaren) September 27, 2015
After the resolutions I got a pretty cool tour of Ben West's offices in Yaletown for his company Eventbase.  They work on the official apps for small events like… the Calgary Stampede, the Olympics, the World Cup.  You know… nothing major.

Imagine if one of our historic buildings was restored like this former horse stable in Yaletown.  Yes, it could happen.  And all it has to start with is a 2 person team… there are now 90 people working in this office.
I had to go check out the huge trade show.  It was mostly LNG LNG LNG.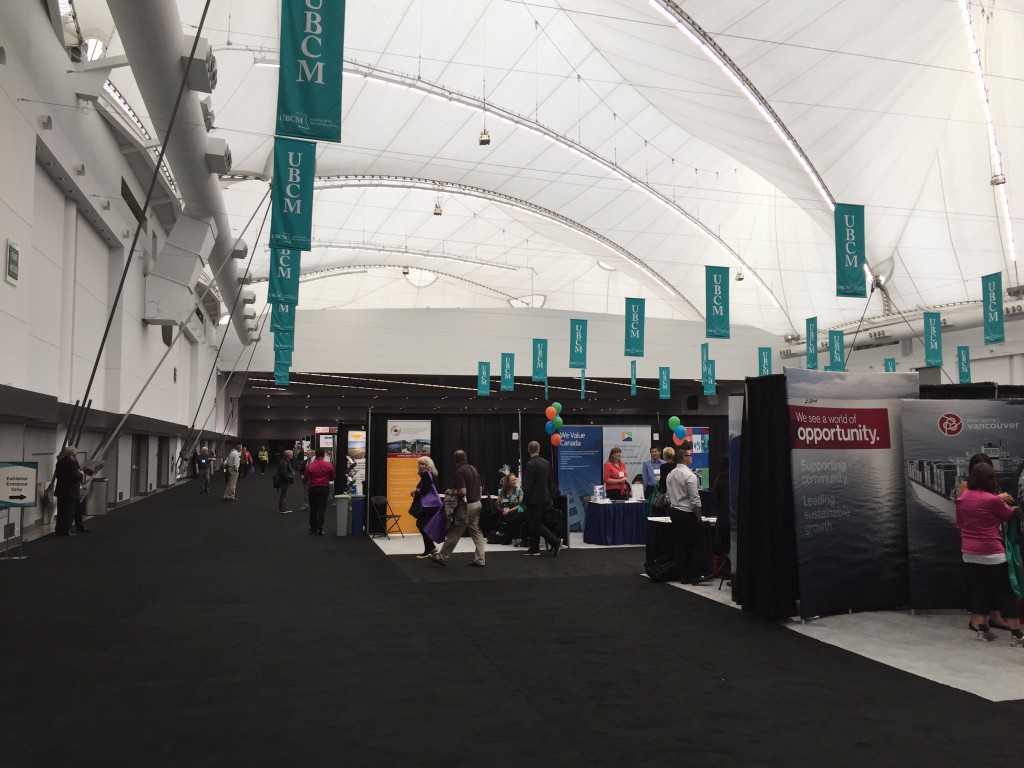 The last session I had the pleasure of attending was arguably the best, and not just because it was a very interesting and interactive topic.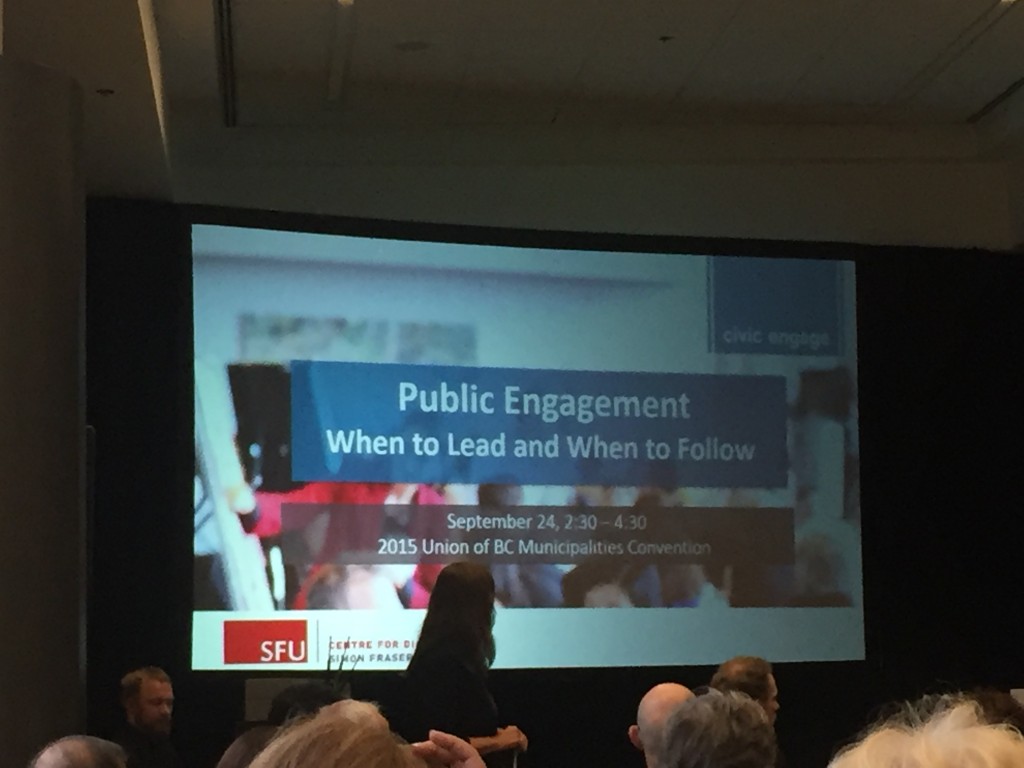 We started with a very fun exercise where we all had to line up single file through the room and out the door first according to how far away we lived from Vancouver, then by how long we had been in office.
As I huddled up to the front of the line with a whole bunch of others (50% of the delegates at the conference were new this year, big changes!), a woman asked if I recognized her.  I said no.  Then she introduced herself.  She was Mary Biele, a Councillor from Qualicum Beach.  Mary Biele happens to be a retired teacher in Port Alberni and was my all time favourite teacher.  I had her in Grade 2.  I was so taken aback that I felt like I was 7 years old again and had to give her a huge hug with tears in my eyes.  It was quite wonderful 🙂 My favourite moment of the conference sessions for sure.
I got some great ideas and material from the session and there were a lot of examples given from other people in the room of what has worked and what has not worked in their communities.  I would like to apply some of what was in that presentation to the Truck Route issue that I have recently come up.
The final event of the week for me was the big UBCM banquet.  Of course, I had to wear my bowtie.  I am very glad I chose my polka-dotted one, not only because I like it best, but it seemed white polka dots with a black base was a trend.  Even the outgoing and longtime President of UBCM was wearing white dots!  Two mirror selfies in a row…. this is not a good trend.
Plenty more networking and general revelry happened at the banquet.  It is very nice to be able to sit at a table with my fellow Councillors, the Mayor, Josie Osborne Mayor of Tofino and City Manager Ken Watson and his wife and simply be people sharing a dinner.  This is another great advantage to these kinds of conferences.
Thursday Roundup – Liability, Defamation, Resolutions, TradeShow and the Big Banquet.
Thursday started very early after a long night of networking… notice the empty chairs at the 7:30AM session.  This was one of 4 session… it was on "Liability and Risk Management for Elected Officials".  The description from the program was pretty accurate.   It was put on by the Municipal Insurance Association of BC, which is an insurer for municipalities across the Province. Notably, Port Alberni is one of the few that does not use the MIA.
The session will focus on the specific liability risks faced by local government elected officials. It will cover off what those liability risks are, discuss the types of claims that are made against local governments and how to communicate effectively with both a claimant and the general public when such a claim arises. We will also focus on the importance of proper communication in the claims handling context in an effort to avoid further liability exposure. We recognize there is a balancing act faced by elected officials when they have to both assist in the defence of a claim while also remain responsive to their local constituents. We intend to address those concerns and assist in the development of policies that will help elected officials navigate through this complicated aspect of their public service.
I took a ton of notes at this one.  It ended up being very interesting and the presenters were very good.
Their main points centered around the different types of claims: misrepresentation, defamation and misfeasance.  The most common is negligient misrepresentation which basically means the municipality or one of the elected officials or staff are sued for inaccurately speaking on a topic and thus causing someone else, a person or business, to make an inaccurate assumption that then leads to a bad business deal or some other injury.
The advice of course was to make sure all your communication was caveated (FYI: There are no guarantees anything on this webpage is accurate. No Seriously!) and that public officials should even record their private meetings including with tape recorders so that anything that is said is exactly known and there is no chance of misinterpretation.
They talked about how to defend oneself against defamation or other accusations by ensuring your own actions are completely 'invariable'.  And above all else, never assume that any communication will be private forever.
I think the best advice was, "if you don't know an answer, say you don't know the answer".  This is something I need to work on.  It comes down to Humility, Honesty and Integrity.
Friday flight first-thing back to VIU
I unfortunately could not stay for the final day on Friday when the Premier addressed the delegates and the final resolutions were debated.  There was way too much going on at VIU on Friday with some video recording that needed to be set up and classes to help out in so I could not take it off.
But as usual, Vancouver didn't disappoint when it came to justifying the 5:30AM rise after the long night at the banquet.  This was the morning scene as I waited for the 7:30AM flight back to Nanaimo.  I also got to watch the Pope deliver part of his historic address at the UN while I waited in the float plane terminal.