A few interesting things happening in City Business.
Big changes to Fires in the City
Over the past couple weeks the City has gone through a bit of a sea change on the fire prevention front and it all comes down to improving Air Quaity.
#1: Backyard Burning banned yearround starting April 16, 2016.
This will not affect campfires but does affect any burning of yard debris on properties in City limits larger than campfire size (1/2 metre).  Burning of land clearing debris and of anything but clean, dry wood has been banned in City Limits for a number of years already.  The ban specifically refers to fires of up to 1 metre that are hand-piled.  Alternatives to this final step will be to bring all your yard waste to the dump (it is generally free or very inexpensive) or hopefully in the intervening year the City will be able to start up a Kitchen and Yard Waste program or otherwise provide a yard waste pickup day for residents to put out their yard clippings in spring and fall.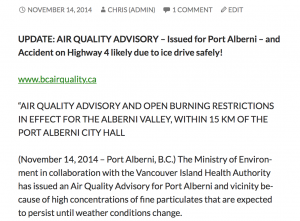 The reason for the ban is Air Quality.  Backyard bunring in the fall especially contributes to very bad air quality and has led to multiple Advisories over the past few years including the two in November and December shown in the pictures on the left and right.  We ar
e stuck in our beautiful little Valley with inversions that trap the smoke from peoples fires and stoves.  While stoves can be upgraded to burn very efficiently (more on that below), backyard burn piles cannot.  Many other communities like ours have banned backyard burning for the same reason.  I would not be surprised to see it grow to a Valley wide ban through the ACRD in the near future.  Emissions from fires cause major health problems especially for the young and elderly.
#2 Non-EPA Woodstoves phased out by 2017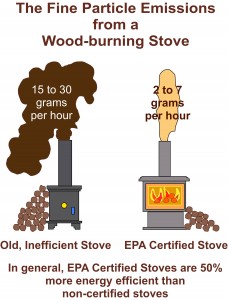 Did you know that the City has been in the throes of a five-year sunset clause on all Non-EPA wood stoves?  That means, by January 1 2017, all non-EPA wood stoves must be removed from City residences.
Non-EPA Woodstoves are already required to be removed from properties at the time of a sale.  There have also been exchange programs through the Air Quality council for a number of years where people can get discounts on new stoves by bringing in their old ones.
#3 When is the Tsunami Warning System actually used?
Ever wonder what it actually takes to have our Tsunami Warning System actually used?  Well, it is in our new Fire Control Bylaw in the July 13 Agenda.
(xiii)  activate the Tsunami Warning System in the following situations:(A)  a tsunami warning affecting the Port Alberni area has been issued by Emergency Management British Columbia;(B)  a tsunami warning affecting the Port Alberni area has been issued by the National Oceanic and Atmospheric Administration (NOAA) Pacific Warning Center;(C)  An earthquake affecting the Alberni Valley occurs, the magnitude of which makes standing difficult.
Work Begins on Dry Creek Project (while fish being moved too).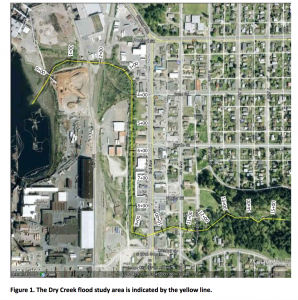 Work has begun on the Dry Creek Mitigation project.  There has already been digging work done in the channel between 4th and 3rd Avenue and behind Smitty's.  More significant work involving the bridges, culverts and buildings in the area that had to be bought by the City will be happening very soon as well.
Here are some 'before' pictures from the Dry Creek Mitigation Study done in 2013. Click for full size.
And here are some current pictures from this morning.
As you can see, it's a big project!  This is all to try to mitigate the flooding on 3rd avenue and also will provide some better fish habitat.  The original stream of course did not conveniently curve around the industrial properties but rather empty pretty much straight from 4th Avenue into where the fisherman's harbour is now.  But this is an attempt to improve the situation both structurally and environmentally.  Soon, many of the buildings along the creekside between 3rd and 4th will be demolished to make way for the larger stream bed and the added culvert under third avenue.
Dunk Tank!
And last but not least this Sunday, August 2 between 4:30PM and 5PM you have the exciting opportunity to drop me in the dunk tank at the Blue Marlin (former Arlington)!
(Click the picture for the Blue Marlin's Facebook Event Page

)
They are raising money for Ty Watson House.  The event runs from 4PM to 9:30PM.  So come on by dunk some councillors and other community folks and enjoy what they have to offer.  All for a great cause.
4:00-A rep from Ty Watson
4:30-Christopher Alemany (City Council)
5:00-Denis Denis Sauve (City Council)
5:30-Nancy Wilmont (Shaw TV)
6:00-Kevin A Wright (SteamPunk Cafe and Coffee House)
6:30-Sproat Fire Hall
7:00-Cathy Braiden (Remax)
7:30-Beaver Creak Fire Hall
Stuff happening:
Live Music "The Enablers"
Dunk Tank
Lots of Kids activities
Pony Rides
Horse & Carriage Rides
Free Hot Dogs for kids 6 & under. Over that age $5.00 and includes a cold beverage.
Pork Roast Dinner, Corn on the Cob, & Salads – $12.95
Proceeds to the Ty Watson House in memory of Ed Walcot.