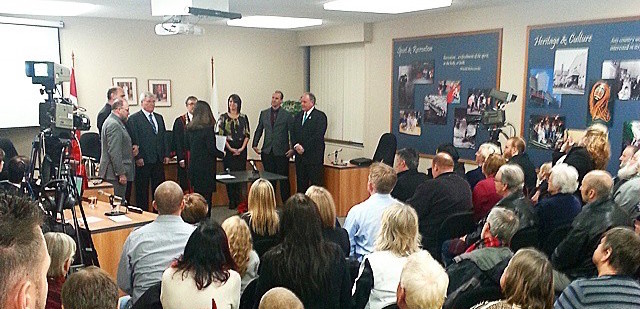 Hi all,
It has been a busy couple weeks already since election night.  Council has been attending lots of training sessions to get oriented to the city staff and procedures and our General duties and there is lots more to come.  I'm going to keep writing on this page so you can know what's happening as I go along on this journey with you and council.
The Swearing In Ceremony
It really hit home last night when we were led in by Inspector Richards in full red serge.  The Oath of Office that I pledge to you and all citizens of Port Alberni through the Justice of the Peace talks about ensuring that in all matters with council I act with integrity in the best interest of all citizens of Port Alberni, and without conflict.  It is so simple and common sense.  This is my number one goal and I believe our entire council truly has the best interests of the City in their hearts.
---
Committee Work Work Work!
… or is that committee, committee, commitee work! The main business of council last night was to announce and create committees. Every motion last night passed unanimously. I am pretty sure that won't happen again until the next inaugural meeting in 4 years. 🙂 Committee work is really the meat and bones of getting things done in the City so I'm really excited that I will be participating on a number of committees.
Audit Committee: (3rd Monday every 3 months starting February 23)

This committee goes over the City's books, expenses and general the funds moving in and out of the City.   

Advisory Planning Commission: (Monthly – 3rd Thursday starting January 15)

This committee deals with zoning applications and other land use issues affecting the City.

ACRD Transportation Committee: (Called on request)

This is a regional committee with many stakeholders involved that has been taking the lead in advocating for better transportation links to and from the City and region including lobbying for the Horne Lake Connector.

Alberni Valley Community Stakeholders Initiative to End Homelessness:

This is a very important committee in our community dedicated to tackling homelessness and mental health issues affecting our residents and those in need.
Other councillors will be on these committees too of course but unfortunately I didn't bring my copy of all of the appointments with me this morning so I won't try to rely on my rather foggy memory, but I will post a picture of the list later today.
You can find the new schedules for more of the committees on last night's agenda. The other very important appointment made was to the Regional District board.  Mayor Ruttan and Councillor McLeman will be representing the City there with the rest of Council acting as alternates.
There were also 4 new and very important standing committees created last night!
Food Security and Climate Change
Seniors Advisory
Youth Advisory
Mclean Mill Advisory
City Staff will be preparing the terms of reference and other details for those committees for Council in the coming weeks.
Here is the full listing of committees and appointments.  Of course they may be subject to change over time and please contact the City for the most up to date information.
---
Results of the Campaign Poll Questions!
And last but not least, I wanted to publish the results of the poll questions I asked during my campaign to visitors of this website.  I hope to continue to do that in future and to encourage the City to do so on its own web presence as well.  Everyone likes a poll!
Here are the results of the questions:
"How do we cross Rogers Creek? (Cost are only estimates based on reports)"

Total Votes: 105
11 (10.5%) – Straight and tall bridge strategy (est. $14 million)
16 (15.2%) – Long dip and short bridge (est. $7 million)
37 (35.2%) – Foot and bike bridge only ($?)
41 (39.0%) – No Change
The non-binding City Election question ' "Are you in favour of a 10th Avenue crossing from the north end of 10th Avenue to the junction of Cherry Creek Road and Johnston Road for a cost of $5 million?"  Yes or No' failed to pass by a vote of 2388 (41.3%) For and 3389 Against (58.6%). Total votes 5777.  So this seems to confirm the informal polling done here as well that there does not seem to be a strong appetite for expensive road infrastructure.  It might be good for the City to investigate whether residents would be willing to invest in a more affordable foot and bike bridge solution or if there simply is no point in pursuing another crossing at all.

What is your #1 burning City issue? (in Alphabetical Order)

Total Votes: 70 (People could only vote for one)
5 (7%) – 10th Avenue Crossing
7 (10%) – Bicycle Lanes and Trails
3 (4%) – Canal Beach
0 – Climate Costs (CO2/Energy/Rebuilding)
1 (1%) – Environmental Degradation In and Around the City
4 (6%) – Fire Department
11 (16%) – Industrial Job Creation
5 (7%) – McLean Mill
3 (4%) – New Pool
1 (1%) – Pay of Councillors
1 (1%) – Road Repairs
2 (3%)- Small Business Growth
20 (29%) – Tax Rates
7 (10%) – Other (add a comment!)
There were a lot of choices and not a lot of votes so of course the results may be a little skewed.  However, I think it still sends a pretty big message.  People are very concerned about being able to live affordably and comfortably and work in our City.

"I support a future vision of entire plywood mill site as expanded Beach Park for people"

Total Votes: 46
33 (71.6%) – Yes
13 (28.2%) – No
This is a very small sample size of course but it is still a strong result.  I do hope and believe the council will continue to work towards make the Canal Beach area better and better for City residents.  One of the first orders of business will be to address the motion left on the table by the last council on the signing of an indemnity agreement with WFP.

"Can the City encourage CO2 and Energy reductions without raising taxes?"

Total Votes: 20
14 – Yes
6 – NoPerhaps this should be one big question for the new "Food Security and Climate Change Committee"?

"Do you trust your local politicians?"

Total Votes: 31
11 – Yes
20 – No
A somewhat discouraging but perhaps a predictable result, and hopefully not personal.  Lets work on that! 😉