Update email from Greenmax.
I was forwarded this enail which was sent to folks who had sent concerns. It appears some changes might be in the works.
Hello Again,

UPDATE ON MAPLEHURST PARK.

In previous responses I have sent to you, it now appears that the information about Maplehurst Park may be incorrect.

I am continuing to clarify the Park's status, but felt it necessary to communicate this info as soon as possible.

In my last response I quoted from the MANAGEMENT PLAN of the Woodlot that 
"Unit C: Kitsuksis Creek: Maplehurst Park exists south of Unit C with an associated trail system running through the southeastern portion of the unit. This park and its trail network are neither an official recreation resource nor part of the Alberni Clayoquot Regional District Park Service, however the trails are well used by community members." 
This information was provided  by the Alberni Clayoquot Regional District (ACRD) through the referral process for this earlier plan. This plan and wording was also approved by the  Ministry of Forests, Lands and Natural Resource Operations (MOFLNRO) as part of this process. 

As many of you had expressed concerns about both trails within Unit C of the Woodlot as well as those within Maplehurst Park, I made contact with the MOFLNRO again before my Mar 11 letter to you. I was given the same information at that time.

In the last few days I have received information from the ACRD which conflicts with that provided earlier. They have apologised and I accept that. I am now working with the MOFLNRO to provide additional certainty to the status of this land, which may in fact be a park.

This in no way has any bearing on the management of lands within Unit C but as I had provided this info I simply wanted to clear it up. When I get the confirmation from MOFLNRO I will update you again. This often used area is important to the community and deserves protection. In fact new maps provided appear to show further opportunities for trail development East of Kitsuksis Creek.

Sorry about the earlier confusion. Sometime through these processes new information appears which is a good thing. This is looking like one such case.

Regards,

David McBride RPF
Greenmax Resources
Re: Maplehurst trail proposed logging – urge Province to provide alternative areas
To Whom it May Concern,
On behalf of my family, my wife and two kids I want to urge you to use this letter and the many others you receive to take to the government or whomever you must in order to show the very strong opposition to any logging whatsoever in these lands in and around Kitsuksis Road, and the Maplehurst trails. (map)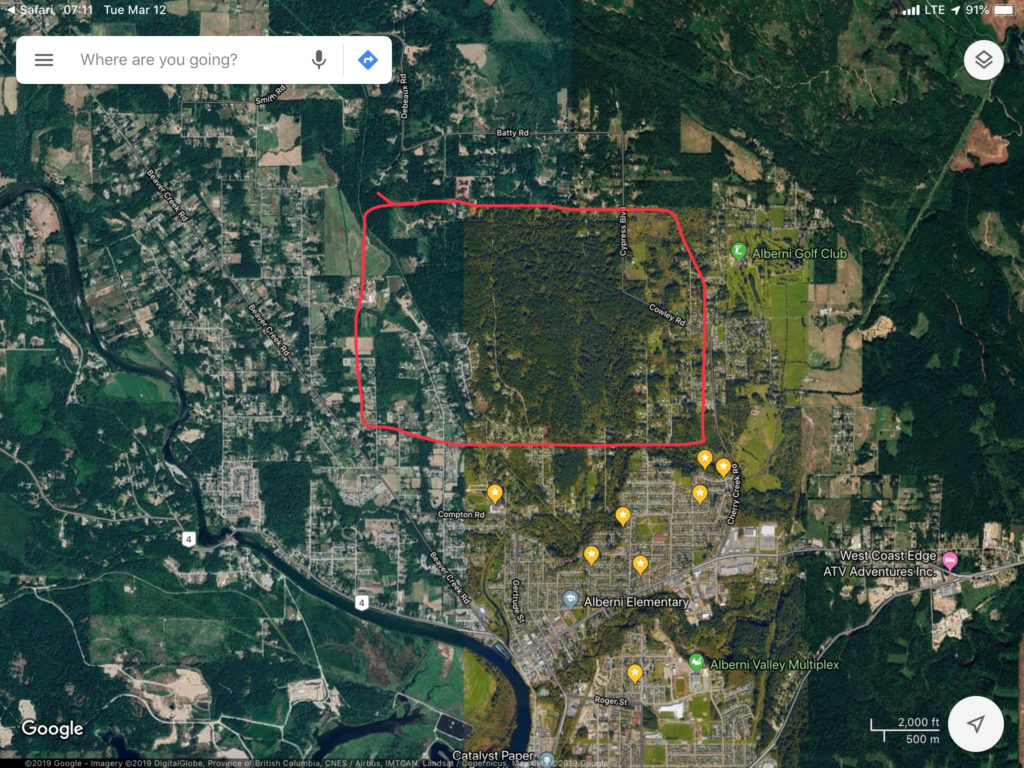 This was the last intact forest that was not threatened by logging activity in close proximity to City Limits. The trails, wildlife and ecosystems in this area are unique and critical to the character and overall well being of the entire community.
Please urge the province to find other tenures not close to the community. We support forestry in a sustainable way and in a way that uses some areas, while leaving others preserved and protected particularly those of such high value and relatively undisturbed state as the area affect here.
Thank you for inviting this public comment and again, please urge the province to find another place. This cut block will impact dozens of people bordering the area directly and hundreds of people who enjoy the trails and the wilderness of the Alberni Valley. We must preserve what little we have left close to the community.
Thank you again,
Chris, Theresa, Jade and Joshua Alemany
——-
Yesterday, March 11, was supposed to be the final day allowed for comments to the company potentially doing the logging of the area. However, there is nothing stopping people from continuing to send messages to mail@econ.ca