FINAL UPDATES.  Post is from Friday to Sunday, Top to Bottom.
Another year another AVICC conference!
This one is shaping up to be very busy again.  I will semi-live blog it throughout the weekend.  Which means posting updates here throughout the next three days.
Just yesterday given development in the news I asked that we bring forward a late motion to the floor on Sunday morning titled:
"WEST COAST MARINE SPILL RESPONSE GUARANTEE"
Here is the full text that we will be handing out: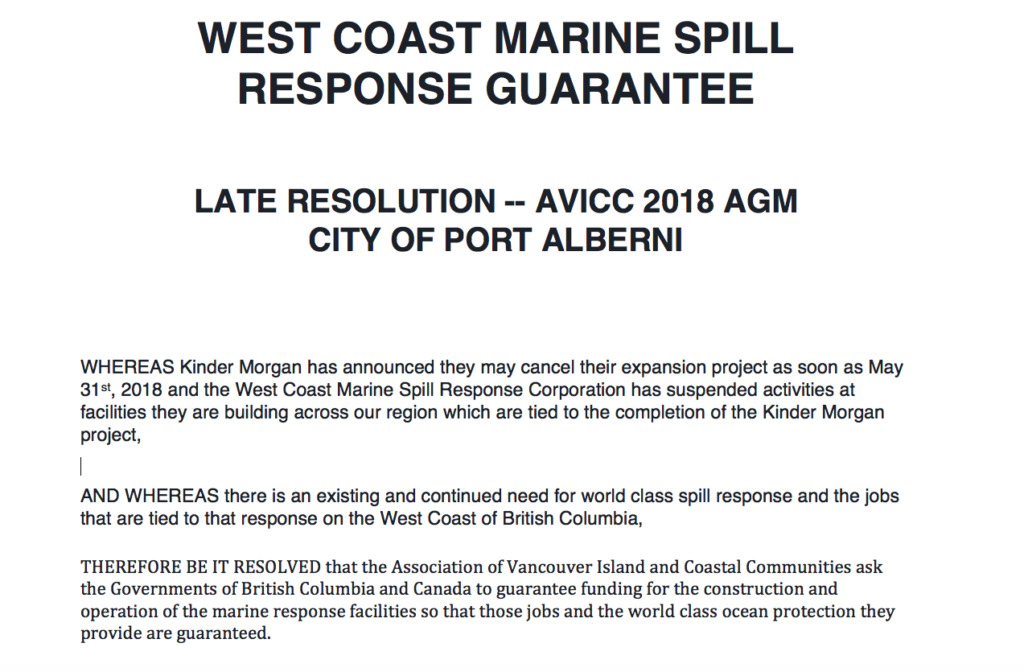 Check out the poll on the side of this page to register your opinion on this question!
Aside from that, there is the usual wide array of conference sessions and materials to consider.  Things are already getting underway this morning but I am at VIU until at least 1PM this afternoon before I'll be driving down with Councillor Minions.  I believe Councillor Sauvé and Washington are already there, Councillor Paulson is coming today and Mayor Ruttan is attending Saturday/Sunday.
Here is the Convention Program, we hope to be there by 4PM for Premier Horgan's address this afternoon at 4PM.
You can see all of the materials from the conference including the resolutions being considered here. 
I haven't gone through them all yet. Will have to do that later this evening. The next update will likely come Saturday morning as we start into sessions and the business of the Convention.  See you soon!  Also watch out for live video feeds. Depending on WIFI performance and battery life on my phone. 🙂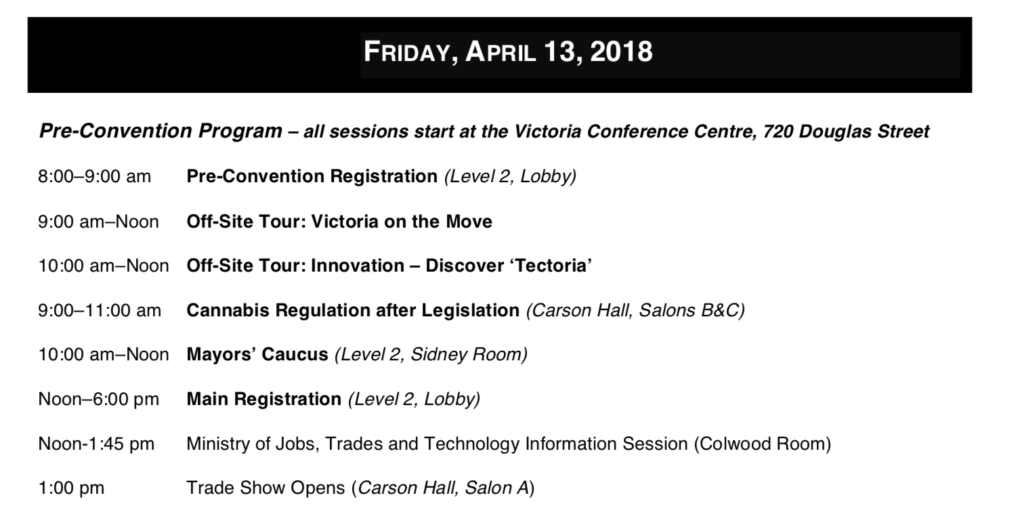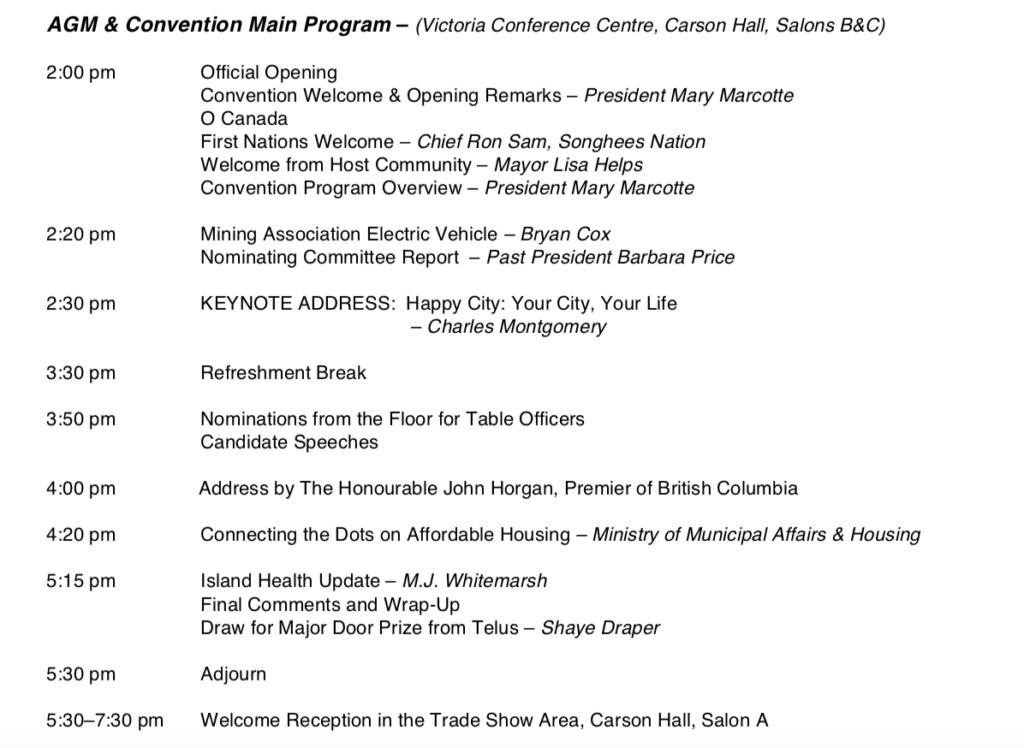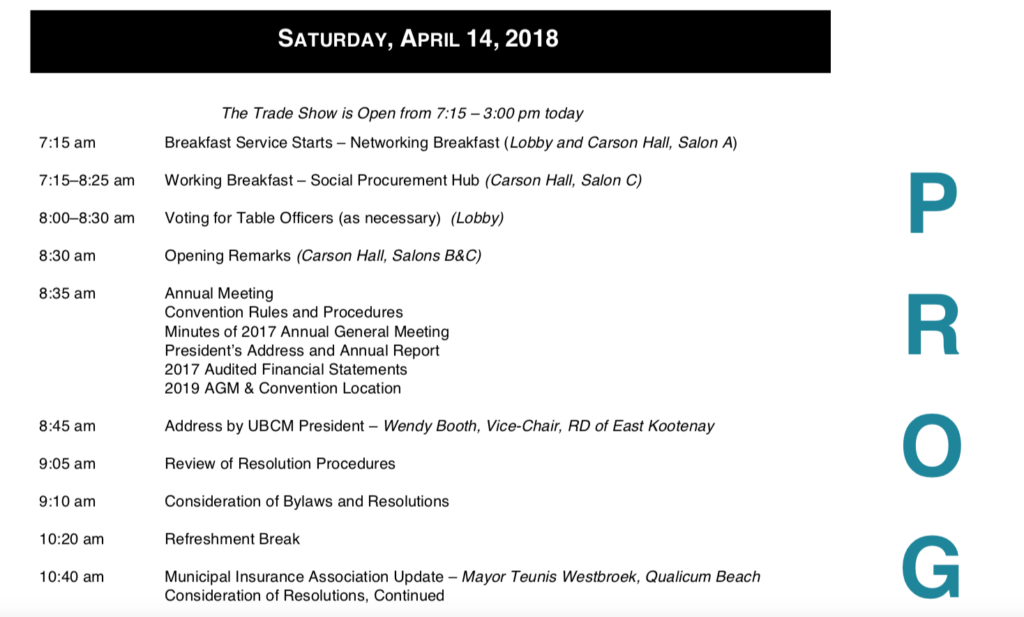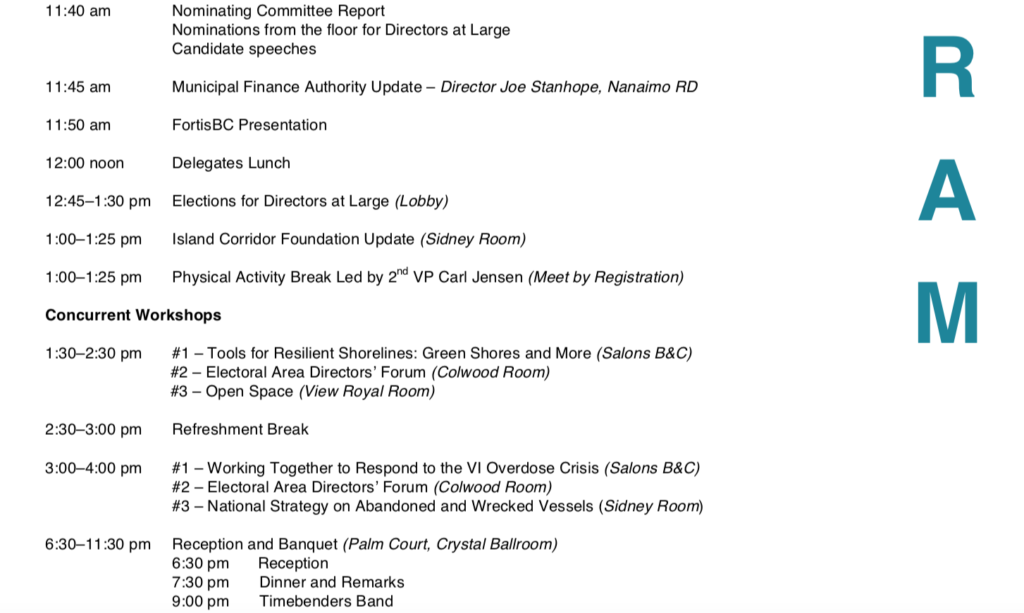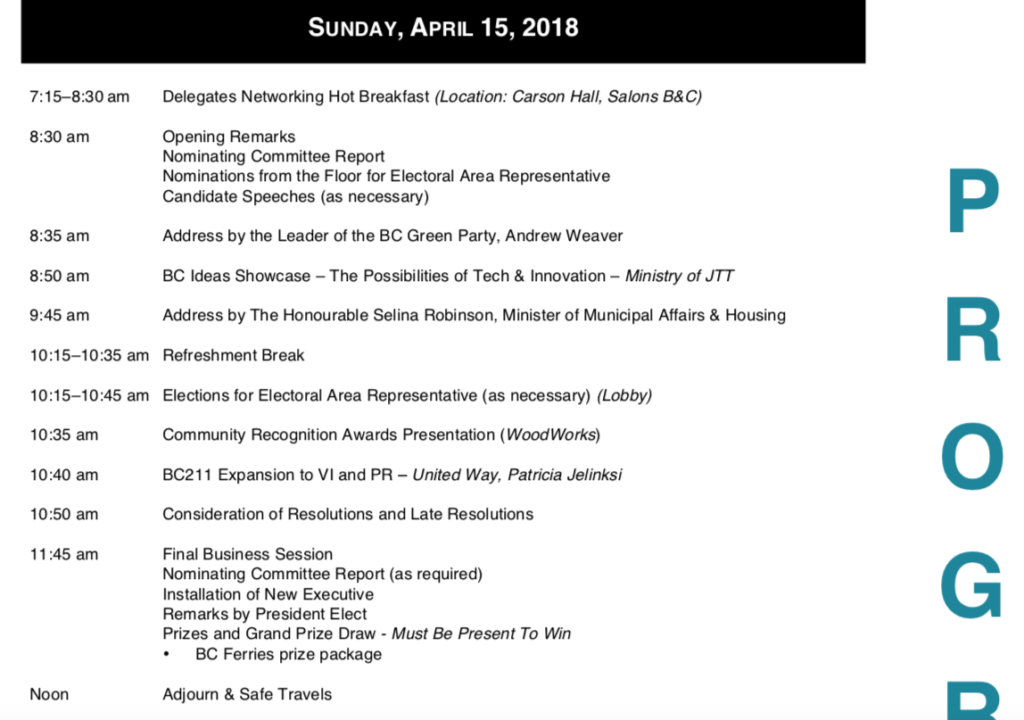 Lots has happened since I arrived here around 2PM on Friday.
Councillor Minions and I carpooled down Friday afternoon. We arrived in time to catch some of the afternoon sessions as well as the address by the Premier.
As we arrived, the Keynote from Charles Montgomery, author of Happy City was just wrapping up. From the wikipage:
Happy City: Transforming Our Lives Through Urban Design is a 2013 book written by the Canadian author Charles Montgomery. Gathering insights from the disciplines of psychology, neuroscience, urban planning and Montgomery's own social experiments, the book makes the case that the manner in which we build our cities alters the way in which we feel, think, and behave as individuals and as a society. Montgomery argues that the happy city, the green city, and the low-carbon city are the same place, and we can all help build it.[1][2][3][4][5][6][7
There were great questions from the floor, this is something that needs to be on our collective reading lists.
Next was Premier Horgan's adress. I live streamed it on Facebook, you can view it here, no login required.
Housing Session 4:45PM — This session was an update from BC Housing
$7B over 10 years in 2018 budget is the most in one province ever. Federal bilateral agreement coming soon. The stars are aligned.  Must create housing that matches need on the ground. In past has not matched.
This is one of the biggest issues in our province and country and the revenues are now being directed for a huge push.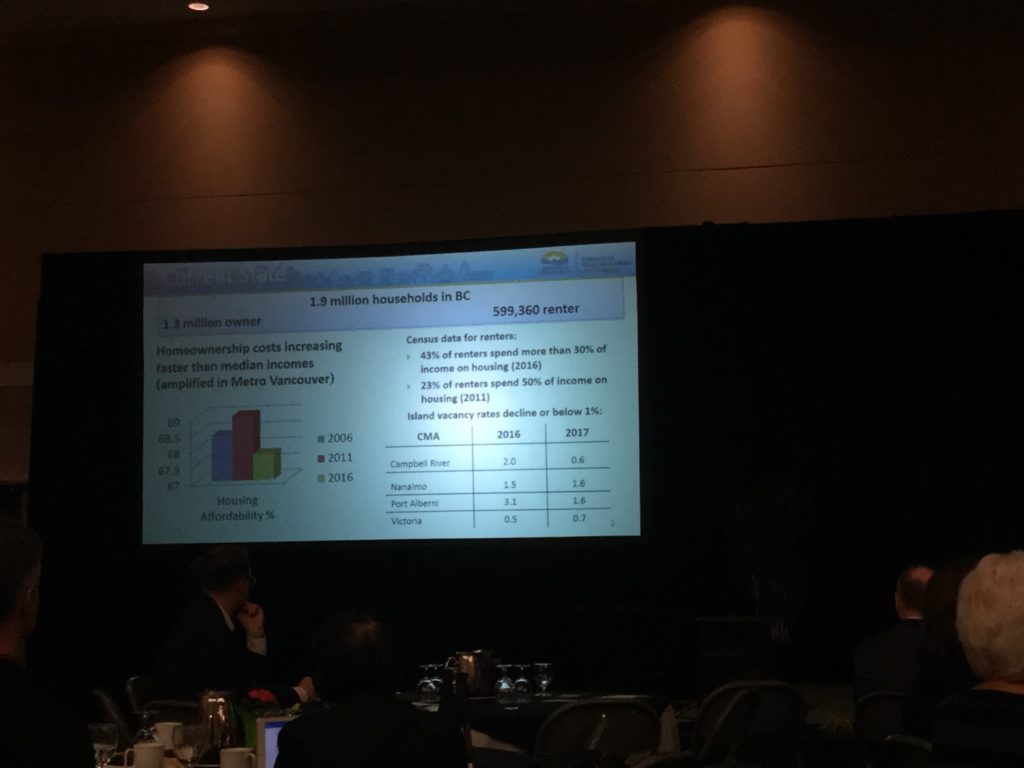 To Zone for Rental. Property tax exemptions. –  Revitalization tax bylaw required first. The housing continuum… far left gets most press. Also working on far right important for fental and home ownership.
Need to get in on Housing Hub for Port Alberni. BC Housing is hiring additional staff for the staff to meet need. Tiny homes are not a panacea… they take a lot of land. 
BC Housing can't mortgage them when they come in on wheels. Working on a Homeless Action Plan – from a prevention program perspective. Housing Agreements :  Peer to Peer program will be created to help Local Government work with tools like housing agreements.
7AM Saturday Morning – Social Procurement
Town of QB Social Procurement Policy 6000-3. Using the polivy to re work their Memorial Drive with a pedestrian and cycling separate path and realign dangerous intersection.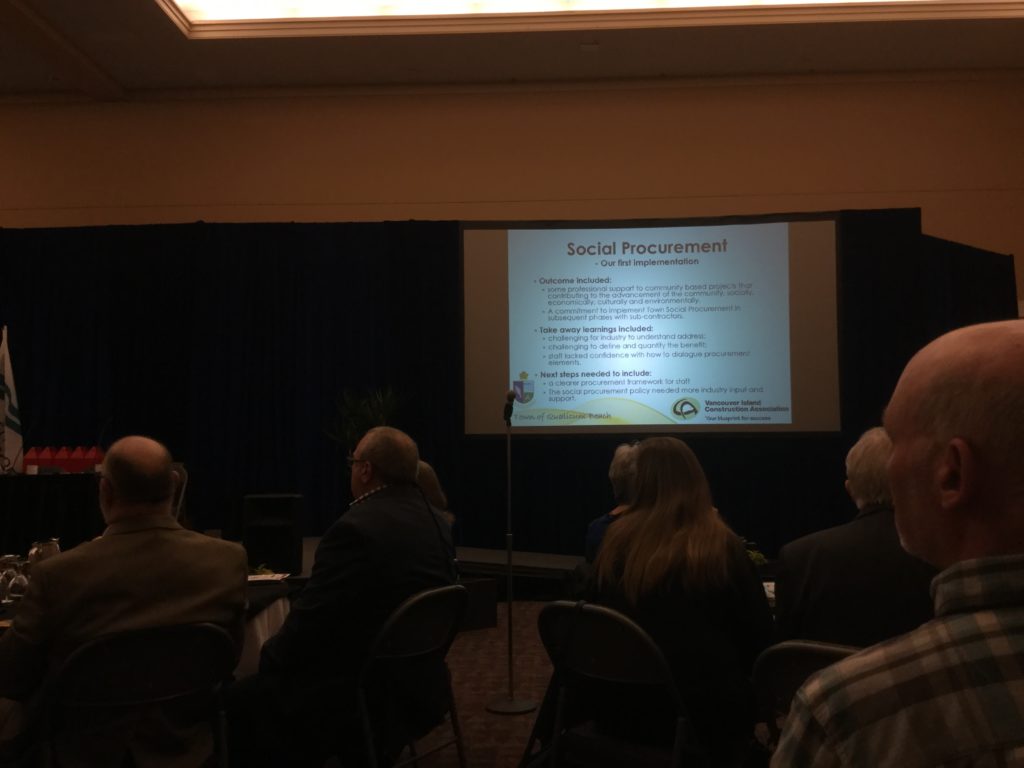 Social procurement is something we are working hard on in Port Alberni.  The Canadian Mental Health Association has had a farm on Beaver Creek Road (across from COOP) that has adhered to these principles. They are a great example.
The really interesting part about the AVICC presentation was the notion that it is about more than just helping the disadvantaged in any particular town and building that into every city project. It is about all sorts of different "social" values that the community can set that would ensure that no matter what project is ongoing at the City, the outcome reflects the community more deeply than just paving a street.
More notes from the presentation:
VICA is training, 6 weeks class 3 weeks on site.  100% of contractors said they would use potential individual if trained and available.
Social value is about more than just employing people. It is about what the community values, indigenous, environment, people.
POSSIBLE MOTION Bring membership in social hub forward to council?
Resolutions Saturday!
The rest of Saturday morning was taken up by the actual business of the conference which is mostly considering and debating motions.  It was actually quite an active session (You can see all the motions at the links at the top of the page).  The most contentious one that got the most debate was whether we should ask the BC Government to put Local Government councillors, mayors and directors back on a 3 year rotation rather than 4 years between election.
After lots of good points on both sides… most of which I agreed with on both sides, we had a close vote to keep it at 4 years. The argument for 3 years boiled down mostly to ensuring people were not scared off by the longer commitment and to give more opportunity for voters to have a say.  The argument for 4 years was that there was a much better chance to get things accomplished, particularly for new people (like myself) and it provided more ability for the community to see what a council actually could achieve before "silly season" of an election year hit.
I personally lean toward the 4 years for both of those reasons. Also this is only the first term that we have had 4 years between local elections. I think it is worth giving it another term or two before we go back to the Province and say it was a mistake to try this out.
ICF UPDATE
Later on Saturday we got an update from the outgoing ICF CEO.  There was not a lot of new information, but it is good to hear the entire report from the source. There was no lack of interest. The small room it was confined to was packed.
Sunday Early Morning!
Sundays are always difficult after a long evening of networking the night before! But we hunkered down at 8AM to get back into it.  We heard from Minister Selena Robinson who is "our Minister" for Local Government. She is Minister of Municipal Affairs and Housing]. Apologies, no video feed as my phone was acting badly.
She spoke of the need to address the housing crisis among other things. I was also very impressed to hear her mention climate change in our remarks and the fact that the impacts of climate change will affect local community infrastructure the most. That is where we will need to focus a huge amount of senior government dollars in order to adapt to the changes that are already here and coming soon.  I like to think that the little bit of pushing we at the City of Port Alberni did at the UBCM last September to highlight the impacts of recent flooding that has occurred more frequently, likely due in part to climate change, maybe played a role in her making that mention.
After all the talking was finished, we finally got back to the Resolutions. There was a lot of concern we would not have time to get to the one that the City of Port Alberni wanted to bring forward about Oil Spill Response but lo- and- behold we got there with just 20 minutes left in the morning!
A huge thanks to Councillors Sauvé and Minions for helping distribute the papers on all the tables on both days and also to Councillor Kirby from Oak Bay who was very active and helped both distribute and talk to people abut the importance of the motion.
So happy to see late resolution allowed on the #AVICC2018 floor and PASS! We need spill response whether or not the #TransMountain pipeline is built! #pipeline #StopKM #oilandgas #protectourcoast Way to go @chrisalecanada pic.twitter.com/klXuqxlT8u

— Michelle Kirby (@MichelleKOakBay) April 15, 2018
The great thing about these conferences is the people you meet and learn from and the friendships you build.  This was a great example of one of those friendships helping to pass an important resolution for our community.  I hope the AVICC writes that letter soon and we see some movement from the Governments of BC and Canada to guarantee those oil spill response bases on our coast.
And that… with about 5 minutes to spare… was it!!