New poll!
Should the ACRD borrow up to $6 million now that no grants have come?
Yes (63%, 113 Votes)
No (37%, 66 Votes)
Total Voters: 179
Loading ...
The good news is the new lights and GPS routes are already happening. (new lights are part of the borrowing, see bottom of post).  The bad news is the ACRD has so far been unsuccessful trying to get grants to cover some of the cost for the upgrades and runway lengthening at Alberni Valley Regional Airport.
Approval has already been granted through the Alternate Approval Process which means not enough people signed their disapproval for it to go to referendum.
But now that no grants came through, and even though there is still an outside chance for some grants maybe, the ACRD board including the two City reps (Mayor Ruttan and Councillor Mcleman) are taking a step back and seeing if they should still go through with it.
So? Should they? Vote in the Poll on the right. Full information about the expansion is here. 
Here is a screenshot of the costs FAQ based on how much has to be borrowed.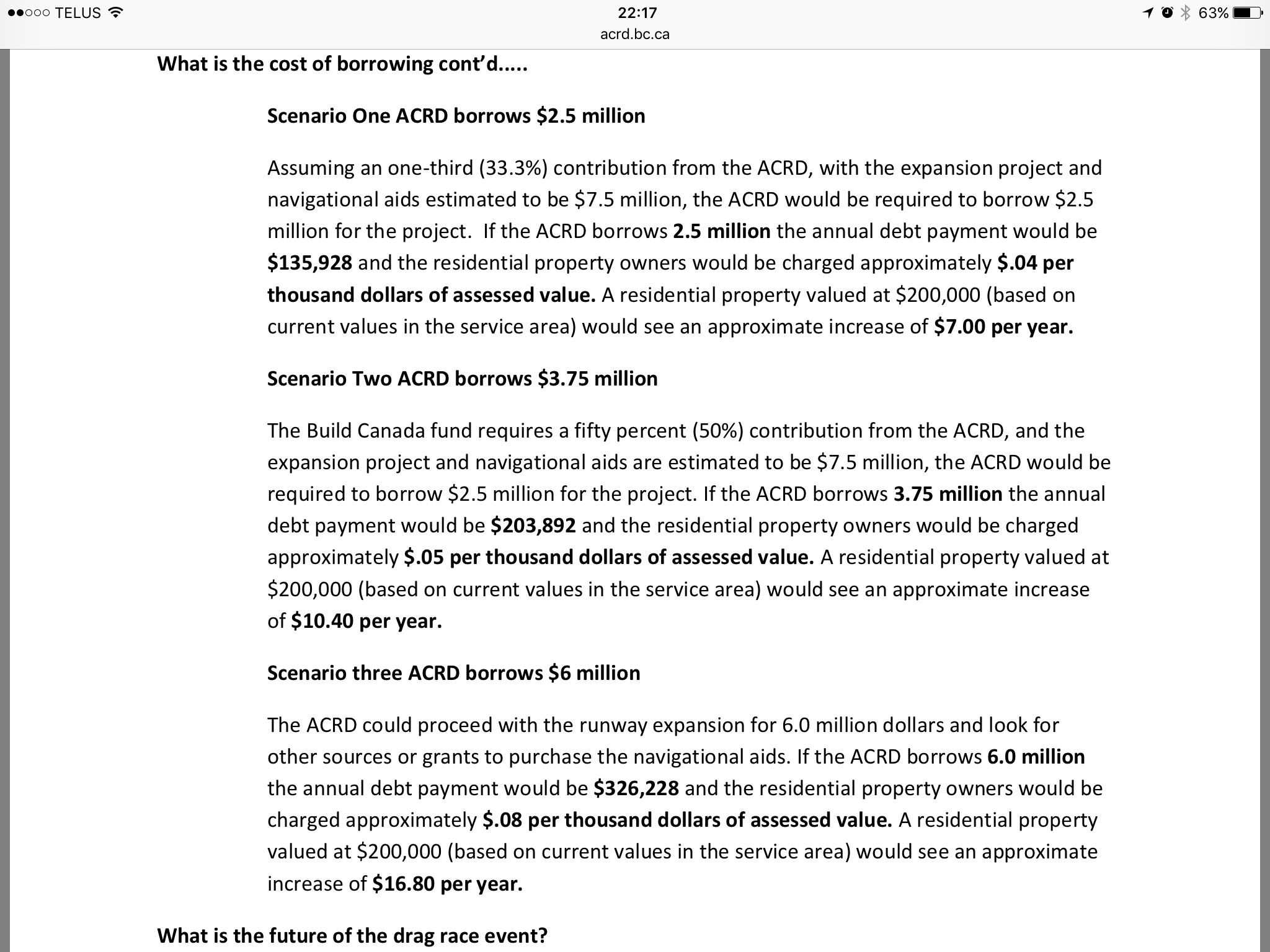 Send your comments to the ACRD. mailbox@acrd.bc.ca
More info on the upgrades provided by the CAO of the ACRD.
The cost estimates of the three components of the project are as follows:

The Runway Extension is estimated to cost $5,958,820.
Installation of navigational aids (medium intensity lighting) is estimated to be $1,468,500

The above costs total approximately $7.43 million and were the basis of the grant application to the Strategic Priorities Fund.

Establishing an Obstacle Limitation Surface (OLS) that would be acceptable to the design of a public GPS approach is estimated to cost $350,000.  This involves managing the OLS which are the trees and land that protrude into the defined flying paths as well as surveying and registering the approaches with Nav Canada. Money is already committed to this project and within the current budget.   A portion of the costs ($180,000) were recovered from the Community Forest Legacy). These OLS costs are not reflected in the $7.43M figure.